The Tristate Medical Reserve Corps (TMRC), supported by the Southwest Ohio Public Health Region, the Northern Kentucky Independent District Health Department, and The Health Collaborative, is gearing up for its annual Tristate Disaster Volunteer Summit planned for June 3rd.
Now in its ninth year, the Summit will host as many as 130 volunteers from the TMRC and the Red Cross, as well as Community Emergency Response teams, Animal Response teams, National Corps for Community Service groups, and anyone who is interested in responding to disasters and sharing best practices.
"Stop the Bleed" is the theme for this year's national emergency preparedness campaign, developed by Bleedingcontrol.org in partnership with The Department of Health and Human Services (HHS), The Department of Homeland Security (DHS), The Federal Emergency Management Association (FEMA), and several other national agencies. BleedingControl.org is an initiative of the American College of Surgeons, the Committee on Trauma, and the Hartford Consensus™.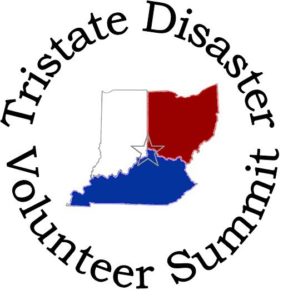 As part of Stop the Bleed, these groups and their affiliates advocate for public education on bleeding control techniques, as well as placing trauma kits containing items such as gauze, gloves, and tourniquets in public places, much like AEDs (automated external defibrillators) are now widely available.
The all-day volunteer summit, designed as a training event, is planned for 9:00am-3:30pm at the Receptions Conference Center in Erlanger, KY and will include an active shooter workshop, a presentation on the Stop the Bleed campaign, and multiple afternoon breakout sessions from which attendees may choose. Breakout topics include Damage Assessment, coordinating Volunteer Reception Centers (VRC), personal preparedness for the whole family, and animal preparedness and response. Jeannette Tandez, MPH, Region V Liaison for the MRC Program, is also scheduled to appear at the event. Region V encompasses Illinois, Indiana, Michigan, Minnesota, Ohio, and Wisconsin.
Robin Thomas, Regional Emergency Preparedness Coordinator at The Health Collaborative and Regional Director of TMRC, expects the event to be well-attended and beneficial to anyone who may find themselves responding to an emergency or disaster situation involving injuries. "In light of recent events across the nation, the Stop the Bleed campaign is a timely effort to better prepare bystanders for emergencies," she said. "Every moment counts when someone sustains a traumatic injury, and quick thinking from bystanders can save lives."
The TMRC was established after 9/11/01, and includes 12 Medical Reserve Corps units from Southwest Ohio, Northern Kentucky, and Southeast Indiana. Their focus is on strengthening the public health infrastructure by preparing for, and responding to, natural and man-made disasters, and/or public health emergencies across the region.
Thanks to our regional MRCs, our communities are better prepared to meet public health needs and share best practices. Information on joining the TMRC as a volunteer is available at www.tristatemrc.org. For more information about the Tristate Disaster Volunteer Summit and to register for the event, please visit the Summit registration page.