All counties in Ohio and four counties in Northern Kentucky have been selected for the Comprehensive Primary Care model (CPC+). Announced last month by the Centers for Medicare and Medicaid, CPC+ is the expansion of an earlier pilot program coordinated by The Health Collaborative that saw its original success right here in our region.
Approximately 562 practices in Ohio and Northern Kentucky are expected to participate in this next phase as well as practices in 13 other regions across the United States.
In 2012, 75 primary care practices spanning from Northern Kentucky into the Dayton area were selected from a very competitive field to participate in the Comprehensive Primary Care initiative (CPC).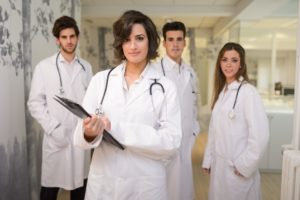 The success of the local practices and practices in six other regions in the pilot program led to the CPC+ expansion.
CPC+ is based on the principle that much of the care management and coordination that helps patients prevent and manage chronic disease or improve recovery from a hospitalization is typically not billable. As a result, opportunities are being missed to manage and treat complications early on, before they become acute or result in another hospital visit. During the pilot program Medicare, Medicaid, and participating commercial insurers paid participating primary care doctors a monthly care management fee for each patient in addition to the reimbursement for their usual services.  The payment made it possible for practices to fund care management and perform other services that helped patients do a better job of managing their health between doctor visits.
A team of quality improvement professionals at The Health Collaborative led the selected practices in a four-year learning collaborative where doctors and care coordinators shared best practices and participated in coaching.  Practices also submitted clinical quality data to track patient outcomes and payers submitted billing data to track cost.  The data were aggregated to calculate whether patients in these practices had fewer avoidable emergency room episodes, fewer hospitalizations and had better outcomes at a lower cost.
[blockquote]
For 2014, the cost of serving Medicare patients in our CPC practices resulted in a $6.5 Million dollar gross savings while also increasing patient satisfaction scores.
[/mk_blockquote]
Aggregating cost and outcome data is a new process in our market and it has taken some time to develop confidence in the numbers generated for reported savings. We know that for 2014, the cost of serving Medicare patients in our CPC practices resulted in a $6.5 Million dollar gross savings while also increasing patient satisfaction scores. Results for 2015 will be released later this fall.
Also notable is that patients in the participating practices, when surveyed about their experience, report a high level of satisfaction with their care providers and with the quality of care they received.
"We always believed high quality primary care led to better health and lower cost," said Dr. Shelly Stanforth, a physician at Maineville Family Medicine who is participating in the pilot.
"This initiative has allowed us to train staff to work as a team and have more patient contact, often resolving issues before they became more serious."
"These numbers are truly encouraging because they support the theory that money spent to keep people well has a return on investment," says Craig Brammer, CEO of The Health Collaborative.
The participating physicians and care teams are also reporting a higher level of satisfaction. "We expect our primary care providers to be the quarterbacks of our care, but our traditional payment system didn't pay them to do that.  This system gives them the resources they need to give care in a more integrated way and that's satisfying to physicians and patients alike," said Brammer.