MEDIA CONTACT:
Shannan Schmitt
Director of Communications
(513) 307-0328                                                                                                                                                                                                            Release Date: May 2, 2017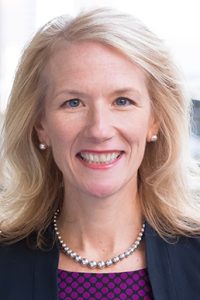 CINCINNATI – The Health Collaborative is pleased to announce the election of its newest board member this spring: Jill P. Meyer, President and CEO of the Cincinnati USA Regional Chamber. Meyer brings a wealth of experience and regional influence to the group, and her vision for the Chamber – to harness the power of all that Greater Cincinnati has to offer its business community – translates well into her leadership role on our board to drive progress toward the triple aim: healthier people, better care, and lower costs for all in Greater Cincinnati.
The Health Collaborative acts as a neutral convener of those interested in health and healthcare, and is dedicated to fostering dialogue between the healthcare sector and the region's employer community. Our board is typically composed of 20 to 25 regional leaders with balanced representation from three stakeholder groups:  businesses/health plans; health systems and other providers; and community organizations and consumers. Meyer's initial term runs through December 31, 2017.
Meyer is a long-time advocate and servant for regional improvement interests. Prior to joining the Chamber, Meyer was an attorney at Cincinnati-based law firm Frost Brown Todd, where she practiced law for twenty years; and where, for her last six years, she served as Member-in-Charge of the law firm's Cincinnati office. She led the firm's business development, client relations, and civic and charitable initiatives in the Cincinnati market.
Meyer joins an impressive group of regional leaders committed to improving health and healthcare in the tristate region. The roster includes leadership from the six major area health systems, as well as representation from independent physicians, the business and entrepreneurial community, health insurance companies, and public health agencies. The Business Courier recognized The Health Collaborative board of directors in the fall of 2016 for its leadership of health and healthcare improvement initiatives across the region.
The connection between healthier people and a stronger, more robust workforce is a key aspect of Meyer's approach to her work with The Health Collaborative. "With uncertainty about what's ahead for healthcare, the Chamber and our members are paying close attention to both costs as well as the impact of healthier lifestyles on their 300,000 employees," she shared.
Meyer continued, "[At the Chamber] we're focused on the expansion of regional transit, not only to connect more people to work, but also to connect everyone in our region to the quality healthcare they need. I'm eager to serve The Health Collaborative, a thoughtful body of leaders inviting new ideas and making them happen to continue building a community we're all proud to call home."
Craig Brammer, CEO of The Health Collaborative, is enthusiastic about welcoming Meyer to the board. "­­­­­­­­­­­­­­­­­­Our board and staff are always working to ensure that opportunities exist for employers to connect with the health systems that serve their employees," he said. "Jill's experience and connections will prove to be invaluable as we bring together stakeholders to collectively address the triple aim, and boldly lead our region to embrace a culture of health."
In addition to The Health Collaborative, Meyer also serves on the boards of 3CDC, CincyTech, Downtown Cincinnati, Inc., REDI Cincinnati, UC Economics Center, and the YWCA. She earned her B.A. at Mount St. Joseph University in Cincinnati and her J.D. at Northern Kentucky University's Salmon P. Chase College of Law, both magna cum laude.
-###-
 About The Health Collaborative:
The Health Collaborative is a non-profit organization that strives to positively impact health status, experience, outcomes, and affordability by fostering a connected system of healthcare and community health through innovation, integration, and informatics in the greater Cincinnati region. For more information about The Health Collaborative, visit www.healthcollab.org.