The Greater Cincinnati Regional Food Policy Council's Cincy Good Food Fund is a great example of shared, aligned efforts being leveraged to maximize the availability of – and access to – healthy foods across the region. Part of the Gen-H mission is to highlight and elevate the good work being done in the Greater Cincinnati community that aligns with Gen-H triple aim goals of healthier people, better care, and lower costs – and the 2016 Good Food Fund is a perfect fit.
Six organizations and initiatives were selected as recipients of Cincy Good Food Fund dollars in 2016. In this multi-part series, we're profiling a different winning Good Food Fund project in each weekly installment. For Part 3 this week, we're highlighting Our Harvest's "Winter Harvest Day" program.
A Year-Round Growing Season
Our Harvest Cooperative (OHC) creates access to healthy, local food in a way that honors land and labor. All of the food grown and aggregated comes from within 150 miles of Cincinnati, and most is sourced within the I-275 loop. They grow food responsibly, partner with other local growers, and develop innovative food access solutions. One avenue for accomplishing this is the Harvest Day program, where OHC meets people where they are — turning churches, community centers, and schools into food-access distribution points.
(Bonus: Harvest Day supplies produce to Apple Street Market in Northside, a grocery co-op and partner of The Northside Farmers Market which we profiled in Part 1 of our series! Just another example of local organizations connecting to maximize efficiency and break down silos – which aligns well with Gen-H community health agenda goals.)
Due to the limits on our region's growing season imposed by harsh winters, the Harvest Day program had previously only been able to operate seven months out of the year. With funding from the Cincy Good Food Fund, OHC has worked to construct additional high tunnels, which extend the growing season and allow Harvest Day to operate as a year-round program.
[mk_padding_divider size="35″]
Boosting Sales, Promoting Better Health
With funds from the Good Food Fund, Our Harvest was able to construct three high tunnels totaling 4,416 square feet now available for winter production. 1,500 pounds of vegetables were grown and harvested from the new tunnels during winter 2017. The new tunnels produced bok choy, tatsoi, Chinese cabbage, lettuce, spinach, and kale that were provided to their Harvest Day customers.
Kristin Gangwer, Our Harvest CEO and worker-owner, remarked, "Without this additional tunnel space, we would not have been able to sustain our four Harvest Day sites. These high tunnels will continue to produce winter vegetables for distribution to communities with limited access to fresh fruits and vegetables for years to come."
The 1,500 pounds of produce generated from these tunnels to-date have equaled approximately $3,375 in sales; the tunnels also allowed for the Harvest Day program to run year-round, which has led to a total of $5,448.20 in food-access sales from December-May.
The Harvest Day program was continued year-round via four sites: the Brighton Center (Newport, KY), the Peaslee Neighborhood Center (Over-the-Rhine), Working in Neighborhoods (South Cumminsville), and the Evanston Recreation Center (Evanston). This summer also saw an additional site added at the old Kroger parking lot in Walnut Hills. In partnership with the Walnut Hill Redevelopment Foundation and Easter Seals, a Harvest Day pop-up market is held there on Mondays from 12:30-2:30pm.
Finally, by partnering to host a hands-on high-tunnel construction workshop, Our Harvest also leveraged Cincy Good Food Fund dollars to support the farmer-education work of Cultivate! Ohio Valley and increase regional farmers' knowledge about high tunnel construction.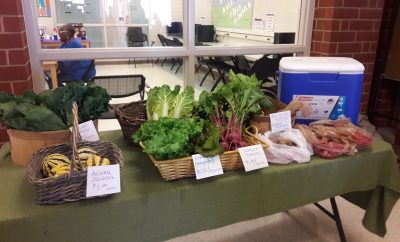 Efforts such as Our Harvest's Winter Harvest Day are critical in Greater Cincinnati, where obesity and poverty are widespread and many residents have little or no access to fresh, healthy food in areas known as food deserts. The Cincy Good Food Fund is designed to financially support innovative and promising projects that can make a significant, positive impact on our food system. It helps strengthen the Greater Cincinnati regional food system by supporting healthy food-related initiatives that improve the quality of life in our region.
About the Cincy Good Food Fund
The Cincy Good Food Fund is a program of the GCRFPC, an initiative of Green Umbrella, with support from Interact for Health, The Carol Ann & Ralph V. Haile, Jr./U.S. Bank Foundation, the Funders' Network for Smart Growth and Livable Communities, and The Meshewa Farm Foundation.
The Cincy Good Food Fund provides up to $10,000 for innovative projects that promote "Good Food" for our region by addressing one or more of the following GCRFPC priorities:
Healthy food access for residents in the region
Production of local foods and value‐added food products
Community development to support local foods and coalitions
Food security for residents in the region
Educational programs that promote healthy eating habits
Beneficial reuse or minimization of food waste
About the Greater Cincinnati Regional Food Policy Council
The Greater Cincinnati Regional Food Policy Council's mission is to promote a healthy, equitable, and sustainable food system for all within a ten-county region of Greater Cincinnati. It provides grant support for food-related projects in our region that are innovative, impactful, and viable.
Check back next week as we showcase the Cincinnati Public Schools' aeroponic gardening program in Part Four of our six-part series!