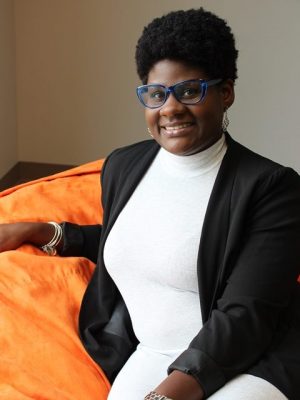 We caught up with our brand-new Executive Director, Gen-H for a getting-to-know-you Q&A. Kiana Trabue joins The Health Collaborative from the YMCA of Greater Cincinnati, where she served as Executive Director of Community Health. 
Trabue will take the helm of a community health initiative known as "The Health Generation," or Gen-H, supporting the United Way's Bold Goals for Health in our region. Click here to read the press release. 
Q: Hi, Kiana! Could you give us an overview of your Gen-H role at THC? 
A: My role as Executive Director, Gen-H involves leading our region's collective impact on health initiative, Gen-H which is focused on making health and healthcare a value that the entire community shares in Greater Cincinnati. I'll bring together a multi-sectoral team of leaders and activate them to make lasting change that will positively impact the region's health.
Q: Tell us about a recent activity or project you've worked on, or was involved in, or some cool local/regional/national industry news we might want to know about.
A: I spent my last day with the YMCA at the YMCA's Regional Emerging Multicultural Leadership Experience. I was a part of the planning committee for this event where we brought together multicultural staff from five different YMCA Associations across 3 states. We had 180 people attend the conference. It was a great way to engage leaders and spark positive conversation about diversity and inclusion. I am proud of the hard work I put into the event.
Q: What was your favorite physical activity as a child?
A: Roller skating! My sister, my friends, and I would roller skate around our neighborhood during the summer. We'd also skate in our basement. Our favorite place to skate was at Golden Skates. They had the best music and snacks and every weekend we would catch up with all our friends there. Those were the days!
Q: Where did you grow up, and how has it shaped who you have become?
A: I grew up in a little village north of the city called Woodlawn. Woodlawn has always been a close-knit community. I grew up with neighbors who were like family. I also grew up with family very close by, with my grandmother just 2 blocks away and cousins around the corner. I walked to and from elementary school each day and I am still good friends with people I started preschool with.
Growing up in Woodlawn taught me that you can be small but mighty. It taught me that it truly takes a village to raise a child. My parents still live there and I am lucky to be raising my children there as well so they can experience the same things I did as a child.
Q: What's your favorite stress-relieving activity outside of the office, and why?
A: My favorite stress-relieving activity is reading. I love to read. Reading allows me to enter a new world where I can learn new things and experience new emotions.
Q: What are you most proud of, personally or professionally?
A: I am most proud of my children. My children inspire me to be better every day. I strive to create an environment that allows them to dream big, learn, and grow. I want them to understand that hard work pays off. I believe in experiences over material things and while they are blessed to be able to have nice things, the experiences they have will be what they remember most.
Q: If you had a catch phrase, what would it be?
A: "Reading will save your life one day." This is 100% true, trust me.
Q: What song would you sing on American Idol?
A: Dance with Somebody by Whitney Houston. She is my all-time favorite vocalist!