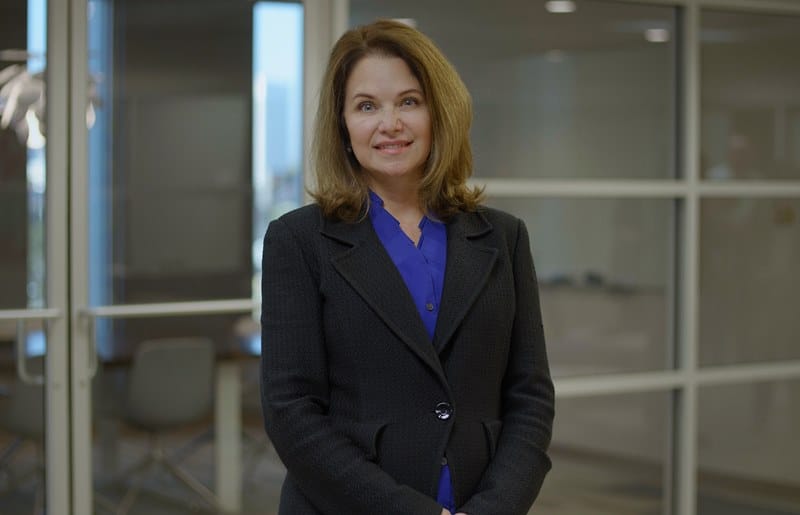 By Christa Hyson
Linda Smith Berry, Executive Director of TriHealth's Good Samaritan Free Health Center, is being recognized as a finalist for the 2018 Inspire Gen-H Award. 
Each year, The Health Collaborative recognizes the healthcare heroes in our community at the Inspire | Healthcare Gala and Awards Celebration. Award categories include Diversity and Inclusion, Gen-H (population health), Informatics Solutions (health information technology), and Leadership in Quality Improvement. This year's sold-out event is being held on November 8 at The Center downtown. The Gen-H Award recognizes an individual, team, or organization that has demonstrated progress on the Gen-H goals of making Greater Cincinnati and Northern Kentucky a healthier, more vibrant community by addressing health-related social needs affecting our community. 
A Commitment to Quality – and Community Savings Linda Smith Berry, Executive Director of The Good Samaritan Free Health Center, has built a career in service to others. Her commitment to providing quality care to those that are unable to afford care, or do not qualify for federal assistance is what keeps her going. "What inspires me about healthcare is the ability to keep people healthy until they can get back on their feet," says Linda. The Good Samaritan Free Health Center (GSFHC) is the only free health center in Hamilton County and provides care to the uninsured, non-Medicaid/Medicare-eligible adults who have an income less than 200% of the poverty level. It is also the largest urban free health center in Ohio. The Free Health Center provides comprehensive primary care, including mental health, nutrition, dentistry, pharmacy, and optometry. The value of the GSFHC to the community is substantial, to say the least: the estimated donated value of their prevention and management services over time (since 2012 and including YTD FY2019) is a whopping $14,732,000! In that time, more than 61,000 patient visits and nearly 45,000 volunteer hours have been documented. The result of providing a holistic, patient-centered approach has been a radical reduction in the number of emergency department (ED) visits for its patients, with an estimated economic impact of up to $534,000 over just eight months in 2018.
No More No-Shows Through Linda's commitment to the GSFHC, patient no-show rates have decreased and innovative new programming to improve patient outcomes has been established. Patients treat the GSFHC better than most patients treat their own private office. Year to date, the no-show rate at the GSFHC is 8.7%. The national no-show rate of private, primary care offices averages to 12%. When the GSFHC opened in 2011, five patients were seen in the first month. Now the average is 1,000 appointments per month. Services had been provided two days each week but the demand has gotten so great, the GSFHC is now open six days a week and two evenings each month.
The TriFecta Project
Last year, the GSFHC began a new venture: The TriFecta project. The TriFecta project focuses on health education of patients with chronic diseases. Patients receive three sets of three, half-hour appointments: one with a nutritionist, one with a social worker and one with a pharmacist, who target specific aspects of educating the patient about their chronic disease. The program began with diabetic patients, specifically those with high A1C levels which indicate poorly-managed diabetes.
Since January 2017, results have shown a dramatic drop in A1C values, with an estimated savings of $8,000 to the healthcare system per percentage point of decrease of A1C. 47% of patients in the TriFecta project reported decreased psycho-social barriers to their health. 26% reported an increase in prioritizing time for their health. 94% of patients reported an increase in feeling they lead a purposeful and meaningful life. 94% reported improvement in their social relationships. 94% reported improvement in optimism about their future.
"What inspires me about healthcare is the ability to keep people healthy until they can get back on their feet."
Linda Smith Berry
The Empower Program In 2018, GSFHC developed The Empower Program. The Empower Program aims to improve population health and empower individuals through integration of clinical care and resource navigation. The Empower program is designed to treat the patient in a different way. The foundation for the design of the visit are to create an engaged patient capable of owning and navigating their healthcare needs. The belief of the team at the GSFHC is that a more engaged patient is likely to achieve more positive patient outcomes. A simultaneous team-based care model is introduced in the initial visit. This initial visit team consists of a physician, health coach and/or community health worker. Initial assessment includes the patient's perception of engagement, physical assessment, and other needs to assist the patient in meeting health goals. Addressing some of these barriers will be part of the patient empowerment. These include the social determinants of health impacting the patient such as transportation, food access and/ or safety concerns based on neighborhood assessment. The vision of the program focuses on patient engagement and teaching patients to see themselves in control of their health.
The benefit of programs such as the The TriFecta Project and the Empower Program is a more engaged patient capable of making effective decisions about their health and better health outcomes for the population served. The Health Collaborative is proud to honor Linda Smith Berry, Executive Director of The Good Samaritan Free Health Center, as a finalist for the 2018 Inspire | Healthcare Award in Gen-H population health.