By Amy Crowley
Dr. C. Keith Melvin and Dr. Kent Robinson of Mercy Health – Avondale Internal Medicine are being celebrated as finalists for the 2018 Inspire Diversity and Inclusion Award.
Each year, The Health Collaborative recognizes the healthcare heroes in our community at the Inspire | Healthcare Gala and Awards Celebration. This year's sold-out event is being held on November 8 at The Center downtown. Award categories have included Gen-H (population health), Informatics Solutions (health information technology), and Leadership in Quality Improvement. NEW this year is the Diversity and Inclusion Award category, which acknowledges an individual or organization-level commitment to inclusiveness and advocacy for under-represented and minority populations – and for people of diverse cultures, backgrounds, and experiences – in its overall policies, practices, and partnerships.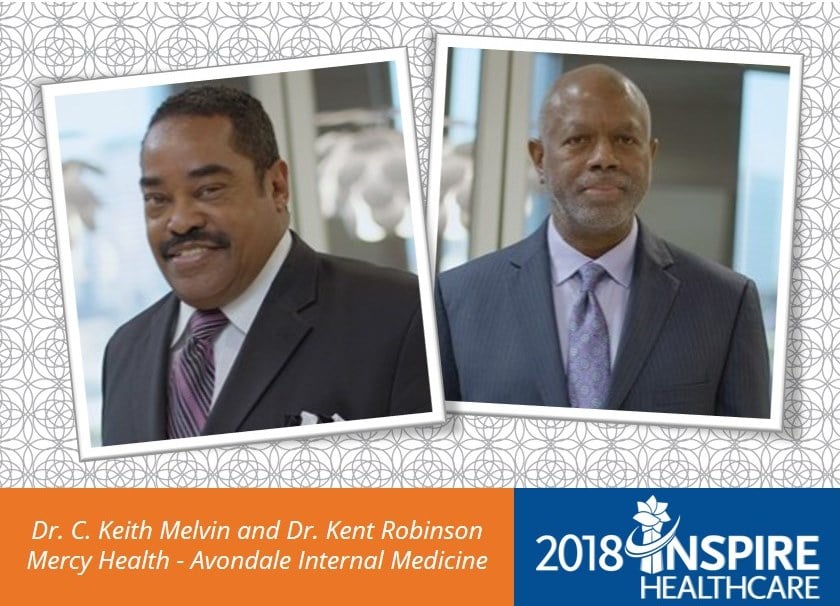 To say that Dr. C. Keith Melvin and Dr. Kent Robinson have made it their mission to serve the underserved is an understatement. As primary care physicians at the Mercy Health – Avondale Internal Medicine office, both understand the need to address disparities in the health of the African American community. Their work not only tackles this need inside their individual practices but also outside in the community where they can reach more people and make a bigger impact.
Dr. Robinson Brings Healthcare to the Community
Since 2012, Dr. Robinson has annually hosted a Day of Wellness, a community health fair focusing on the physical, mental, emotional and spiritual well-being of individuals in the community. Often using his own resources to make this event a success, he brings together experts who can teach people the principles of good living so they can take control of their well-being, share what they learn with family and friends and overall give them the opportunity to improve their chances of living a long and healthy life. Each year, hundreds of community members gather for the event at Mercy Health's home office in Bond Hill for valuable information and advice on various diseases, free health screenings, adult and youth workshops, health cooking demonstrations and even dance, Tai Chi, Zumba, and other workshops to get people moving.
Through the screenings provided onsite, Dr. Robinson and his volunteers have been able to diagnose diabetes, high blood pressure and other illnesses that these individuals were unaware they were battling. Through his dedication and the efforts of all of his volunteers, the Day of Wellness event has provided much needed access to medical support that these individuals otherwise would likely have not received. To date, Dr. Robinson's event has touched more than 1,500 people over the last six years.
"We are more than work colleagues, we're family. We both strive to help our community in any way possible and we are honored with this nomination because it feels as though our work has not gone unrecognized."
Drs. Melvin and Robinson
Dr. Melvin Raises Awareness for Cancer Prevention
As cancer survivors, Dr. Melvin and his wife were once patients themselves. This unique level of understanding and compassion has turned Dr. Melvin into a vocal advocate for educating the community on the importance of cancer screenings that can detect cancer in its earliest, most treatable form. Ten years ago, Dr. Melvin and his friend, Bill Mabrey, a renowned local DJ and event planner, set out to raise awareness of this horrible disease. What started as an intimate celebration with a small group of friends who are also cancer survivors, has grown into the annual Black and White Cancer Survivors Gala, attracting nearly 1,000 attendees. The black-tie event held in late October/early November, focuses on prevention and makes it easy for guests to receive care by inviting them to write down which screenings they may need — a mammogram, colonoscopy, etc. Following the event, a Mercy Health professional then follows up with guests to schedule a screening.
Following the success of the gala, Dr. Melvin added another event this year to help spread the message even further. In June, the Walk in Wellness and Awareness event was held in partnership with the Cincinnati Health Department's Men's Health Initiative and the Beta Iota chapter, an unincorporated association of the Omega Psi Phi Fraternity, the first international fraternal organization founded on the campus of a historically black college. The event, which took place at Mercy Health's Bond Hill location, included a 5k walk, nutrition class, health expo, health screenings and line dancing — all focused on providing access to health and wellness information and screenings that might not otherwise reach this community.
A Powerhouse Duo
As if their individual efforts weren't quite enough for these two dedicated physicians, they decided to team up to serve as clinical sponsors of the Man Up! health expo. For the third year, this free event has targeted African American men and featured a dinner, health screenings and celebrity guest appearances by athletes and others who can speak to their health challenges.
The event focuses on getting men to step up and be their own health advocates. More than 600 men attend Man Up! for tests and screenings related to blood pressure, body fat, diabetes, cholesterol, vision/glaucoma as well as prostate, colon and lung cancer.
"Kent and Keith consistently put out a hand to move each person they interact with forward to improve lives. Their work is inspiring and each of them, though different in their drivers, genuinely care about people and use their own strengths in medicine to care for as many people as they possibly can," said Courtney Seitz, Chief Operations Officer, Mercy Health Physicians – Cincinnati.
Through these events and more, Dr. Melvin's and Dr. Robinson's efforts are invaluable in bridging the health gap in our communities and the Health Collaborative is proud to honor these two finalists for the 2018 Inspire Healthcare Award in Diversity and Inclusion.