Mr. Alieu Nyassi M.S. ELOC, brings a wealth of knowledge and experience to his current role as Assistant Vice President, Diversity and Inclusion with St. Elizabeth Healthcare.
A forward-thinking human resources professional, Mr. Nyassi is equal parts thoughtful and strategic, providing vision, leadership, coordination and planning for the design, implementation and ongoing review of an enterprise-wide plan to drive diversity and inclusion throughout the organization that is customer focused. In just two years time, Mr. Nyassi has established St. Elizabeth Healthcare as a regional leader in Diversity, Equity, & Inclusion (DE&I).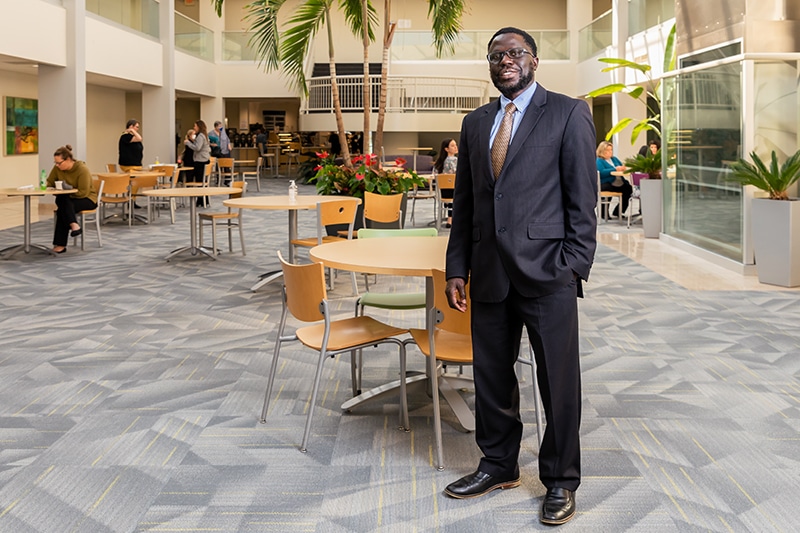 Born and raised in The Gambia in a village called Penyem, Mr. Nyassi migrated to the United States in 1997 to pursue a college education. After receiving a Masters in Executive Leadership and Organizational Change from Northern Kentucky University in 2009, he has spent the bulk of his time and energy fostering positive change within the healthcare space. Described by many as a genuine, caring leader who works tirelessly to bring people together, Mr. Nyassi is no doubt leaving an indelible mark on Diversity, Equity and Inclusion in healthcare.
With an incredible list of accomplishments to his name, below are only a few of his noteworthy contributions.
Implemented more than a half-dozen DE&I education programs as part of his Education, Development & Retention Initiatives.
Established five Associate Resource Groups, including Women in St. Elizabeth (WiSE), Multi-Ethnic Resource Group (MERG), St. Elizabeth Empowers Neurodiversity-Disabilities (SEEN), Veterans ARG, and Young Professionals.
Oversaw the Inclusion, Diversity and Equity Advancement Summit (IDEAS) on July 27th of this year with more than 125 guests in attendance.
Developed the Diverse Associate Exit Interview Program and the MERG Allyship Program, matching tenured Minority Associates with New Minority Associates as mentors.
Under his direction, the Language Services websites created and launched. Launched in June of this year, his team is administering the Language Services (LEP) Training, which will directly benefit nearly 10,000 St. Elizabeth associates.
His teams organized community events, providing various health screenings while simultaneously connecting over 200 minority individuals with no PCP with a St. Elizabeth Primary Care Physician.
His team manages the annual $50k grant provided by Garren Colvin, CEO of St. Elizabeth Healthcare, which offers healthcare career education and awareness to African American and Latino high school students in Northern Kentucky.
Created the Diversity and Inclusion Advisory Council (DIAC) at St. Elizabeth Healthcare providing authentic, considerate leadership throughout the organization.
Since the COVID-19 pandemic, he has worked with leaders across St. Elizabeth, Northern Kentucky (NKY) Health Department, and Northern Kentucky minority communities to ensure COVID-19 testing is available to Latino communities. A soon as COVID-19 vaccines became available, he has worked to ensure African American, Hispanic churches, and the Islamic Center of NKY all have access to vaccines. In partnership with NKY Health Department, the vaccines were brought to where these populations live and worship. Most recently on October 16, 2021, Mr. Nyassi led the COVID-19 Vaccine clinic at Homes High School in Covington in partnership with NFL Alumni and NKY Health Dept. He also launched a COVID-19 Vaccine Community Outreach Grant which will provide up to $5,000 to any minority church and place of worship that is able to have 80 percent of their members vaccinated. These funds will be utilized for health education or programs within these institutions.
Join us in celebrating and congratulating Mr. Nyassi on these accomplishments and for being a 2021 Inspire Connect finalist in the Diversity & Inclusion Award category.