Cincinnati-area healthcare providers had an opportunity to attend last week's Institute for Healthcare Improvement (IHI) National Forum – held in Orlando, FL – live via virtual webcast, hosted right here at The Health Collaborative's conveniently-located Elsinore Place headquarters downtown.
Our clinical quality improvement team welcomed hospital administrators, nurses, patient advocates, and a broad cross-section of other care providers with a passion for improving the quality and safety of healthcare in our region. The two-day livestream offered robust keynote presentations, topic-driven workshops, and analyses of the latest methodologies and tools available to quality improvement specialists.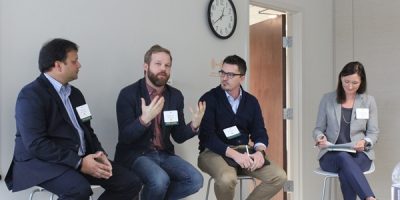 A panel of local experts rounded out the local webcast each day, offering perspectives from experts in fields beyond health and healthcare. Ramsey Ford (CEO, Design Impact); Hari Joshi (Senior Executive, Centric Consulting), and Dustin Shell (Director of Innovation, Tier 1) led a discussion on "Healthy by Design: Applying Business Thinking to QI" on the 12th. They shared reactions to the IHI morning plenary and livestream presentations, and discussed ways to apply business- and design-thinking to healthcare quality improvement.
On the 13th our guests were joined at lunchtime by Dr. Robert Collins (CMO Ret., TriHealth); Dr. Rena Sorensen (Staff Psychologist, Cincinnati Children's Hospital Medical Center); and Linda Juengling MSN, RN, NE-BC (Director of Nursing, TriHealth), all past winners of The Health Collaborative's annual Richard M. Smith Leadership in Quality Improvement Award. Their reactions to the presentations and discussions of the IHI Forum set the stage for sharing their real-world examples of quality improvement efforts within their organizations, from grassroots initiatives to organization-wide culture change.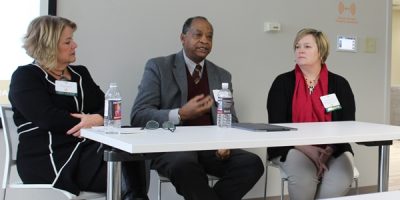 Quotes of note: Wisdom from IHI presenters and local panelists
"All together, or not at all" – Don Berwick MD, MPP, President Emeritus and Senior Fellow of IHI; emphasizing the importance of partnership and ensuring that each team member has a voice in decision-making (including patients, their families, & their support networks)
"You don't drink the kool aid, you make the kool aid." – Dustin Shell, Tier 1
"Stay mission-focused and figure out how quality improvement fits into that." – Hari Joshi, Centric Consulting
"Each of us is more than the worst thing we've ever done." – Bryan Stevenson, Equal Justice Initiative
"Every opportunity is an opportunity to innovate." – Dustin Shell, Tier 1
"Culture eats strategy for breakfast" – Hari Joshi of Centric, describing how leadership sets the tone at any given organization, making workplace culture an even more powerful driver of improvements than any policy or strategy
Key themes: Takeaways from the IHI Forum
Joy in work is a strategic priority
All team members should be comfortable speaking up if something seems wrong or ill-advised
If patients ran the health system they'd have "quality" as the operating system, and "joy in work" would be the renewable energy
The nursing suicide rate is greater than that of the general population; nurses don't speak up when they think a patient may be harmed by others' actions or decisions for fear of reprimand
The ripple effect: when leadership demonstrates joy in practice/work, it has a ripple effect that is felt by staff, patients
Statistic: there is a 14.6% RN turnover rate in the healthcare industry today, which adds up to $7.8 million in waste per year and compromises patient safety (Source)
Don't ask permission to innovate
Get out of silos
Data is critical
Be unoffendable
Attendee Feedback
"I want to thank you for hosting this event. It was a great opportunity to hear some new ideas."
"Instead of educating my team, I will increase collaboration and communication"
"Listen to understand"
Collaborative energy & spirit needs to be spread