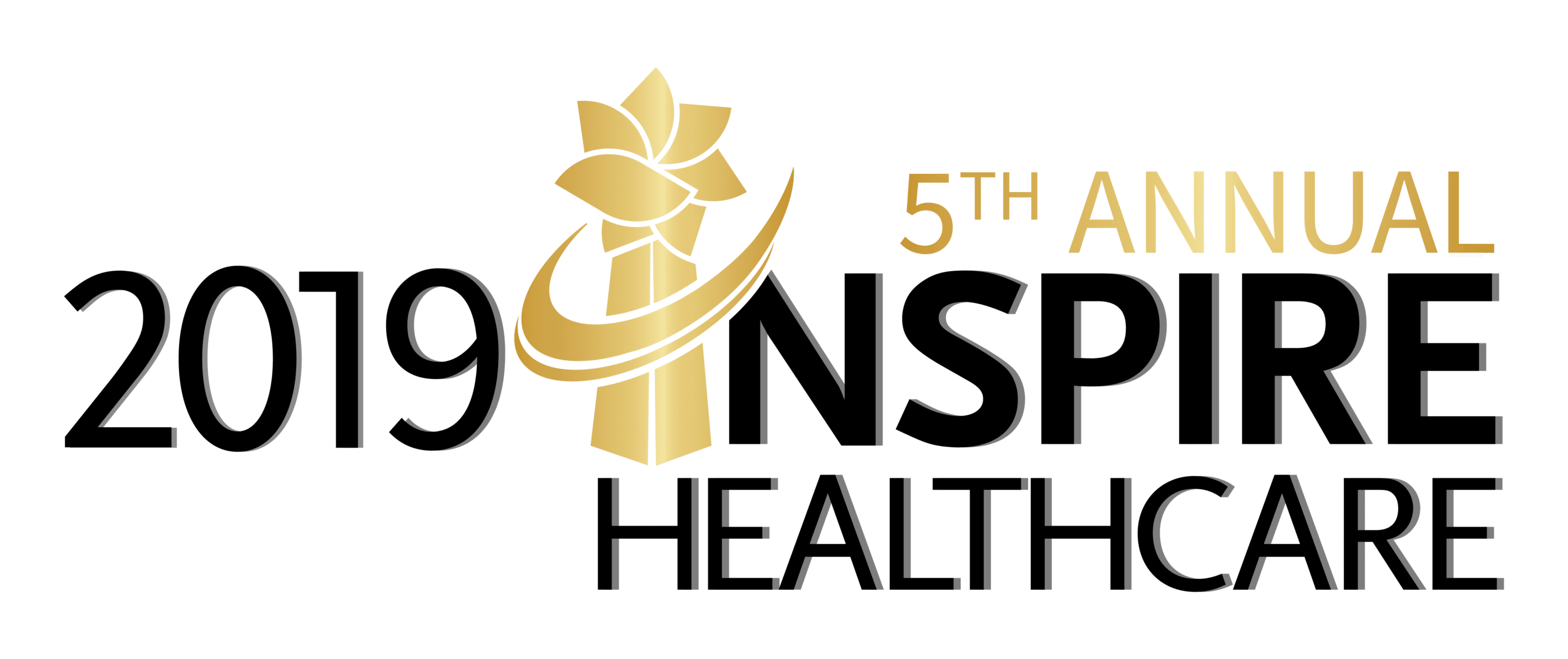 MEDIA CONTACT:
Christa Hyson, MPH
Senior Manager, External Relations
(513) 247-5254
FOR IMMEDIATE RELEASE
Announcing the 2019 Inspire | Healthcare Award Finalists
Chosen Across Four Award Categories for their Innovative Work in Lowering Costs, Improving Care,
and Empowering Healthier People
CINCINNATI –This year The Health Collaborative (THC) celebrates the 5th anniversary of Inspire | Healthcare – our region's awards program recognizing innovation in health and healthcare. Four winners from a distinguished group of 17 finalists will be named on November 6th at the Hilton Netherland Plaza in the Hall of Mirrors.
Finalists (and winners) are chosen by past Inspire winners, program leaders, and subject matter experts in four areas including: diversity and inclusion, population health; health information technology; and patient safety and quality improvement. THC also partners with the Hoxworth Blood Center to present their annual Blood Drive Awards for participating hospitals at the Inspire event.
The 2019 Inspire | Healthcare Award categories and finalists are as follows:
DIVERSITY AND INCLUSION AWARD
The Diversity and Inclusion Award celebrates the individual or organization committed to inclusiveness and advocacy for under-represented and minority populations and for people of diverse cultures, backgrounds, and experiences in its overall policies, practices, and partnerships.
2019 Diversity and Inclusion Award Finalists:
• Caroline Hensley & the Student Run Health Clinic, University of Cincinnati College of Medicine
• Juliann C. Parker, SOGI Project Manager, The Christ Hospital Health Network
• Maria Espinola, Psy.D., UC Health & University of Cincinnati College of Medicine
• UC Health Supplier & Services Economic Inclusion Initiative
Judges: Jason Bubenhofer, Manager, Business Intelligence, The Health Collaborative; Jackie Glaser, Senior Director, Client Services, The Health Collaborative; Jennifer A. Ingram, MS, Vice President, Diversity, Equity and Inclusion, United Way of Greater Cincinnati; Eric H. Kearney, Esq., President & CEO, The Greater Cincinnati & Northern Kentucky African American Chamber of Commerce
GEN-H AWARD
The Gen-H Award recognizes an individual, team, or organization that has demonstrated progress on three key goals to create a region that is healthy by design:
Addressing social determinants of health
Designing healthcare that is more accessible, coordinated, continuous, and comprehensive
Empowering community-based health and wellness initiatives
2019 Gen-H Award Finalists:
Deaconess Health Check Mobile Health Van
Mercy Serves Program, a Partnership Between Mercy Health and AmeriCorps
Sayler Park Healthy Food Program
WeTHRIVE! Team, Hamilton County Public Health
Judges: Jodi Cunningham, PhD, Project Manager, The Community Builders; Jennifer Foster, Health Champion, Avondale Resident, Community Leader; Angelica Hardee, PhD, Senior Manager, Gen-H, The Health Collaborative; Kiana Trabue, MPH, Executive Director, Gen-H, The Health Collaborative; Judith Warren, MPH, Chief Executive Officer, Health Care Access Now
HEALTHCARE TECHNOLOGY AWARD
The Healthcare Technology Award acknowledges the individual, team, or organization that has applied data, notification products, or business intelligence to create a solution to an ongoing challenge. Nominees demonstrated measurable improvements through use of technology solutions around patient outcomes, cost savings, and/or work flow efficiency.
2019 Healthcare Technology Award Finalists:
Brad Bolte, Sports Injury Prevention Program, St. Elizabeth Healthcare
IT and Informatics Sepsis Team, TriHealth
Jeffrey Griffith, RN, Telecare Companion Program, Cincinnati VA Medical Center
TriHealth Corporate Health Team
UC Health Primary Care Dashboards
Judges: Kelly Abeln, Manager, Care Management, UC Health; Brian Kegley, Senior Data Analyst, The Health Collaborative;  Jane Muindi, Director of Operations, The Health Collaborative; Glen Prasser, Executive Director, Independent Physicians Collaborative; Michael Saxion, Senior Director, Information Services, Cincinnati Children's Hospital Medical Center; Alex Vaillancourt, CPHIMS, Chief Information Officer, The Health Collaborative
RICHARD M. SMITH MD LEADERSHIP IN QUALITY IMPROVEMENT AWARD
First presented in 2003 in memory of Dr. Richard Smith, a tireless leader and proponent of the safety of all patients, this award is given to the individual or team that has gone above & beyond normal job expectations to identify an opportunity to improve patient care and safety. Operating under the principles of quality improvement, candidates must have developed and executed a successful intervention supported by evidence. Eligible nominees must be members or customers of The Health Collaborative.
2019 Richard M. Smith MD Leadership in Quality Improvement Award Finalists:
Phlebotomy Team, Cincinnati Children's Clinical Laboratories
Stacy Jones, BSN, RN, Patient and Community Advocate, Mercy Health
Brad Mathis, MD, CAUTI Project, UC Health
Stroke Care Certification Program, Mercy Health
Judges: Tiffany Mattingly, MSN, RN, Director, Clinical Quality Improvement, The Health Collaborative; Linda Smith Berry, RN, Executive Director, Good Samaritan Free Health Center; Rena Sorensen, PhD, Staff Psychologist III, Division of Child Psychiatry, Cincinnati Children's Hospital Medical Center; Barbara Tobias, MD, Medical Director, The Health Collaborative; Ken Wilson, Vice President, Program Operations, Council on Aging of Southwestern Ohio
Winners in the four Inspire | Healthcare categories will be announced on November 6th, 2019 at the Inspire | Healthcare Awards Celebration and Dinner, being held at the Hilton Netherland Plaza in the Hall of Mirrors. The event will begin with a networking reception at 5:00pm, followed by the program at 6:15pm during which keynote speaker Jay Want, MD, Executive Director of the Peterson Center on Healthcare will discuss transparency in healthcare.
For more information about the November 6th celebration, visit healthcollab.org/inspire.
###
About Inspire | Healthcare:
Inspire | Healthcare is the Greater Cincinnati and Northern Kentucky region's premier annual healthcare event and awards celebration. The awards seek to recognize innovations by individuals, teams, and/or organizations in the areas of informatics, quality improvement, population health, and diversity & inclusion. Other awards presented include the Inspire Champion Award and the Hoxworth Blood Drive Awards.  For more information about Inspire | Healthcare, visit healthcollab.org/inspire.
 About The Health Collaborative:
The Health Collaborative is a non-profit organization that leads data-driven improvements across the region resulting in healthier people, better care and lower costs. For more information about The Health Collaborative, visit healthcollab.org.