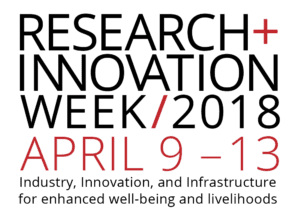 Join us on April 12 for
"The Learning Health System: Ethical Implications of Data Sharing in Support of Research and Innovation"
– a panel dialogue designed especially for University of Cincinnati's
Research + Innovation Week
!
The panel of healthcare experts will discuss advancing the appropriate use of health data for discovery and improvement. Greater Cincinnati has a strong track record with respect to health data governance and exchange. And yet, we're missing opportunities to drive improvement in patient outcomes, to accelerate innovation, and to support a robust research agenda among our academic colleagues.
The dialogue presents a unique opportunity to assemble healthcare leaders, academics, and improvement champions for an open dialogue on the ethical and appropriate use of health data.
Date: Thursday, April 12th, 2018
Time: 5:00-7:30pm
Place: The Transept on Washington Park, 1205 Elm St., Cincinnati, OH 45202
Panelists
Richard Lofgren, MD, MPH – CEO, UC Health
Peter Embi, MD, MS – CEO, Regenstrief Institute
Jodyn Platt, PhD, MPH – Assistant Professor, Department of Learning Health Sciences, University of Michigan
Michael Seid, PhD – Director, Health Outcomes and Quality Care Research, Pulmonary Medicine and James M. Anderson Center for Health Systems Excellence, Cincinnati Children's Hospital Medical Center
Craig Brammer – CEO, The Health Collaborative (Moderator)
Agenda
5:00-5:30pm – Arrivals & refreshments
5:30-5:45pm – Remarks & introductions
5:45-6:30pm – Moderated panel dialogue
6:30-7:00pm – Audience-driven dialogue
7:00-7:30pm – Informal networking & refreshments
For more information on the University of Cincinnati Research & Innovation Week, please visit http://research.uc.edu/researchweek. The 2018 theme, Industry, innovation, and infrastructure for enhanced well-being and livelihoods, closely aligns with the UN's Sustainable Development Goals, speaks broadly to the issues important to our region, and ties to UC's Strategic Directions.
This event is being sponsored by The Hutton Family Foundation and is a part of the Hutton Ethics Lectureship.