bi3 is on a mission to transform health for all people in Greater Cincinnati.
It leverages its investment assets and strategic partnership with TriHealth to fuel innovation and drive health equity.
Since 2010, bi3 has awarded more than $56 million in grants to TriHealth (the healthcare system it sponsors) and other community organizations throughout the region. Realizing a day when a person's health is no longer predicted by race, ethnicity, gender, ability, or geography is one of the initiative's primary goals.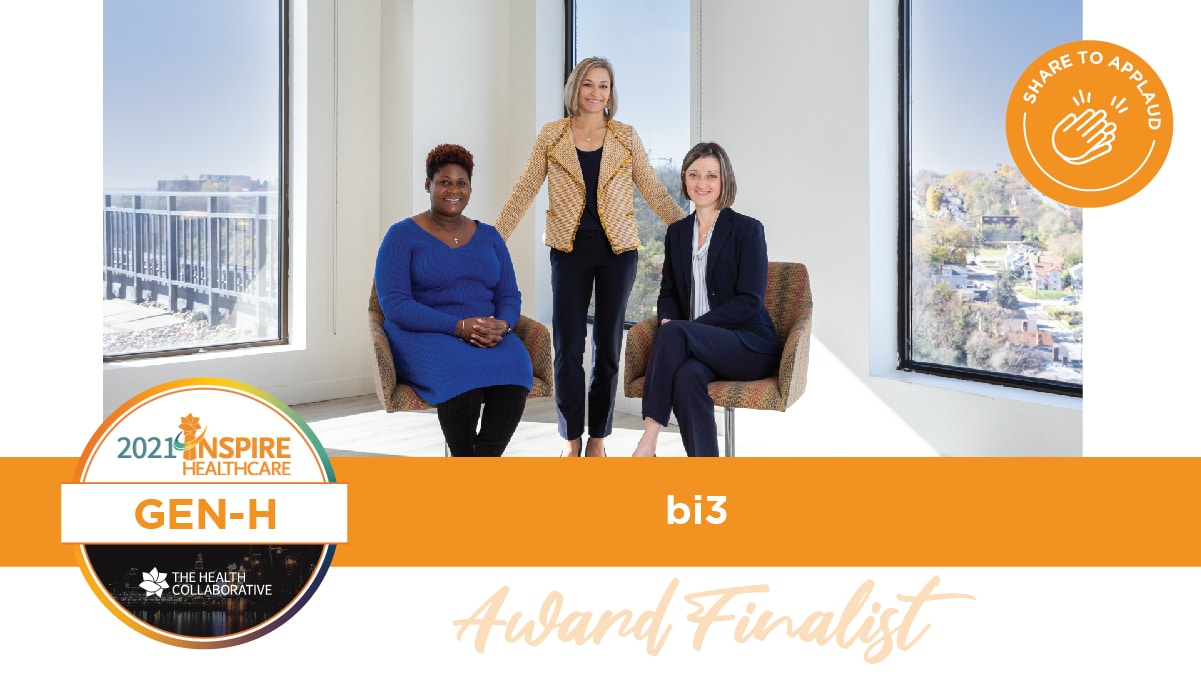 Like many large cities, Cincinnati has its own set of challenges when it comes to health disparities. Its resources vary significantly between neighborhoods to the point that one's zip code is a stronger predictor of life expectancy than one's genetic code. bi3 is on a mission to change that.
When the pandemic hit, bi3 was among the first to provide funding to and participate in the COVID-19 Regional Response Fund. bi3's Jill Miller chaired the Funders Collaborative that was responsible for distributing $7.2 million to 260 diverse organizations in just seven weeks, prioritizing organizations serving people disproportionately affected by the pandemic.
Through participation in the COVID-19 Regional Response Fund, bi3 learned many nonprofits were struggling to deliver services amid COVID restrictions. To combat this, bi3 awarded an additional $1.6 million to build the capacity of 37 organizations, enabling them to adapt to a virtual care-delivery environment and increase community access to health and social services using technology. With an eye towards equity, the bi3 team streamlined the grant process—shifting to more personal communications, co-developing simple reporting techniques with each grantee, and connecting them to each other. bi3 recently awarded additional unsolicited grants to another 16 nonprofit organizations and TriHealth programs that address health disparities.
Even before the pandemic, bi3 was making an impact. bi3 has been leveraging its unique partnership with TriHealth to drive innovation and expand access. Examples include implementing precision medicine in 2021, expanding services through telehealth offerings in 2020, implementing screening for social determinants of health in 2018, and working over several years to integrate behavioral health into primary care.
Additionally, bi3 grants accelerate efforts to build a more diverse, equitable, and inclusive culture at TriHealth. Programs include School to Work, which gives Cincinnati Public School students real-world, paid work experience and mentorship in the healthcare field; physician and team member cultural competency; implicit bias training, and the B.O.L.D. (Building Our Leadership Diversity) program focusing on recruiting, retaining, and developing diverse leaders.
Fostering Community-Level Change
bi3 also works with partners towards long-term change at the community level. Focused on reducing Hamilton County's high infant mortality rate, bi3 fostered unprecedented collaboration among competing health systems and community organizations, fueling the development of a unique mom-centered approach care model. bi3 funding helped Cradle Cincinnati leverage additional funding to expand that model into 12 neighborhoods and create Queen's Village, a grassroots community group led by and for Black women to address needs identified by moms. In 2020, Cradle Cincinnati reported a record low infant mortality rate for both Black and White babies in Hamilton County.
As part of its community-wide efforts to improve racial and health equity, bi3 is sponsoring the Greater Cincinnati Foundation's Racial Equity Matters series for the second year. The series focuses on understanding the root causes of racism, with more than 2,000 community members participating in over 30 sessions in its first year. Separately, bi3 sponsored the Greater Cincinnati Chamber of Commerce's Racial Equity Series with 1,449 attendees, including many executive leaders.
Each of these initiatives—and so many more—demonstrates bi3's commitment to our community, creating a fundamental shift helping us move forward as one city where everyone can achieve their optimal health!
The Health Collaborative is proud to honor bi3 and its strategic partner TriHealth as a nominee for the 2021 Gen-H Award. The teams' commitment to reduce health disparities in our communities with initiatives making a difference is something we all can get behind.