Accurate monitoring of patient cases and closing the loop on issues in care are essential for healthcare quality improvement.
When a thorough evaluation of performance improvement and patient safety activities revealed existing registry software could not support a robust quality improvement process, Alexandra Carpenter and Rebecca Lemaster took action to build and customize their own electronic system.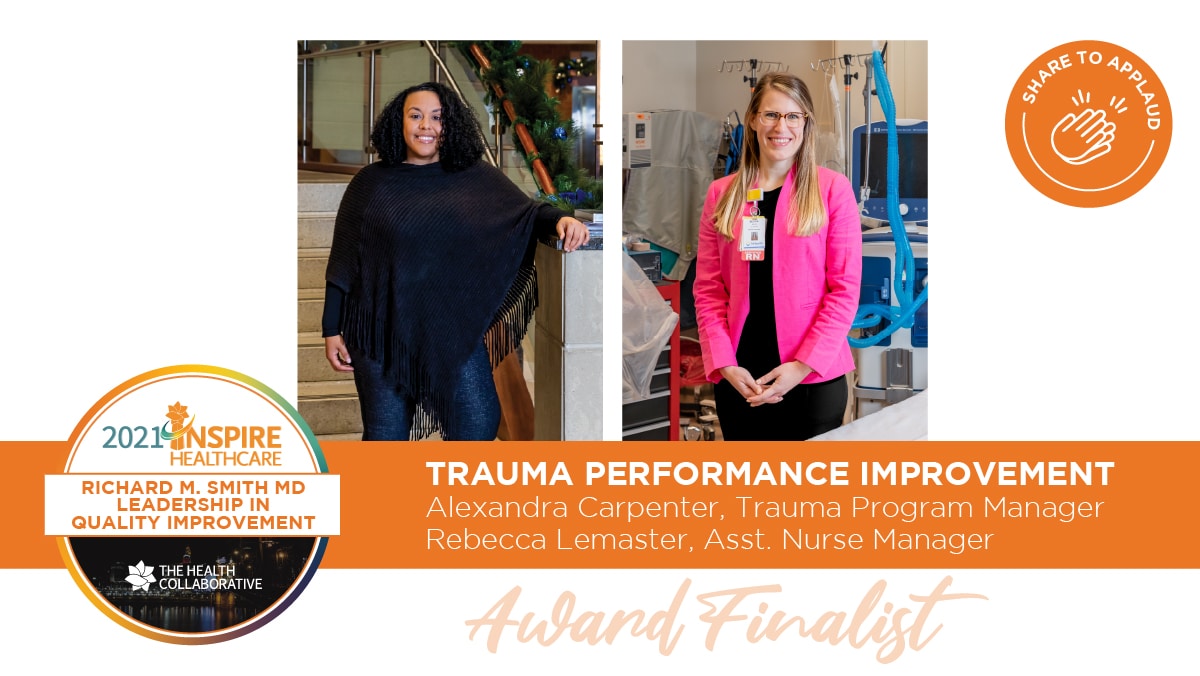 Alexandra Carpenter MHA, BSN, RN, TCRN, CPEN is a Trauma Program Manager at Atrium Medical Center; and Rebecca Lemaster BSN, RN, TCRN serves as an Assistant Nurse Manager at Bethesda North Hospital. The two collaborated to design a system approach to trauma performance improvement documentation within the Premier Health system serving Southwest Ohio.
Their analysis revealed there was no capability to efficiently track the status of completed cases electronically in an intuitive and user-friendly manner. Additionally, fragmented documentation and an over-reliance on various forms of paper and electronic documents threatened confidentiality and discoverability, and created undue difficulties in tracking, measurement, and case resolution.
Ultimately the team determined that in order to take its PIPS program to the next level they would need to build and customize their own electric documentation system.
After numerous meetings with the Hospital Quality and Patient Safety Department and the Quality Innovation administration to brainstorm ideas and discuss available options, the Premier clinical analytics team was brought on board to execute on the ideas and develop the software. The clinical analytics team consists of experienced data analysts capable of building and customizing a trauma specific study within the system's existing care platform that could be built to exact specifications.
The American College of Surgeons' "Resources for Optimal Care of the Injured Patient" and the Society of Trauma Nurses' "Trauma Outcomes and Performance Improvement Course (TOPIC)" were utilized as the foundation for developing the software. The Trauma Program collaborated with the Hospital System Quality Innovation Team to construct a comprehensive, trauma-specific electronic care performance platform within the existing analytics database. Over the course of 12 months, the documentation platform was designed and personalized to meet all existing and foreseen PIPS requirements.
Upon rollout, workload and volume of data entry saw an almost 75% reduction in the total number of individual issues or critiques entered into the new electronic platform in comparison to the registry database. Concerning trends are now quickly recognized, facilitating early planning for resolution. Continuous review has shown ongoing growth and timeliness in tracking and closing cases.
This platform is now the primary site for trauma opportunity for improvement (OFI) documentation, has been adopted by all the trauma programs across the system, and is utilized as the foundation for burn and radiology quality/performance improvement builds. It was awarded Best Oral Presentation in the 2020 Trauma Quality Improvement Program Conference, and was also recently recognized by the American College of Surgeons surveyor at a trauma consultative visit.
The Health Collaborative is proud to recognize Alexandra Carpenter and Rebecca Lemaster as finalists for the 2021 Inspire Quality Improvement Award, for their solutions-oriented approach toward patient care and outcomes, as well as provider/clinician satisfaction and workflow