As a national leader in scientific discovery, Cincinnati Children's Hospital Medical Center is driven to find solutions to protect the health of those who need it the most.
When the pandemic hit, Cincinnati Children's quickly convened a team from its Anderson Center for Health Systems Excellence and a coalition of healthcare, public health, and community leaders to stitch together the data to guide the decisions being made daily.
The result was the development of the Rapid, Adaptive Control of Epidemics (RACE) team.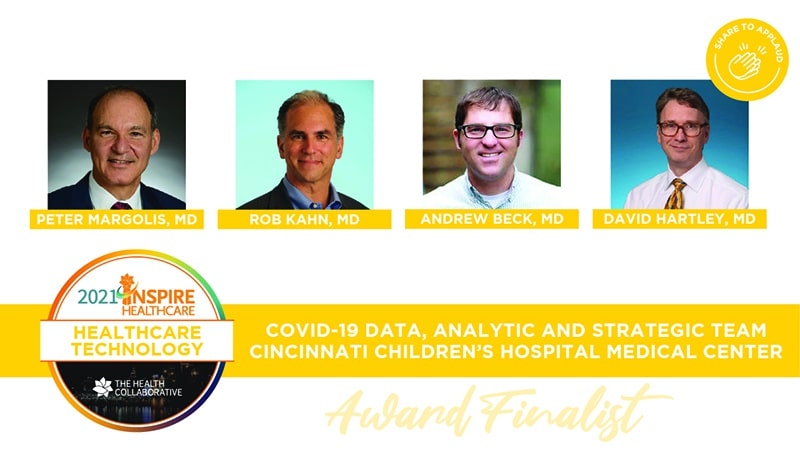 This team played, and continues to play, a leading role in supporting the community and regional response to COVID-19. It provided expertise and resources to enable the real-time evaluation, design, and large-scale change management required and worked closely with the Health Collaborative's Regional Information Exchange data and other data sources to support regional situational awareness and strategy.
Within 10 days of Greater Cincinnati's first SARS-CoV-2 case, the situational awareness and strategy team worked with regional leaders to:
Develop and agree on a shared aim and goals of suppressing regional SARS-CoV-2 transmission to reduce disease burden while maintaining economic productivity
Delineate scope of support activities by defining populations, geographies, and partners including public health departments, hospitals, adult living facilities, group homes, schools, and businesses
Identify how to design a successfully networked system comprised of effective healthcare delivery, public health-driven prevention, and coordinated cross-sector planning and service delivery
The RACE team worked with these stakeholders to define measures such as daily case incidence and effective reproductive ratios (Reff) to inform and evaluate the effectiveness of hospital and community responses over time.
By early April 2020, the team produced a shared dashboard daily for leaders of area hospitals, public health jurisdictions, and congregate care facilities alongside subject matter experts and support teams. The team related incidence and spread to downstream pandemic effects: healthcare system impact and community capability, time, participation in contact tracing, time-lags from symptom to isolation. The team depicted measures at different levels of aggregation – entire region, county, neighborhood, healthcare system, and hospital – and across vulnerable sub-populations (those residing in congregate care facilities, living in impoverished neighborhoods, etc.) to help inform hyper-local public health initiatives. The team used advanced statistical and analytic methods to identify important changes over time and to provide annotated, daily charts and maps that helped leaders relate changes in intervention strategies to changes in measures.
By early May 2020, the RACE team was producing a version of this information as dashboard measures to share publicly to inform the community. This further enabled real-time learning and action across even more sectors such as schools, universities, and businesses.
Data within the dashboard evolved over time and helped inform community decisions including:
Not opening Cincinnati's Convention Center as a field hospital because data showed stable hospital capacity, saving tens of millions of dollars 
Identifying early, increasing case incidence following reopening in May and June resulting directly in a community-wide "Mask On"  communication campaigns supported by the regional Chamber of Commerce and business community.
Identifying clusters of cases to help detect outbreaks and the need for community testing.
Localizing testing and vaccination sites.
Informing communication strategies about mitigation strategies and vaccination.
Providing insights about how COVID-19 affects vulnerable population and informing equitable distribution of resources to those areas in most need.
Networked leaders also began using the data to drive improvement. Health departments reduced lags in contact tracing. Community testing teams worked with community organizations to increase demand for and accessibility of tests. Schools used the data to make re-opening decisions and improve methods to maximize students reached while on virtual instruction. These data continue to be used today to enable our community to adapt to the ever-changing dynamics of the pandemic.
Cincinnati Children's Hospital is a demonstrated leader, locally and nationally, during the pandemic with these activities and more:
Participation in an international clinical trial for a vaccine to prevent COVID-19.
Development of an artificial intelligence tool that uses natural language processing and machine learning to extract risk factor information to support early detection of infection.
Telehealth on foster children and how the pandemic has disrupted behavioral healthcare visits among foster families.
Research on how COVID-19 affects individuals with sickle cell disease.
A study on how the virus interacts with heart tissue at the molecular level to help researchers develop tests and treatments for potential heart complications caused by COVID-19.
Analysis of how quarantine restrictions and changes due to the pandemic affect the teenage population.
The Health Collaborative is proud to honor the Cincinnati Children's Medical Center as a finalist for the 2021 Healthcare Technology Award. By utilizing multisite, multidisciplinary teams of clinicians, staff, scientists and communities, its networks are collecting data to advance care, research and, ultimately, cures.