Vivek Alamuri, a junior at Indian Hill High School, is a recent addition to our TAP MD program!
TAP MD and TAP HC are programs designed to help high school students "tap" into their potential to fulfill a career as a physician or in the healthcare field. Students will experience events that provide information on types of medical specialties, how to apply for medical school and what different healthcare paths are available – from IT to home health – to physical therapy.
Click here to learn more about our TAP HEALTH initiative. Read below for Vivek's second experience with TAP MD. Click here to read about his first experience.   
"Today, we visited the Cincinnati Children's Hospital Simulation Center. It was very exciting and new because usually when we think of healthcare it's the hospital. We started out with a PowerPoint, but to my surprise, it was very engaging! We could answer questions with our phones and the answers would be up on the screens. We learned the importance of simulations in healthcare as they help prepare the students for real life situations without having actual risk.
The simulations are classified by "fidelity", meaning how realistic it is. We watched high and low fidelity situations and experienced them through the various mannequins and learned the pros and cons of each. Another important reason for simulation is to prepare for rare cases – for example, if a 3-year-old got into a lawn mower accident – these are rare, but it's necessary to be able to handle them.
After the PowerPoint, we did an activity to demonstrate the importance of communication and teamwork in healthcare. The activity was that we had to make a paper chain with as many rings as possible. To be successful, communication and assignment of roles was crucial. The next round was where we could only use our left arms.
Here, the idea is to use other parts of your body to help out (mouth and knees to rip tape) and give the more demanding roles, like taping the rings together to the left-handed people. Another important takeaway from this is that being resourceful is important because some groups cut out a lot more paper than they needed at first.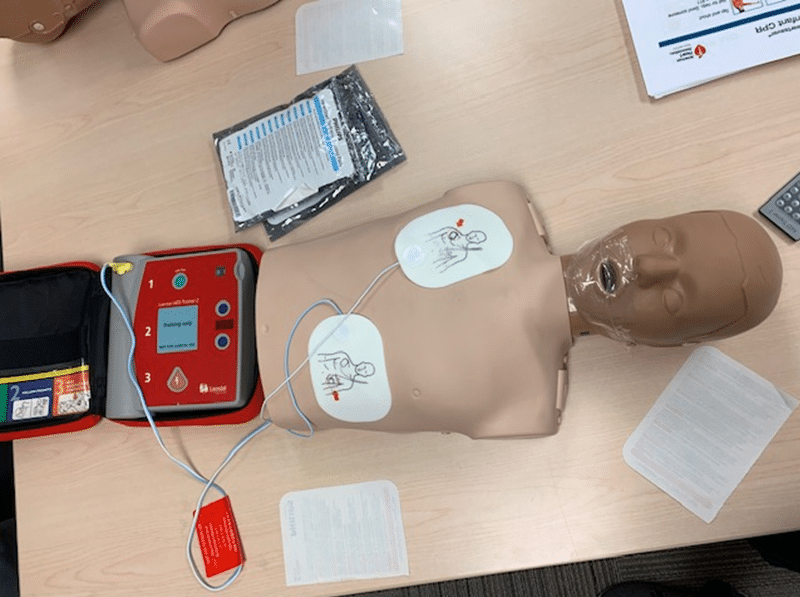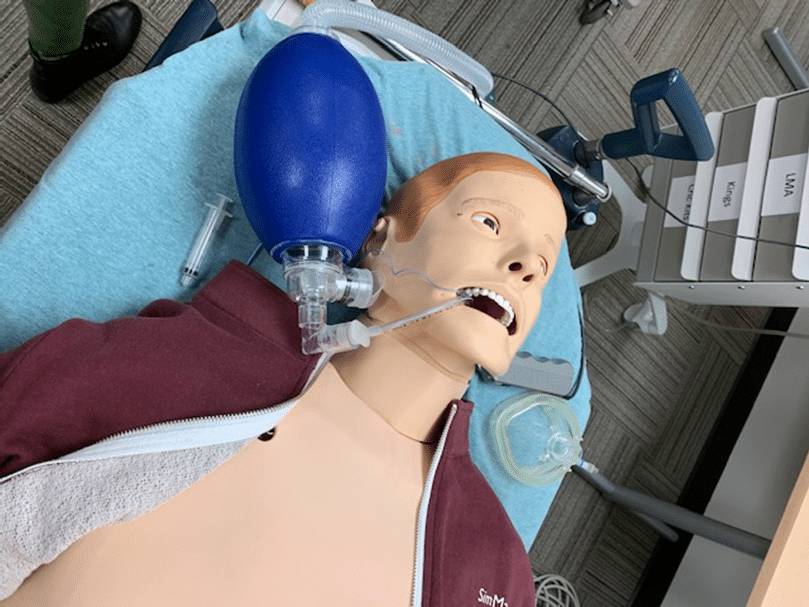 We then went on a short tour of the facility to see the simulation operating rooms and how closely the high-fidelity simulations rooms really are! During the second half of the event, we went around different stations and learned how to insert IVs, do CPR with a defibrillator, do moulage and even use VR [virtual reality]!
I've never learned how to do an IV and it was a little challenging for me because I kept ejecting the needle by accident and couldn't place the needle into the mannequin properly. I still found it to be a good experience because I'll be better at the next time around.
The moulage was cool because we could do make-up to pretend that there were bruises or cuts. We also learned to do CPR, this I was good at since I had some previous experience from school. The goal is to pump hard and fast to keep the blood flowing and administer a shock every 2 minutes to restart the heartbeat.
I learned that it is very important to place the pads on the defibrillator beside and underneath the heart to allow for a full circuit, so the shock isn't dangerous. The VR was probably the coolest thing for me because it was just like a real room with the headset on and thanks to this event, I was able to see firsthand why simulation is so important in healthcare!"