More than 30 tables were set with orange and white linens. Pinwheel-shaped spotlighting illuminated vintage brick and al fresco niches under the backdrop of a national historic landmark. The stage was set for a grand celebration…
Over 300 of our closest friends walked through the historic Monastery Event Center doors by way of the orange carpet on the evening of November 2. Our members, partners, and stakeholders invested in health and healthcare in Greater Cincinnati came together to recognize and celebrate our collective accomplishments throughout 2016 – the year of possible.
The Health Collaborative's second annual Inspire | Healthcare dinner and award celebration highlighted some of the unique partnerships that have been a signature hallmark of our work together through the years, making so many improvements in health and healthcare…well, possible.
Representatives from Greater Cincinnati's major sectors – health and healthcare, business, education, social services, technology, philanthropy, and faith-based organizations – turned out to celebrate each other's successes.
Kicking off the evening with welcoming remarks were board member and emcee Wendy Lea, CEO of Cintrifuse, and The Health Collaborative's CEO, Craig Brammer.
Karen Mueller, Vice President of HORAN, spoke of the longstanding partnership between her organization and The Health Collaborative, and introduced the keynote speaker for the evening: Dr. David Lansky, CEO of the Pacific Business Group on Health.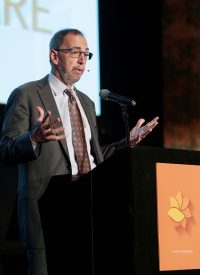 Dr. Lansky, a nationally-recognized expert in accountability, quality measurement, and health IT, spoke about the common ground and mutually-beneficial solutions that can be found when tackling some of healthcare's biggest challenges. Through personal anecdotes, hard data, and inspiring examples of positive change, Dr. Lansky showed us that better is possible – and that by working together, we can achieve solutions that work not only to benefit the people in our region, but influence the industry as a whole.
Following dinner, the program moved into the awards portion of the evening.
Recognized for their significant contributions to improving healthcare in Greater Cincinnati, our award winners were:
[mk_custom_list style="f005″ margin_bottom="20″]
Jim Schwab: Our 2016 Inspire Healthcare Champion for collaboration, engagement, and innovation toward the mission of improving health and healthcare in Greater Cincinnati. Presented by board chair Rob Reifsnyder, President, United Way of Greater Cincinnati, and Craig Brammer.

Mercy Health: Nicole Martel, Anne Stone, and Michelle Hopkins: The Inspire Gen-H Award for providing healthy solutions not only for their own workforce but also for the surrounding community. Presented by Ivy Bayer, Publisher, Cincinnati Magazine (event media partner).

Linda Juengling, TriHealth: The Richard M. Smith MD Leadership in Quality Improvement Award for recognizing an opportunity to systemize a way to identify and resolve barriers to the delivery of safe, timely and efficient care. Presented by Linda Smith-Berry.

Independent Physicians Collaborative: The Inspire Informatics Solutions Award for implementing data sharing to enhance the healthcare continuum for thousands in the Tristate area. Presented by Mike Noshay, Chief Business Development and Innovation Officer, Verinovum.

StartStrong, a collaborative effort among Cincinnati Children's, Good Samaritan Hospital, Every Child Succeeds, with support from Bethesda, Inc.: The Inspire Innovation Award for redesigning healthcare delivery in low income neighborhoods to change the way high-risk women and their infants receive care by forming better linkages between clinicians and community services. Presented by board treasurer Tom Anthony JD, Partner, Frost Brown Todd.
[/mk_custom_list]
Hoxworth Blood Drive Awards, presented by Jim Tinker, Division Director, Donor Recruitment and Community Relations, Hoxworth Blood Center:
[mk_custom_list style="f005″ margin_bottom="20″]
Award of Distinction:

St. Elizabeth Healthcare (as a system)

Most Improved:

Shriner's Hospitals for Children

Blood Drive Coordinator of the Year:

Shanna Barton, Volunteer Services Supervisor, TriHealth's Bethesda North Hospital
[/mk_custom_list][mk_gallery images="32918,32884,32882,32887,32886,32885,32883″ style="thumb" thumb_style_width="605″ item_id="1478898095-582631af24fa9″]
Congratulations to all of our 2016 Inspire Healthcare finalists and winners – thank you for inspiring us with the innovations and improvements that you bring to your work every day. We are honored to collaborate with you and others across the region to tackle some of healthcare's toughest challenges. You remind us that better is possible.
[mk_gallery images="32994,32997,32996,32995,32993,32992,32991,32977,32990,32989,32988,32987,32986,32985,32984,32983,32982,32981,32980,32979,32978,32976,32975,32974,32917,32916,32915,32914,32913″ style="thumb" thumb_style_width="605″ item_id="1478897579-58262fabd8ff5″]