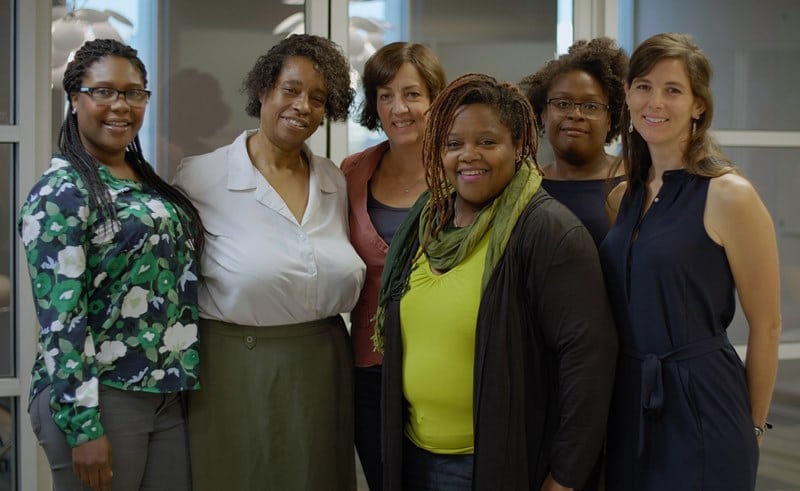 By Amy Goetz
The "Cooking for the Family" team at St. Francis Seraph Ministries is being celebrated as a finalist for the 2018 Gen-H Award
Each year, The Health Collaborative recognizes the healthcare heroes in our community at the Inspire | Healthcare Gala and Awards Celebration. This year's sold-out event is being held on November 8 at The Center downtown. Award categories include Diversity and Inclusion, Gen-H (population health), Informatics Solutions (health information technology), and Leadership in Quality Improvement. The Gen-H Award recognizes an individual, team, or organization that has demonstrated progress on the Gen-H goals of making Greater Cincinnati and Northern Kentucky a healthier, more vibrant community by addressing health-related social needs affecting our community. 
For some, cooking a simple, healthy meal can be anything but simple. Perhaps access to fresh, high-quality food is limited in their area. Maybe they haven't been exposed to proper cooking techniques or are unfamiliar with the many delicious ways to use healthy ingredients. Or, it's possible they just don't own a kitchen knife or other essential equipment. For some, creating simple, nutritious family meals each day… can simply be out of reach.
Removing Barriers to Healthy Choices
Recognizing the knowledge gaps and numerous other barriers families face in healthy meal preparation, St. Francis Seraph Ministries teamed up with FarmChef to create "Cooking for the Family," a five-week culinary program where participants learn eight basic cooking skills and techniques, utilizing fresh and healthy ingredients, to build their knowledge and confidence to cook more at home. The healthy meals learned in class can feed a family of four for under $10.
The aim of Cooking for the Family is to generationally prevent and decrease diabetes, obesity, and chronic health problems related to diet. The year-round program runs every two months in new locations as well as their kitchen at the St. Anthony Center in Over the Rhine.
After each class the participants, volunteers, and staff get an opportunity to eat together family-style. They reflect on what was learned and how the previous class's meal was received at home, hear about different people's challenges and lifestyles, and build community through their peaceful and nourishing interactions.
"It's a new beginning for me because I love to cook. Attending these classes gave me a better outlook on how to take care of your food and self. I would love to share my experience with others," shared one recent Cooking for the Family student.
At the end of their experience, participants use their new skills to create a meal together with their children and guests. If participants attend four out of
CLICK IMAGE TO VIEW PHOTO SLIDESHOW
the five classes they receive a cooking kit – chef knife, cutting board, knife sharpener, cast iron skillet, reusable shopping bag, and Produce Perks card – to empower them to keep cooking at home. Each year, a graduation potluck is held for the more than 390 graduates since the program's inception in 2015, to stay connected and eat together.
Collaborating for a Healthier Community
The program's collaborative approach includes healthcare providers as well as community partners to make sure they reach as many people in the Over-the-Rhine and Greater Cincinnati as possible.
Partners include: Cincinnati Children's Hospital Medical Center, Cincinnati Recreation Commission, Cincinnati Public Schools (Roberts Paideia Academy, Dater Montessori, Academy of World Languages, Rothenberg Elementary Rooftop Garden), Healthy Harvest Mobile Market, Produce Perks, Findlay Kitchen, Bethel Baptist Church, First Step Home, Santa Maria Community Services, Good Samaritan Free Health Clinic, Community Matters, CCTST (Center of Clinical and Translational Science and Training), and many more.
The initiative also encourages volunteering, directly provides jobs for participants who complete the program, and refers other candidates to Cincinnati Cooks and Midwest Culinary Institute.
Cooking up Results
All the following findings are based on written participant surveys completed during October 2016 – May 2017:
98% of respondents said they would like to take another session of Cooking for the Family.
80.6% of respondents increased their cooking technique knowledge and ingredient identification.
78.7% increased their confidence to teach kids how to cook
80.6% increased their willingness to try new foods
Said one student of the class, "I want to thank you for allowing me to be a part of your program. It was very interesting, very helpful, life changing as far as [becoming more] willing to give different foods a try. Learning how to cook smarter, better, and how to spend less. [A] wonderful experience."