Caring for an aging loved one is challenging and stressful during normal times, but throw a pandemic in the mix and that level of care, stress and anxiety is magnified times 10.
How do we keep our vulnerable loved ones safe at home? What if I become ill or must quarantine, who then takes care of my loved one's meals, cleaning and personal care?
There were also worries on the hospital and skilled nursing facility (SNF) side. How do we keep older adults safe at home so we can free up space for those in need of urgent care?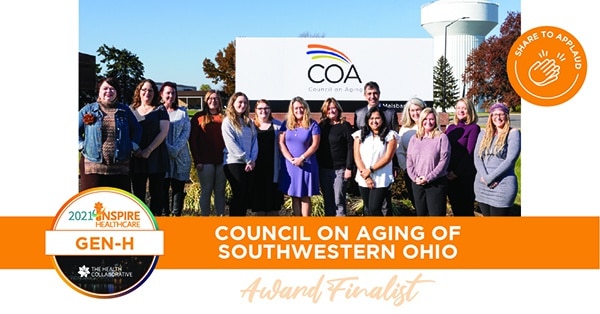 The questions were many but, thankfully, Council on Aging (COA) had the answers. COA was able to quickly adapt an existing program to serve both older adults and our regional hospital system during a difficult time. The result was Discharge to Home, a program which allowed older adults to be safely discharged from area hospitals and skilled nursing facilities (SNFs) during the pandemic (regardless of their COVID status) and receive supportive services in their home. This allowed them to get home faster, relieved some of the pressures from the caregiver at home and freed up much needed medical resources during the height of the pandemic.
How it Worked
Leveraging its existing FastTrack Home Program, which provides temporary in-home care services (transportation, meals, personal care and homemaking services) before an older adult goes home from the hospital, COA was able to quickly create and implement the Discharge to Home process.
While other COA programs require an in-home assessment and focus on meeting long-term needs, FastTrack Home and Discharge to Home assessments are completed at the hospital bedside and are designed to meet short-term, acute needs. This distinction is key because older adults have an increased risk of illness and injury in the 30 days following discharge from a care facility – a risk that was heightened during the pandemic. With a speedy assessment and enrollment process, FastTrack Home services can be put in place to coincide with a hospital or SNF discharge.
COA built safety measures into this process to protect both care providers and care recipients from the spread of COVID-19. COA adapted service delivery models to protect service providers (home health aides, meal drivers, transportation providers, and emergency response system installers) who were providing services to patients recovering at home with or from COVID-19. These measures also provided protections for patients who had not previously had or been exposed to the virus.
More than 40 percent of Discharge to Home patients were routed through COA's FastTrack Home program. Previously, the program was only available in Hamilton and Clinton counties, however, during the pandemic, COA secured federal funding to expand the program into Warren County, providing access to an important regional hospital – Bethesda North. In counties where FastTrack Home was not available, Discharge to Home patients were connected to supportive services through other COA programs.
Why It Worked
During the peak of the pandemic, Ohioans aged 60 and older accounted for 65 percent of all COVID-19 related hospitalizations in the state (and 93 percent of deaths). At times, SNFs had some of the highest infection and death rates in Ohio. COA's Discharge to Home process saved lives and critical healthcare resources at a time when medical staff were stretched beyond the limits.
Because of COA's Discharge to Home process and FastTrack Home, patients were able to be discharged home from a hospital even when a caregiver was in quarantine status. COA's FastTrack Home hospital coaches, worked with hospital and SNF medical staff to make sure patient recoveries were not derailed once home due to COVID-19 complications. They made arrangements for food to be delivered and were able to set up home health aide visits to help with personal care and housekeeping issues.
The process made it easy for hospital and SNF staff to quickly and safely discharge patients home because referrals could be made to COA staff seven days a week via phone, fax, email, or by working directly with COA staff assigned to specific hospitals.
"When we had a [COA] liaison here, things really seemed to run smoothly. It was comforting to know that when we were discharging patients, they were receiving all of the care that we had at our disposal," said Christina Cigolotti, manager of care management at Good Samaritan Hospital.
Cigolotti added that it's much easier to catch patients and enroll them in supportive services while they are in the hospital, versus trying to reconnect with them once they've gone home.
Since April of 2020, more than 3,100 area older adults have been discharged from area hospitals and SNFs using this coordinated process.
The Health Collaborative is proud to honor Council on Aging as a nominee for the 2021 Gen-H Award for working quickly to expand its services during the pandemic, keeping elderly patients secure at home and out of our hospitals and SNFs and giving caregivers the peace of mind they needed to take care of themselves and their loved ones safely.