MEDIA CONTACT:

Christa Hyson, MPH
Senior Manager, External Relations
(513) 247-5254
CPC+ Strengthens Primary Care Practices Through Quality and Performance-Based Incentive Payments

CINCINNATI – Comprehensive Primary Care Plus (CPC+) is a national advanced primary care medical home model that aims to strengthen primary care through multi-payer payment reform and by changing how care is delivered. CPC+ seeks to improve quality, access, and efficiency of primary care. Currently in the U.S. there are over 2,900 primary care practices participating in CPC+. CPC+ is a unique public-private partnership, in which practices are supported by 56 aligned payers in 18 regions. The Health Collaborative is home to the largest region covering Ohio and Northern Kentucky that supports more than 560 primary care practices with over 2,500 doctors and providers.
To support the delivery of comprehensive primary care, CPC+ includes three types of payment elements, including a Performance-Based Incentive Payment (PBIP). In 2018, in the Ohio and Northern Kentucky Region had 557 practices participating, which earned $ 3,209,794 in PBIP. It works by CPC+ prospectively issuing the PBIP. However, at the end of every year CPC+ will retrospectively reconcile the amount of PBIP that a practice earned based on how well the practice performed on patient experience of care measures, clinical quality measures, and utilization measures that drive total cost of care.
Practices will either keep their entire PBIP, repay a portion, or repay all of it. The full amount of PBIP that is prospectively paid is determined by several factors including the number of beneficiaries and quality and utilization components (see image below). Our CPC+ Practice Facilitators support primary care practices in their success by ongoing coaching, engagement and learning sessions.
Components of the PBIP
(Performance-based incentive payment)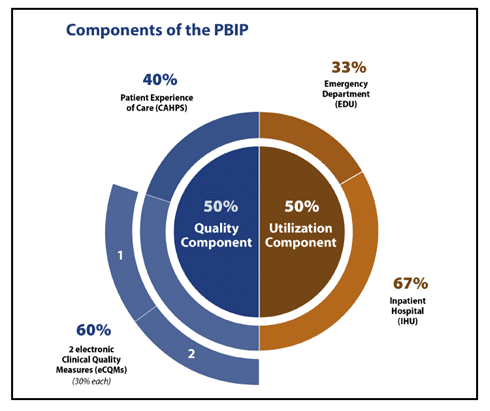 Note: CAHPS = Consumer Assessment of Healthcare Providers and Systems. EDU = emergency department utilization. IHU = inpatient hospital utilization.
Image Source: Center for Medicare & Medicaid Innovation U.S. Department of Health & Human Services
"The CPC+ model has significantly enhanced the quality of care our patients receive and has made it possible for us to launch our transition care clinic which provides care to patients with complex medical needs transitioning from pediatric to adult providers. As a provider, I am grateful for the comprehensive care we are now able to provide to this unique patient population," says Lauren Wang, MD for UC Health with specialties in Primary Care, Family Medicine and caring for patients with intellectual and developmental disabilities. The Health Collaborative CPC+ team will continue to offer premium support through the end of the five-year grant period in 2021. By continuing to offer learning opportunities, as well as actionable data feedback to guide decision making, practices can deliver better care, resulting in a healthier patient population. For more information on our CPC+ Program, please visit https://healthcollab.org Sources: CPC+ Payment and Attribution Methodologies for Program Year 2019 Centers for Medicare & Medicaid Services
-###-
About The Health Collaborative: The Health Collaborative is a non-profit organization that leads data-driven improvements that result in healthier people, better care and lower costs. For more information about The Health Collaborative, visit healthcollab.org.