Gen-H Innovation Series|Clinic to Community Linkages: Strategies to Address SDOH
August 8 @ 8:00 am

-

2:15 pm

EDT

$35.00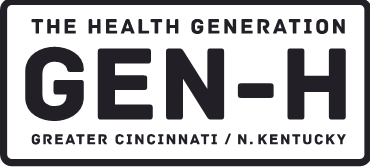 Summary
As social determinants of health dominate healthcare news, it's time to address these factors on a micro- level and dive into how to successfully create and implement initiatives that positively impact health outcomes here in our region.
Our first Gen-H Innovation session brings together healthcare providers, social service organizations, payers, and community leaders to address the systemic inequities that prevent members of our community from experiencing good health. This session is a catalyst for sustainable multi-sector partnerships between clinical and community leaders.
Join us as we discuss the challenges and successes, and best practices and strategies to more rapidly and effectively advance the long-term goal of improving community health.
Schedule
Breakfast | 8:00 – 9:00am
Opening Remarks | 9:00 – 9:30am
Connecting the Doors: a Multi-Sectoral Approach to Addressing SDoH and Health Equity in Cincinnati/ Northern Kentucky.
Impact and Progress: Confronting Health Disparities in the Field | 9:30 – 10:15am
Learn about the current demonstrations of SDoH collaboration in Cincinnati and organizational  experiences from designing and implementing screening and referral processes to address social needs.
Collective Impact in Action: Local Alliances for Population Health Improvement | 10:30 – 11:30am
Hear how Collective Impact organizations are addressing systemic failures while beginning to partner with health care organizations to expand their reach.
Lunch | 11:30am – 12:15pm (provided)
Models for Collaboration Workshop: Community Determinants of Health Case Study | 12:15 – 1:45pm
Develop structures for joint-accountability across community partners to ensure long-term sustainability and productive partnerships.
Closing remarks and opportunities for future community collaborations | 1:45 – 2:15pm
About Healthify: Built for enterprise teams, Healthify's solutions empower health plans and health systems to address the social determinants of health through collaborative networks of healthcare organizations, government departments and community-based organizations. To learn more about Healthify, visit www.healthify.us.