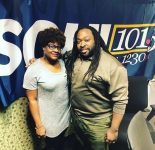 Kiana Trabue, Executive Director of Gen-H at The Health Collaborative, was invited by our friends at StrivePartnership to join them for their weekly radio spot on Radio One, called "Class in Session," to talk about what's new and coming soon. Gen-H is the Greater Cincinnati and Northern Kentucky region's collective impact on health initiative.
StrivePartnership is a member of the StriveTogether Cradle to Career Network, a national network of communities working to improve education success for every child through a data-driven, quality collective impact approach.
Click the "play" icon in the audio player below to hear the full interview!