On Friday, May 11, teams of four gathered in the downtown Cincinnati area to compete in the collection of activities known as The Scurry, presented by Tier 1 Performance Solutions.
Each year The Scurry raises money to benefit Cincinnati Children's Hospital Medical Center's program known as Surviving the Teens, a teen suicide prevention campaign that provides resources to help guide teens and families through the ups and downs they might face.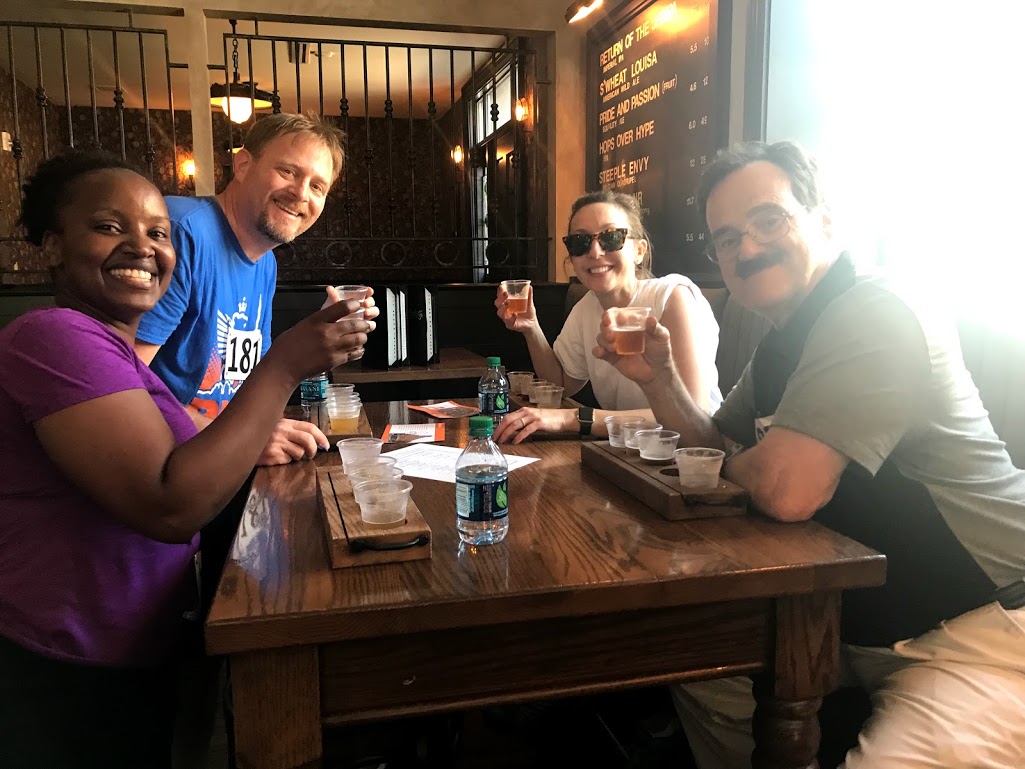 Our own Gen-H team consisted of Sara Bolton, Senior Director of Programs and Services; Jason W. Buckner, SVP of Informatics; Jane Muindi, Director of Operations; and Dr. Richard Shonk, Chief Medical Officer; all of whom were willing to take on the challenge that has been compared to "The Amazing Race." As Jane described it, "For those that have wondered how they would fare in the 'Amazing Race' this was the event to test out mental, emotional, and physical strengths while supporting such a worthy cause."
The four had no idea what they were getting themselves into as first time Scurriers. As Sara put it, "I didn't know what to expect as a first time Scurrier. The day kicked off with an ominous forecast, and the Scurry was about ENDURANCE… and I must say, that was accurate! But, it turned out to be so much fun and the weather cooperated after all."
The competitors were not given information about any of the challenges or locations beforehand, adding to the element of anticipation. According to Jason Buckner, "The best part of the event was that we had no idea where we were going or what we were supposed to be doing… what an amazing experience it was!"
The collection of challenges and activities covered much of the downtown core and surrounding areas, with stations located at key landmarks. As Jane describes, "We went from Downtown to OTR, then to Covington, Newport, and Mt. Adams, and back to Downtown doing various challenges that took us out of our element. Sara did a great job being our navigator, Jason showed us his sportsmanship, Dr. Shonk displayed his musical/vocal skills, and all in the spirit of teamwork with the goal of not being last!"
Throughout the challenges the team members got to find out new and interesting things about each other. Jane says "Jason was born to play knockerball," a game where you play soccer but your entire upper body is in a bubble, Jane took not one but TWO whipped cream pies to the face like a champ, and the team discovered that Dr. Shonk has a pretty mean layup.
"It was really a team effort, and we learned quickly who was good at what and probably more importantly, to let them take the lead," Dr. Shonk shared. "This was certainly an important take-home message. Among the four of us we had a good balance of talent and what we lacked, Jason was very good at coaching us through it."
One of the greatest moments though, according to Jason, "was watching Dr. Shonk sing Garth Brooks' 'Friends in Low Places' in front of a full bar of people." Dr. Shonk responded, "It was fun – and as Sara was constantly reminding me, 'You're only as old as you feel!' I can't speak for the others but by the end of the day, I had to admit what she said was true. I felt every bit of my age!"
In the end, everyone agreed it was "an excellent way to spend a day contributing to a worthwhile charity," "an awesome day," and as Sara said, "It turned out to be so much fun. We got to explore the city while participating in physical and mental challenges on a beautiful (albeit hot & sweaty) day. I loved having a chance to hang out with colleagues and meet some new friends."