The oldest and largest private teaching and specialty healthcare facility in Greater Cincinnati, Good Samaritan Hospital, a TriHealth Hospital, delivers more babies each year than any other regional hospital.
As leaders in obstetric care, the Labor and Delivery team,  Advanced OB team, and Mom/Baby teams at Good Samaritan are continually working on quality initiatives that support the Triple Aim, a framework developed by the Institute for Healthcare Improvement to  enhance health system performance.
It consists of three main elements: improving patient care and satisfaction, improving overall health, and reducing the cost of health care.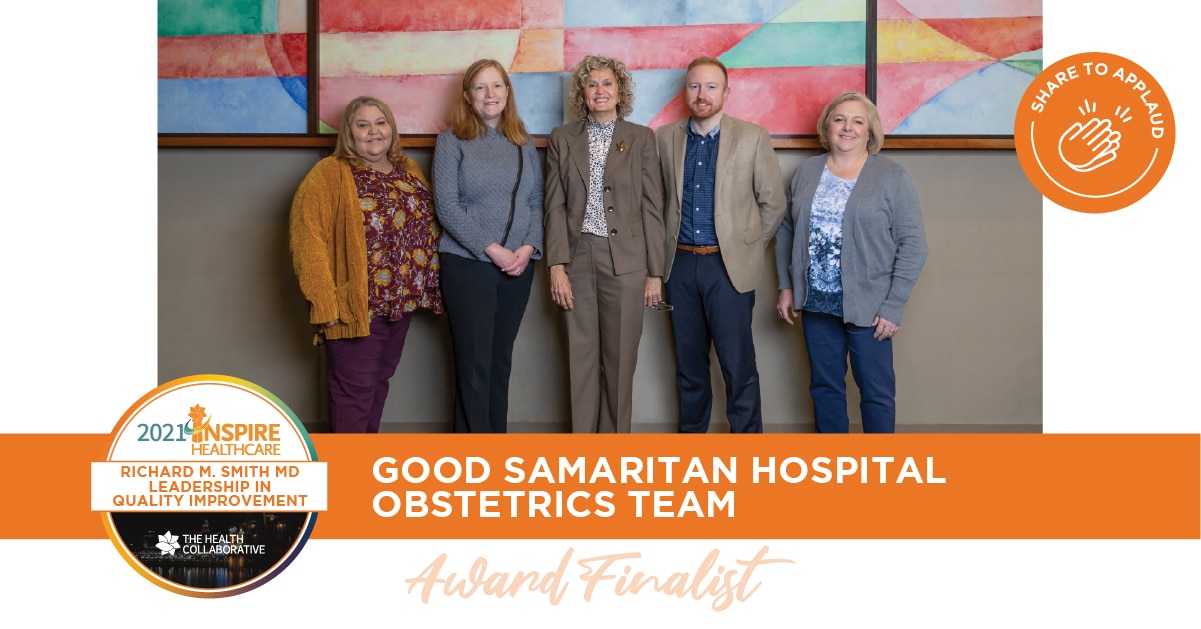 2020 was an especially trying year for healthcare systems and their staff, given the outbreak of COVID-19 and the global pandemic that ensued. Despite all of the uncertainty, Good Samaritan Hospital managed to provide care for more patients overall, including COVID patients, than any other hospital in the region, an extraordinary feat by any measure.
The Obstetrics Team, in their continued commitment to reducing harm and improving overall outcomes, drastically improved performance metrics in spite of COVID-19, remaining undeterred by the unprecedented daily changes made to policy, procedure, and care. With the Triple Aim approach in mind, the Obstetrics Team made significant advancements in three separate initiatives:
They decreased the obstetrical hemorrhage rate by 38%;
They improved on-time starts for obstetrics operating room cases from less than 30% on-time starts to a whopping 74%; and
They decreased surgical site infections for cesarean section patients by 75%.
Each individual statistic is a noteworthy accomplishment. Combined, and achieved during a pandemic, shows the dedication, knowledge and teamwork displayed by each and every member of the team.
Obstetrical hemorrhage is the leading cause of maternal mortality worldwide, and the leading cause of severe maternal morbidity in the nation. Unfortunately, most of these deaths are preventable. To combat this, a safety bundle was developed and implemented. Some of the features include a hemorrhage cart with rapid access to medications available in all units, utilization of a response team, assessment of hemorrhage risk before, during, and after each patient is admitted, the development of a massive transfusion protocol, and utilization of Best Practice Advisory's to identify High Risk patients.
In order to decrease the probability of cesarean section surgical site infections, a number of procedures were put into place, including administration of antibiotics 60 minutes prior to incision followed by a vaginal prep, as well as providing a silver dressing (Mepilex AG) to
patients with identified infection risk factors for use along with inter-dry (a wicking fabric), to decrease moisture in skin folds. Surgical site infection occurrences decreased from 8 to 2 in only one year's time.
As a means to improve on-time starts in the operating room the process was reconfigured, and a team and operating room are dedicated to performing only scheduled cases. There is a second team available for unscheduled or delayed cases, as well as a team for any
emergencies that may occur. If patient volume exceeds the obstetrics teams ability to perform cases with the obstetrics anesthesia team, support is utilized from the main operating room anesthesia personnel. This change also required the main operating room teams to re-train on obstetrics patient epidural administration.
The Obstetrics Team at Good Samaritan Hospital has done their homework, and the results speak for themselves. Merging their collective knowledge, experience, skill, and drive has led to purposeful change and improved outcomes for all. The Health Collaborative is proud to recognize their efforts as finalists for the 2021 Richard M. Smith MD Leadership in Quality Improvement Award.