The Avondale Children Thrive Health Champions are being celebrated as finalists for the 2018 Gen-H Award.
Each year, The Health Collaborative recognizes the healthcare heroes in our community at the Inspire | Healthcare Gala and Awards Celebration. This year's sold-out event is being held on November 8 at The Center downtown. Award categories include Diversity and Inclusion, Gen-H (population health), Informatics Solutions (health information technology), and Leadership in Quality Improvement.
The Gen-H Award recognizes an individual, team, or organization that has demonstrated progress on the Gen-H goals of making Greater Cincinnati and Northern Kentucky a healthier, more vibrant community by addressing health-related social needs affecting our community.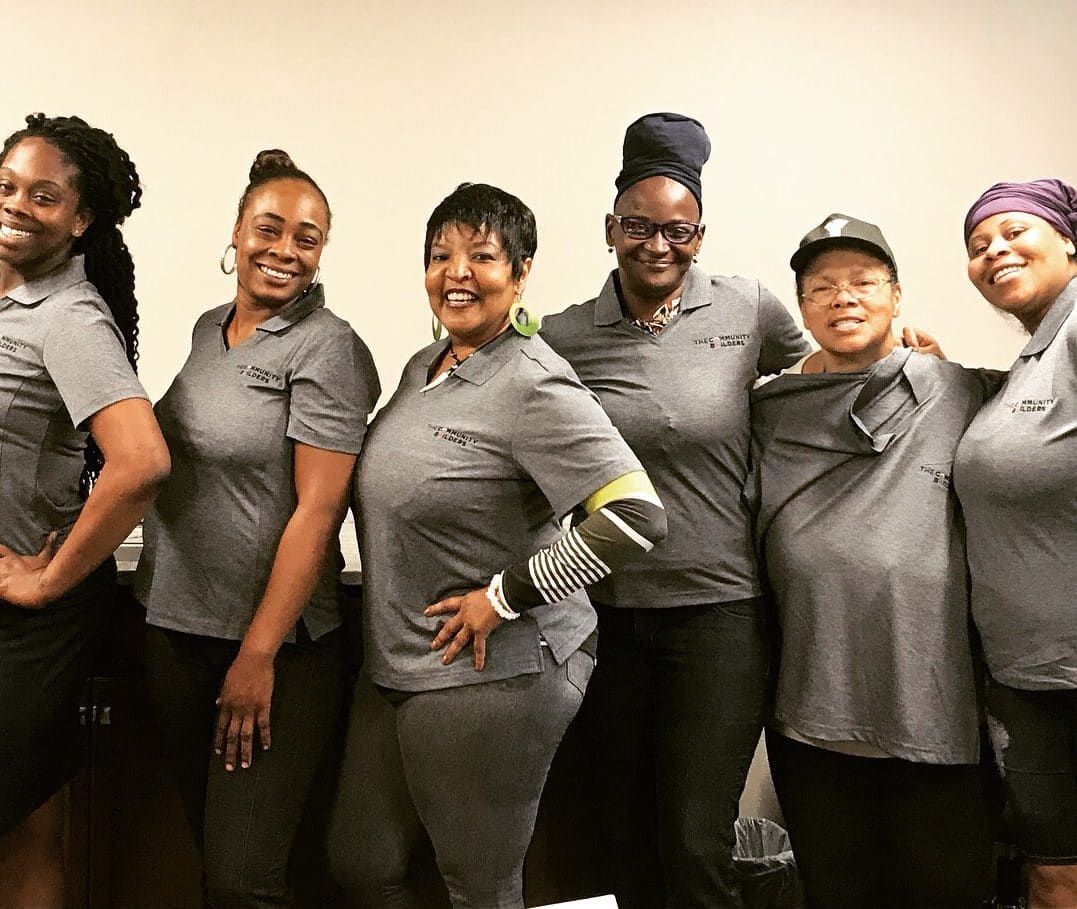 Some of the greatest health issues facing Cincinnati, and especially in the neighborhood of Avondale, are the community's high rates of pre-term birth and infant mortality. Avondale Children Thrive (ACT) reflects a cross-sector collaboration to address the social determinants of children's health, and specifically, on early interventions that address maternal and child health.
Enabling Children to Thrive
ACT's primary focus is a variety of factors such as education, community engagement, safety, employment, and health. While seeking to create an environment in which Avondale children, aged zero to six, are enabled to thrive, the program launched an innovative "Health Champion" model.  The health champion model is drawn from, and for, the community and employs a door-to-door strategy — leveraging trust built by housing providers and neighbors.
Health Champions (HCs) are the engaged community members and mentors who build a rapport with families of young children. More specifically, HCs use interventions and strategies to increase access to prenatal care and affordable, healthy foods; promote breastfeeding; increase utilization of the school-based health center; promote early literacy among families, increase quality preschool enrollment, and to foster smoke-free environments among The Community Builders (TCB) families.
"The Avondale Health Champions are driving change in the community of Avondale. Each Health Champion comes with a unique set of skills, but they are not the skills that most of us share in a resume…
The skills used by the Health Champions represent an understanding of a community landscape and the lived experience that each brings to the table. They are creating a community and population health platform that speaks to neighbor-to-neighbor connections, trust, and a better understanding of what is most important to families as it relates to health and well-being."
Anita Brentley
Click or tap image to view gallery
The entire Avondale Children Thrive initiative is co-led by the Health Champions and the engaged residents they are coaching to adopt healthy behaviors. Between February – August 2018, HCs met one-on-one with 39 residents and 67 children for coaching in the home. The target population is 81 families, so, at least half of the families have been reached since inception of this initiative. Between May 1st and July 31st, Health Champions collectively spent 67.25 hours at community support groups, such as the Reading Bears early literacy group.
Achievable Goals for Long-Term Outcomes
Health Champions are all safety equipment liaisons and trained Safe Sleep Ambassadors through programs with the partner organizations. As this work continues, they aim for long-term outcomes, including increasing breastfeeding initiation and duration, increasing enrollment at the South Avondale school-based health center, increasing preschool enrollment among children ages three-five, and increasing the percentage of parents reading to their children at least two times a week. They are well on their way to meeting their long-term goals. 25 parents have committed to reading to their children at least two times per week, as well as enrolled 74% of The Community Builders children in quality preschool.
In addition to the one-on-one neighbor model, Health Champions work to advocate for their community by addressing upstream health factors such as housing instability, institutionalized racism, and educating pregnant moms on patient rights. They engage in policy-level discussions as members of the Avondale Community Council and Creating Healthy Communities Coalition.
Jodi Cunningham, TCB/ACT Program Manager, summarizes, "Not only does this team work tirelessly for mothers and children living in The Community Builders apartments, but they are also using their voices for positive change in their neighborhood, city, and even nationally. They are doing something special here in Avondale, and we're excited to see where this amazing work leads, in Avondale and beyond."
The Avondale Children Thrive Health Champions are sponsored in part by the BUILD Health Challenge, and the team partners that support the HC's are The Community Builders, Cincinnati Children's Hospital Medical Center, and the City of Cincinnati Health Department.
The Health Collaborative is proud to celebrate the work of the Avondale Children Thrive Health Champions – Nikita Anderson, Tina Brown, Jennifer Foster, Jeneya Lawrence, Ashan Moore, and Audrey Scott – finalists for the 2018 Inspire Gen-H Award!