One recent Saturday morning this fall, students of the 2018 Tap Health classes got up early to attend a workshop hosted by The Health Collaborative's (THC) Healthcare Workforce Innovation team. TAP Health is a flagship program series intended to "tap" into the potential for high-achieving high schoolers to pursue physician and other healthcare careers. TAP MD & TAP HC students were invited to the first joint event held for their programs, designed by department manager Heleena McKinney, at THC's Learning Center in downtown Cincinnati.
Interactive Info
Students had the opportunity to visit several simple, interactive stations in addition to a "STOP THE BLEED" session and a Healthcare Professionals Q&A Panel. Designed to allow the students to get information, offer feedback, and express themselves, the stations provided a framework for further career exploration and maintaining connections:
Station 1: Check-In & Make Your Own Name Tag
Station 2: Sign Card for TAP MD Physician Leader & student mentor, Dr. Tayyab Diwan, Associate Professor of Surgery, Division of Transplantation at UC Health
Station 3: Easel – Inspire | Healthcare Awards Celebration Event: raffle to win one of two pairs of tickets to attend Inspire event with a parent
Station 4: Easel – Where Are You Going to School Next Year?
Station 5: What's Your Favorite Thing You've Done in TAP Health?
Station 6: Information to Take and Share: students could take information about careers in healthcare, as well as flyers about THC's HealthFORCE career expo to pass on to their friends to "tap" next year's class of TAP HEALTH students.
Station 7: Feedback Box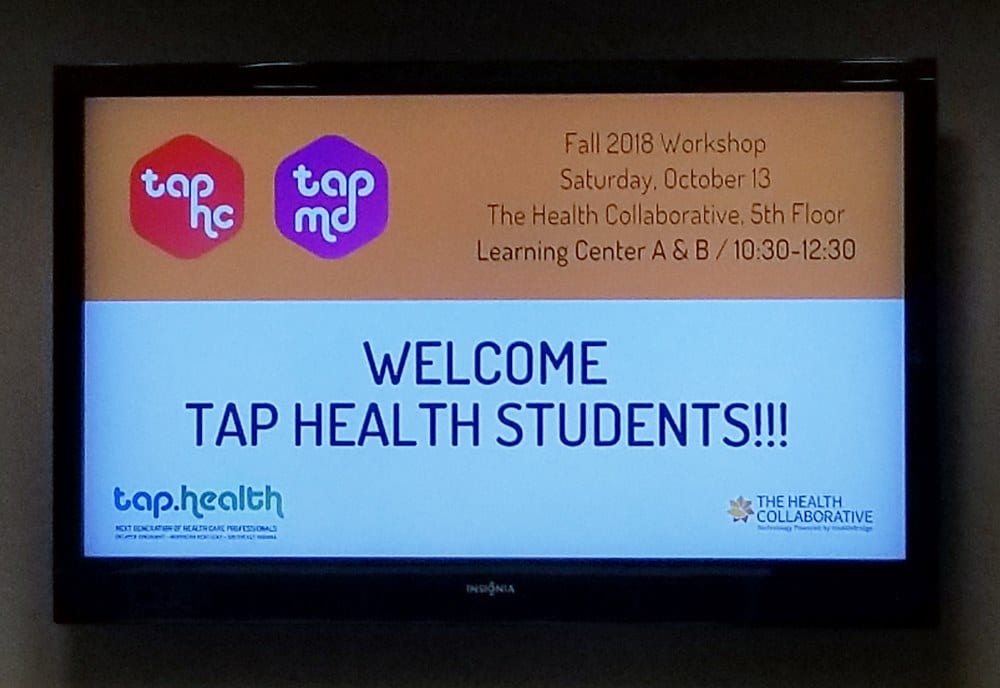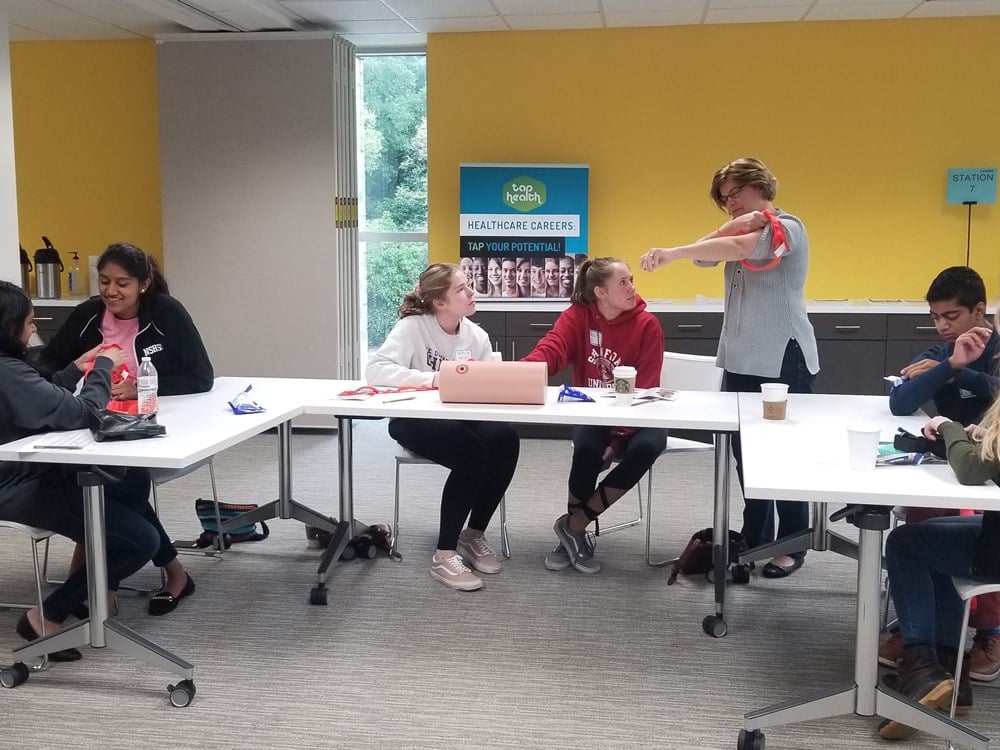 Hands-on Experience
The STOP THE BLEED session was an obvious hit with students. Led by Dr. Richard Falcone, Associate Chief of Staff, Surgical Services and Director of Trauma Services at Cincinnati Children's Hospital Medical Center, they learned potentially life-saving techniques for minimizing blood loss until first responders can arrive, practicing how to properly apply a tourniquet on each other and pack deep wounds with gauze using rubber dummy limbs.
Ask Me Another
The Healthcare Professionals panel – representing psychiatry, public health, physical therapy, disaster preparedness, and nursing fields – gave students a chance to hear about hands-on everyday experiences and ask plenty of questions. Our panelists were:
• Amber Antoni RN, MSN; Director for Disaster Preparedness, THC
• Charles Collins MD; Psychiatry Professor, Executive Vice Chair & Director of Clinical Services, UC Health
• Angelica Hardee PhD; Sr. Manager Gen-H, THC (public health, social determinants expert)
• Zach Jones MD; Director of Physical Therapy, Ultimate Rehab, Ltd.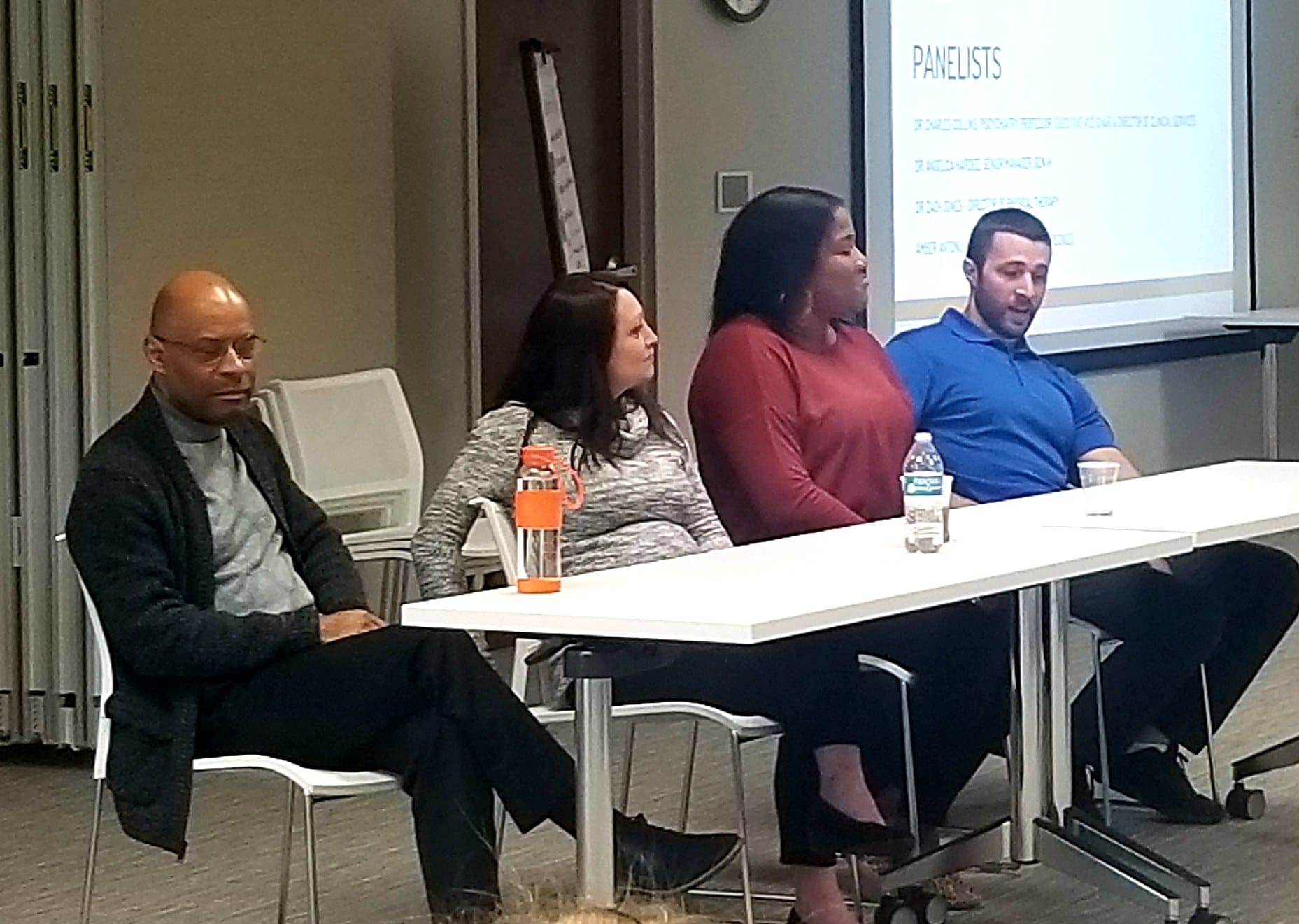 This Saturday workshop was one of many such events held exclusively for TAP Health students and their parents on a monthly basis. Once students are accepted into a competitive TAP program*, starting in January of their junior year of high school they (and often their parents) attend experiences throughout the year which allow them to explore first-hand the possibilities of pursuing a physician or other healthcare career.
To learn more about TAP Health or get in touch, reach out to Heleena McKinney at hmckinney@healthcollab.org or visit http://taphealth.healthcollab.org.
*The application deadline for the Tap Health classes of 2019 passed on December 17, 2018.