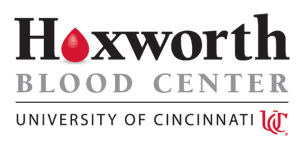 Our friends at Hoxworth Blood Center stopped by to set up shop in our Learning Center on Friday for a building-wide blood drive (photo gallery below). THC staff and other folks from throughout the 615 Elsinore Place location spent time donating whole blood, plasma, and platelets. Kate Haralson, Manager, Clinical Quality Improvement at The Health Collaborative, played an instrumental role in organizing the blood drive and working with Hoxworth staff to ensure its success.
Elizabeth Davis, Manager, Mobile Recruitment, Donor Recruitment & Community Relations for Hoxworth Blood Center shared in a follow-up the next day, "We had a good day yesterday! 24 donors participated, and we were able to collect 23 units! That included a platelet/plasma product. Thank you so much for all your work to make the blood drive a success."
"It gives me some perspective on how fortunate I am that I haven't been in the position of relying on blood and platelet donations to survive or to live a quality life," shared Kelly Aardema, Practice Facilitator Coach at The Health Collaborative. "My relative discomfort during the platelet donation process pales in comparison to what the recipient and his/her family is going through. Knowing that I'm giving back to my community and helping to save someone's life makes it all worth it."
Bob Coogan, The Health Collaborative's Director of Grant Accounting, is also grateful for the opportunity to give back: "The Blood Drive provides a unique way of contributing toward THC's mission of making ours a healthier community. I'm proud to be able to participate," he said.
Every day, 300 blood donors and 40 platelet donors are needed to help save lives in our local community. For every unit of blood donated, up to three lives can be saved.
Way to go, blood donors – you are our life-saving Hoxworth Heroes!