By Amy Crowley
How do you shift thinking and positively affect a culture of health, safety and vitality throughout an entire county?
You start by making it accessible, attainable and affordable through collaborations with community partners and targeted outreach plans that not only reach people where they live, play and work but where they already have trusted connections who can help influence their decisions.
WeTHRIVE! is Hamilton County Public Health's (HCPH) grassroots initiative that is doing just that — making healthy living easier to achieve for all residents in the county. What started with 50 people in three communities in 2009 has expanded to impact more than 300,000 people throughout 26 communities.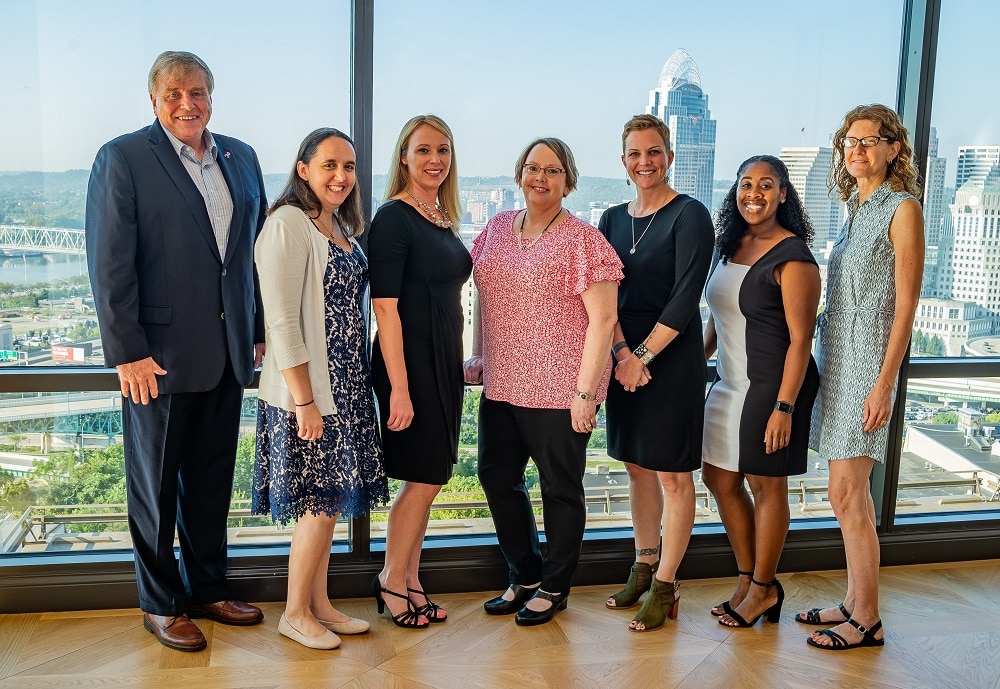 Ten years ago, WeTHRIVE! started with a focus on increasing access to healthy food and physical activity, while decreasing exposure to secondhand smoke. These initiatives centered around childcare, school, community and faith to reach as many people as possible and give children an early start on proper nutrition and health.
Since then, WeTHRIVE! has expanded. Pathways now include substance use/abuse, social health, injury prevention, environmental health, emergency preparedness, and chronic disease. All pathways aim to make the healthy choice the easiest choice through implementation of population-based policy, systems and environmental changes.
"WeTHRIVE! is truly a grassroots effort that is making our communities healthier," said LaVerne Mitchell, Lincoln Heights council member. "When we build playgrounds for our children and support corner stores that sell healthy food, we are all thriving, not just surviving. This makes Lincoln Heights a healthy community in which to live, work, learn, and play."
The numbers speak for themselves with 26 WeTHRIVE! Communities, 7 WeTHRIVE! school districts, 100+ WeTHRIVE! child care providers, 7 tobacco-free community policies, 72 tobacco-free campus policies, 45 committed partner organizations, $5.8 million in grants and donations to support health and safety initiatives and many more. WeTHRIVE! initiative provides tools and guidance, empowering residents and communities to make lasting changes that will impact the health and safety of Hamilton County for generations to come.
The Health Collaborative is proud to honor Hamilton County Public Health's WeTHRIVE initiative as a FINALIST for the 2019 Inspire Gen-H Award.
This still-growing movement, which provides a framework to communities for healthy living, is a result of sustainable thinking, collaborative partnerships and visionary leaders who saw the benefits for a community initiative like this from the very start. And we're so thankful they did!
Watch for more articles profiling the work of our award finalists throughout October, as we lead up to the 2019 Inspire Healthcare Dinner and Awards Celebration!