One of the silver linings of the COVID-19 pandemic has been the remarkable collaboration 
among the region's various health systems, senior/assisted living facilities, public health agencies, social service organizations, and many others playing critical roles in our regional response. 
Springdale Health Commissioner Matt Clayton has been serving on the Command Structure's Steering Committee since the beginning of the pandemic response in March. Clayton has served as Health Commissioner for the City of Springdale since 2015 after working for the City of Cincinnati Health Department for over twelve years as a Registered Sanitarian and Trainer.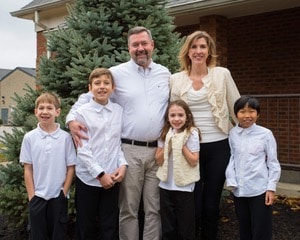 We spent a few minutes to get Clayton's perspective on what's happening, what's to come, and all that our region has to be proud of as we hit the six-month mark for the crisis.
Q: Hi, Matt! Let's start with an overview: what do you do? What parts of your profession are you most passionate about?
A: I lead the Springdale Health Department's efforts to address community health, environmental health, health education, and public health emergency preparedness. I am passionate about engaging community stakeholders and community partners in efforts to improve population health and address health equity.
Q: What role do you play in the region's response to COVID-19?
A: I serve the Southwest Ohio Public Health Region as the Chair of the Executive Steering Committee. I am also actively engaged in Governor DeWine's Multi Agency Coalition for Southwest Ohio.
Q: Why do you think our region has thus far been successful in managing the pandemic?
A: Our region recognized the importance of COVID-19 testing and began a push in this direction early.  Multi-disciplinary efforts to align messaging resulted in consistent CDC based health education campaigns, including healthcare, local public health, and the Ohio Department of Health.  Effective non-pharmaceutical interventions were widely promoted, resulting in positive health outcomes across the SW Ohio region.
Q: Where do you think we have opportunity to improve?
A: We must maintain these scientifically supported health education campaigns to overcome misinformation and false beliefs held by a small minority of the population. The local and state public health and healthcare organizations must unify messaging and promote a strong federal response to reduce the impact of the COVID-19 pandemic and future public health emergencies.
Q: What are some of the positives you predict will come out of the pandemic? Specific to medicine and healthcare?
A: Every protective measure used to fight the pandemic associated with SARS CoV-2 will also reduce the impact of communicable diseases like influenza.  If the general population continues to practice the current NPI's (e.g., increased hand hygiene) lives will be saved annually.  Some of the 'behind the scenes, everyday heroes' like epidemiologists, infectious disease control specialists, public health nurses, and healthcare professionals are being recognized for their contributions.
Q: How do you see healthcare/medicine changing over the next 5-10 years?
A: This is probably not truly a question for me, since I am on the public health side, rather than the healthcare industry. In my opinion, genetic research may have a tremendous impact, as might medical technology. IT tools to manage health information and improve communication will only increase in importance and value. Between genetics, medical technology, IT improvements, automation, and several other trends that have already begun, I truly think healthcare/medicine could have a significant impact on quality of life in the future.
Q: How do you spend your time when you're not fighting a pandemic or caring for patients?
A: I have a wife and four children, I'm a part-time MPH student at WSU, I'm actively involved in scouting with my sons, I love to spend time outside, either hiking or camping, and I'm interested in automotive mechanics.  At times you might find a vehicle on jack stands in my garage, with parts and tools scattered around it.
Lightning round! 
Movie? Courageous
Show? Designated Survivor
Books? On the Road, Jack Kerouac; Tao Te Ching, Lao Tzu
Quote you're pondering and why? "Above all, don't lie to yourself.  The man who lies to himself and listens to his own lie comes to a point that he cannot distinguish between the truth within him, or around him, and so loses all respect for himself and for others. And having no respect he ceases to love."  – Fyodor Dostoevsky,  The Brothers Karamazov
The recent actions and words of certain global leaders make me ponder this quote frequently.  Especially during the global pandemic.
Favorite vacation spot? Maui.  When I win the lottery, I plan to relocate there.