UC Health – one of The Health Collaborative's anchor hospital system members – remains at the forefront of our region's pandemic response, and its physicians have been standing at the ready to treat patients and serve families to keep our communities healthy.
Our Director of Communications Shannan Schmitt caught up with physician Dustin J. Calhoun MD, FAEMS, Assistant Director, Division of Emergency Medical Services at UC Health, the University of Cincinnati Medical Center, and UC Health West Chester Hospital; and Assistant Professor of Emergency Medicine for the University of Cincinnati. In between meetings, teaching, and then working in the Emergency Department overnight for the first time in months, Dr. Calhoun gives his insight into what motivates him and how he stays connected to what matters most.
Q: Hello, Dr. Calhoun! Tell me about your day job. And what's your favorite part of what you do?
A: I have several of these. Above anything else, I'm an emergency and EMS physician for UC and UC Health, meaning I get to be involved in patients' lives when they need help the most. It's definitely never boring and can be very rewarding. The EMS part of that occasionally allows me to take care of those patients outside the ED, which definitely adds to the complexity at times.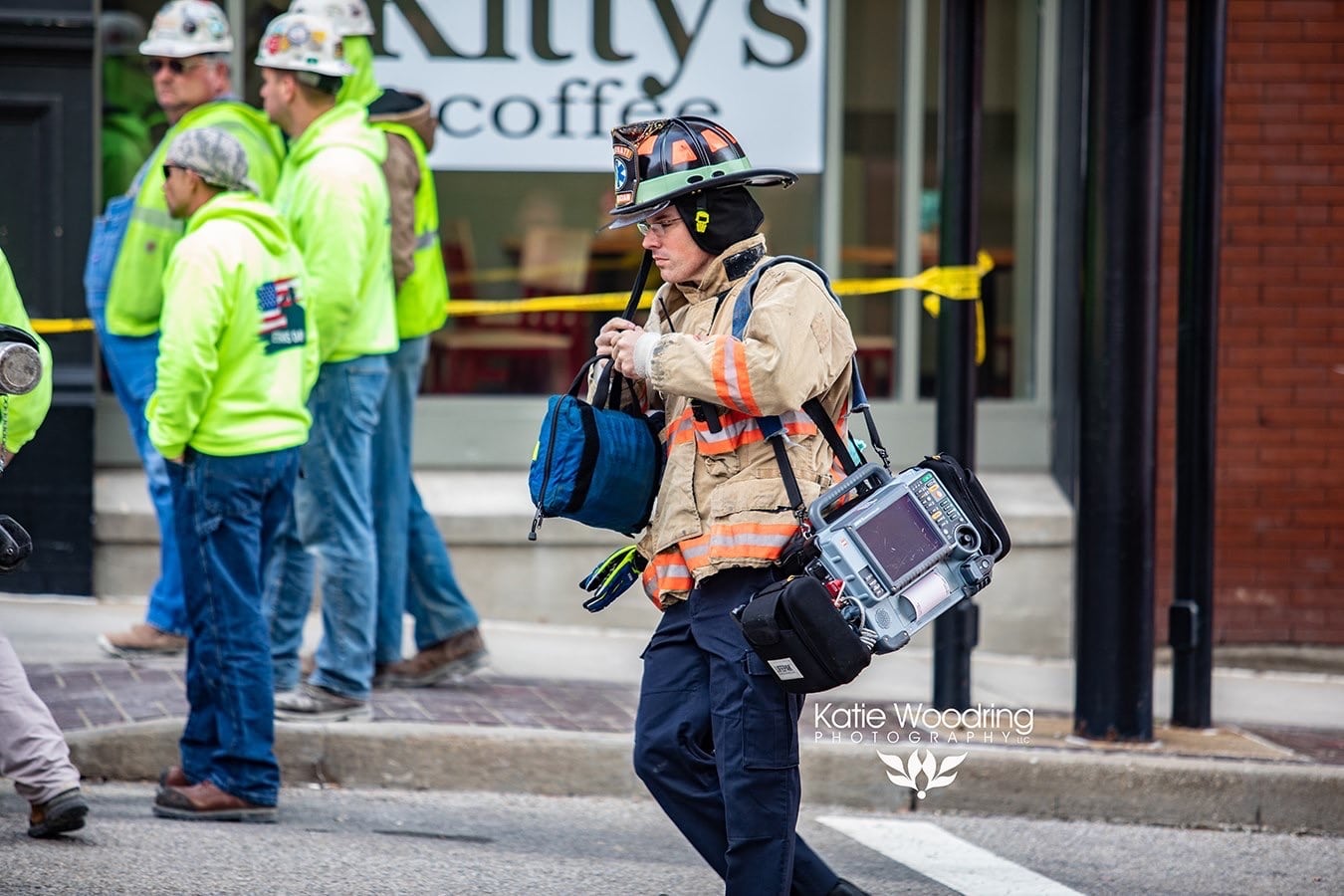 I'm also a medical director. I'm the medical director for a number of fire, EMS, and law enforcement agencies in the region; the largest of which is Cincinnati Fire Department. This part of my job centers around prehospital provider education, quality improvement activities, and a wide variety of advisor-type activities. I'm also the Medical Director for Emergency Management for UC Health, which ties in most closely to my regional roles with COVID-19.
Q: What role do you play in the region's response to COVID-19?
A: My initial involvement with the COVID-19 response was within my own healthcare system, UC Health. For about two months I acted as the "sub-incident commander" for our system response. This was among the most fascinating and educational roles I've played in my career. From there I was asked to transition over to act as one of the unified commanders for the development of the Duke Convention Center alternate care site.
From there I've become more broadly involved in a number of the regional efforts surrounding COVID-19 response, including the development of testing processes and strike team models.
Q: Why do you think our region has thus far been successful in managing the pandemic?
A: Our region started from a strong, collaborative base in emergency management. The connections were in place. There were processes in place from which to build. Actions were taken fairly aggressively, fairly early. And, there has been an enormous amount of collaboration developed over the past four months. Seeing agencies, systems, and communities come together with a common purpose has been very impressive.
Q: Where do you think we have opportunity to improve?
A: There is always room for improvement. In this case one of those would be in our connection to our communities to do education. One of the things we've seen was a lack of clear understanding of the importance of things like wearing masks in public. Relatively poor compliance with this during initial phases of reopening is likely at least partially responsible for some of what we've seen with the numbers. It's a complex issue with complex science behind it and some pretty mixed messaging on a national scale. Many entities, including UC Health and The Health Collaborative, worked hard to provide the community with guidance, but an enhance ability to really get that message out is certainly an opportunity.
Another big opportunity is in the arena of preparedness for this sort of incident. Public health organizations tend to be under-emphasized and underfunded. In general, they barely have the resources to do the day to day requirements of their role, let alone put significant effort into preparing for the unknown. I think the pandemic brought that into the public eye.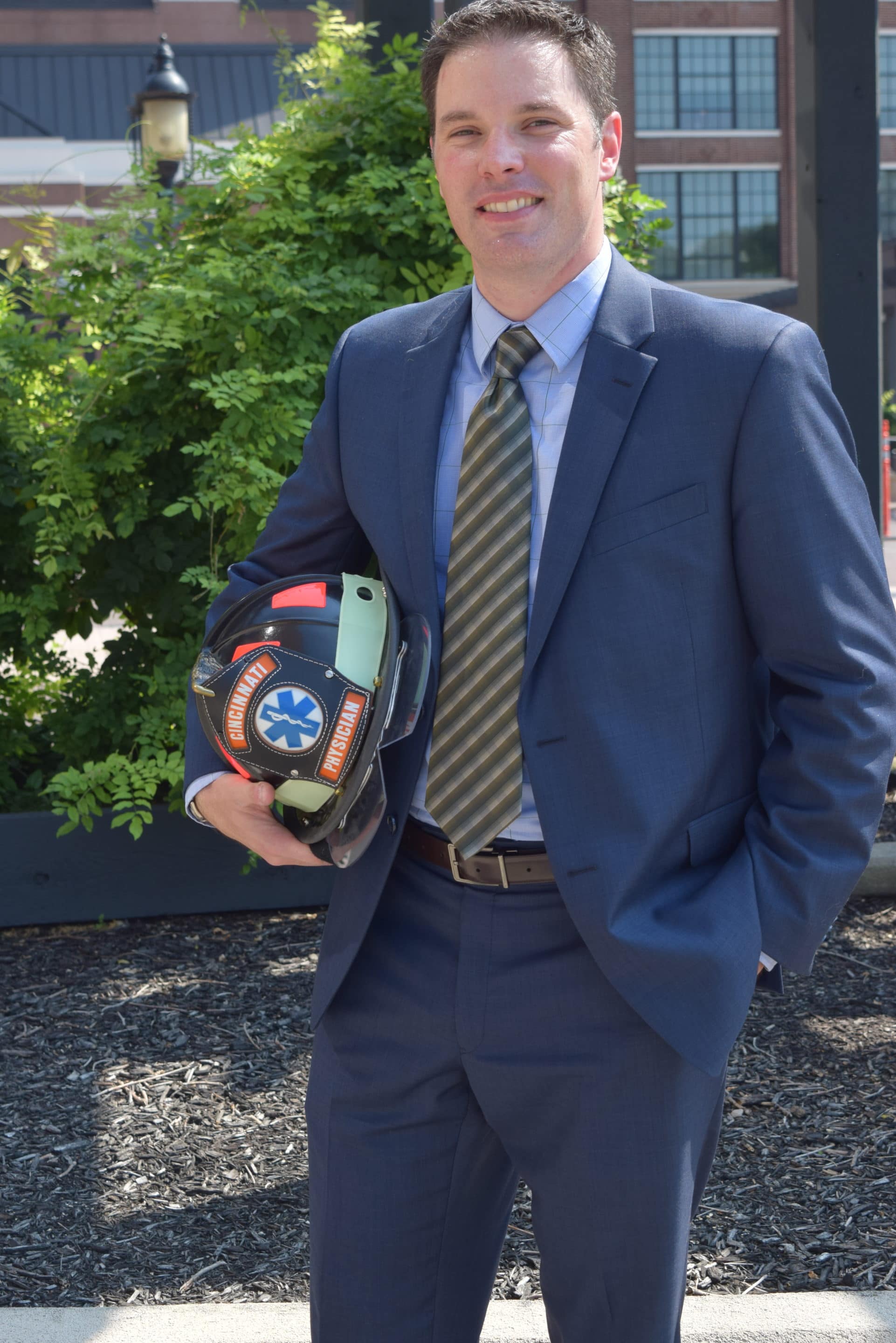 Q: Pick an area of healthcare/medicine that needs fixing – and how can we get after fixing it?
A: Well, the public health situation mentioned above certainly fits in this category as well. In addition to that I would say: equitable access to quality primary care services is still a big problem in our country. As an emergency physician this is seen everyday, even before the pandemic, every time a patient can't get the medicine you prescribe or the followup you recommend and every time you find a late stage cancer that could have been far more treatable if discovered earlier through routine medical care. During the pandemic this also played a role every time arrangements had to be made to get testing done for a patient without a primary care doctor to write the order or follow up on the result.
Q: How do you spend your time when you're not fighting a pandemic or caring for patients?
A: I like being outdoors. I try to go running in Mt. Airy park as often as I can. When I have more time I like to go hiking or backpacking.
Q: Finally – pick a question (or two) from below that speaks to you:
Favorite book/podcast/show and why?
I listen to a lot work related podcasts about EMS, emergency medicine, preparedness, etc. But, my favorite "fill in" podcast when I need something else is Stuff You Should Know. It's a fantastic, eclectic podcast that takes a deep dive into just about any subject. It reminds me a little of the old Paul Harvey radio show The Rest of the Story.
Quote you're pondering and why?
By far, the quote I think about the most is from Martin Niemöller in 1946. It's too long to write here, but most people have heard it. It's the one that starts, "First they came for the…" It was a very powerful speech and later a poem emphasizing the need to care and act, even when injustices don't directly harm one's self. I think a little more of that perspective would solve a lot of problems.
FOR MORE UPDATES ON THE UC HEALTH MEDICAL COMMUNITY, VISIT THEIR NEWS PAGE HERE. 
FOR UPDATES ON COVID-19 RESPONSE EFFORTS, PLEASE VISIT THE HEALTH COLLABORATIVE'S PAGE AT HEALTHCOLLAB.ORG/COVID-19.