One of the many COVID-19 challenges brought to the medical community was keeping clinicians up to date on the ever-changing and sometimes daily updates on the latest research and treatment options for the virus.
As it became increasingly clear that clinicians needed to focus on patients and had little time for research, the Bon Secours Mercy Health (BSMH) staff found a solution.
Across its 50 hospitals and skilled nursing and assisted living facilities in seven states, Mercy Health, part of BSMH, launched the COVID-19 Order Set Task Force in April of 2020.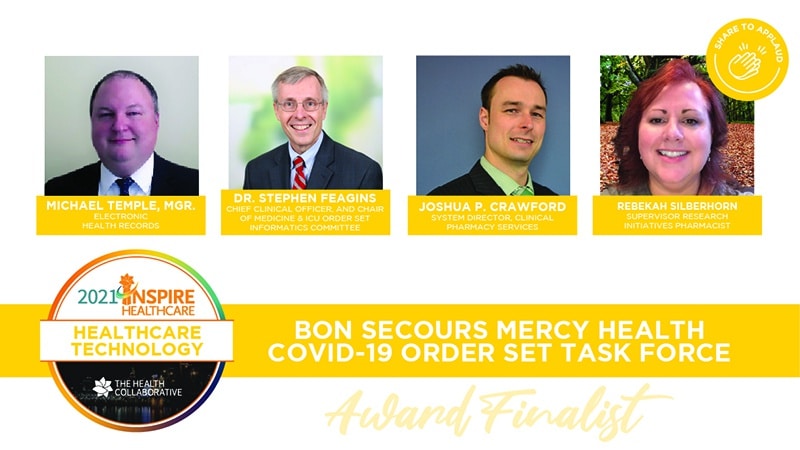 The staff was able to deploy the Task Force quickly because Mercy Health had already established the informatics group in 2010 when the system first went live on Epic. Prior to COVID-19, the committee created order sets for opioid withdrawal, meth toxicity and alcohol withdrawal.
Just 10 days after it was established, the team created a unique order set focused on the virus which was then updated every two weeks to recognize new evidence and adjust clinical practice guidelines for caring for COVID patients across the BSMH footprint.
The COVID-19 Order Set put the best available evidence at the fingertips of clinicians in real time at the bedside without them having to research the latest treatment options. The task force did the research work for them. Specifically, the task force reviewed and made recommendations on each new COVID-19 treatment option as it appeared and it looked at convalescent plasma, Remdesivir, hydroxychloroquine, monoclonal antibodies, Vitamin D, steroids, manual proning and more.
In addition to deploying the order set across BSMH's 50 hospitals and care sites, the COVID Order Set Task Force shared the order set with the Epic user group nationwide. It also shared it with all the health care systems in Cincinnati through the Health Collaborative's infectious disease working group, which advises the hospital steering committee on recommendations for the clinical care of COVID-19 patients. The work then continued with the advent of COVID-19 vaccines. Special formulary committees convened in December and met within 48 hours of the approval authorization.
No aspect of patient care happens without a caregiver ordering it and the COVID-19 order set guided that care. Clinicians across BSMH have used the order set nearly 57,000 times (as of July 20, 2021). This gave patients the best care that the Mercy Health team knew about in real time.
The Health Collaborative is proud to honor the Bon Secours Mercy Health COVID-19 Order Set Task Force as a nominee for the 2021 Gen-H Award. We're proud of the committee's dedication, focus and ongoing effort to make tough decisions and do what was needed to give patients the best possible care.