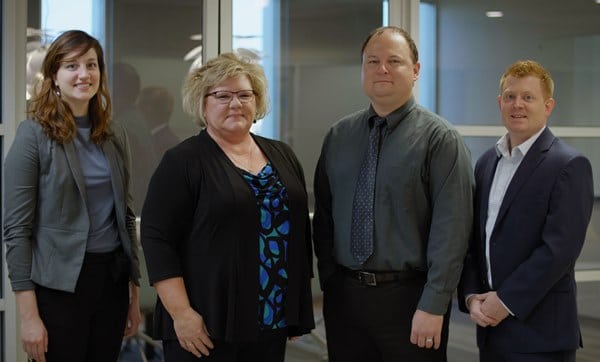 Mercy Health is being celebrated as a finalist for the 2018 Informatics Solutions Award.
Each year, The Health Collaborative recognizes the healthcare heroes in our community at the Inspire | Healthcare Gala and Awards Celebration. This year's sold-out event is being held on November 8 at The Center downtown. Award categories include Diversity and Inclusion, Gen-H (population health), Informatics Solutions (health information technology), and Leadership in Quality Improvement.
The Informatics Solutions Award acknowledges the individual, team or organization streamlining processes and improving care through the innovative use of health information technology. 
In 2016, the State of Ohio had the second-highest rate of death due to drug overdose in the nation, according to statistics from the Centers for Diseases Control and Prevention.1
Legislators, physicians and community leaders had already begun to take notice, working collaboratively to put policies in place to combat the opioid crisis on many fronts. One of the region's most fervent champions was Steve Feagins, MD, Vice President of Medical Affairs at Mercy Health – East Market, who spearheaded what has become an expansive, multiyear approach to reducing opioid addiction and improving outcomes in our community.
"[The informatics team] built the tools that supported the overall goals of reducing availability and subsequently identifying and providing treatment in a timely manner."
At Mercy Health, the efforts have been exponentially augmented by an automated electronic medical record-based system that assists providers in prescribing appropriate medications and screening patients for treatment—not only in Cincinnati but for all the Mercy Health hospitals throughout Ohio and Kentucky.
"[The informatics team] built the tools that supported the overall goals of reducing availability and subsequently identifying and providing treatment in a timely manner," says Kelley Recker, EMR Vice President of Operations and Training for Mercy Health. "And we wanted to make sure that our patients in all our sites across the enterprise were receiving the same opportunities."
Building the Tools
The Mercy Health informatics team leveraged the Epic EMR system to place screening tools and relevant patient history in the hands of providers at the point of care. They built a system of alerts and integrations that not only facilitated treatment for patients who were already under the influence of opioid addiction, but also made it easier for physicians to comply with state and national guidelines that would stem the tide on opioid prescribing.
A three-part screening tool built into Epic utilizes the SBIRT protocol (Screening, Brief Intervention and Referral to Treatment) to provide a standardized method for evaluating patients in the Emergency Department. The tool destigmatizes the screening process, enabling easier identification of at-risk patients and facilitating the path to treatment and Medication Assistance Therapy.
At the prescription level, preconfigured orders were built into Epic to assist physicians in selecting the most appropriate dosage and duration of morphine-equivalent medication based on a patient's diagnosis and history. In cases where the physician selects a dosage or duration that falls outside the guidelines recommended by the State of Ohio, an alert pops up to remind the physician of the current standards and to try to move the prescription within bounds.
A stand-alone best-practice alert notifies physicians when a patient is taking a dangerous combination of opioids and benzodiazepines. The alert gives providers tools to safely wean patients off the deadly combination or prevent co-prescription before it occurs.
An integrated hyperlink within the electronic medical record now gives physicians instant access to the OARRS database (Ohio Automated Rx Reporting System). Prescribers are required by law to view the OARRS profile on each patient before prescribing opioids—a process that initially required a cumbersome log-in. The EMR integration seamlessly passes physician credentials and patient identifiers through to the OARRS system and allows the report to be viewed within the EMR. An additional integration with a third-party vendor technology offers enhanced functionality to score patients and provide more context around a patient's risk level for addiction.
Utilizing COWS, the Clinical Opioid Withdrawal Scale, the team collaborated with other regional and state health organizations to develop an order set to treat patients who are in need of drug therapy following a positive withdrawal screening. The protocol provides a standardized way to keep patients comfortable and then transition them to medication assistance therapy.
Review of Results
Governmental data show that programs such as these are, indeed, making inroads on overdose and opioid prescription abuse. In a report released in September, the Ohio Department of Health noted a 23 percent decline in overdose deaths during the second half of 2017, as well as an eight-year low in prescription opioid-related deaths.2
Within Mercy Health, the statistics are equally encouraging. A post-intervention follow-up with patients who had participated in the SBIRT screening protocol demonstrated a six-month follow-up reduction of two days less alcohol use in the previous 30 days compared to their baseline, and a greater than three-day decrease in illicit drug use from their 30-day baseline.
Thus far, the preconfigured orders and prescription guideline alerts have reduced the total morphine equivalents prescribed per patient by 23 percent and the daily doses by 35 percent.
"Over the short period of time of one year, we've been able to profoundly bend opioid prescribing curves in terms of duration and in terms of morphine equivalent daily dose," says Mark Binstock, MD, MPH, Associate Medical Information Officer at Mercy Health.
Also critical for the Mercy Health team, the standardization of treatment enabled by the automated tools is supporting a compassionate level of care that maintains the patients' dignity and removes the stigma of addiction.
"I just want to say thank you so much," wrote a patient who was treated using an opiate withdrawal order set following a COWS withdrawal screening. "I came here about 30 days ago to do my detox and now I'm in a sober living house and have been sober 30 days. The doctors and nurses treated me with love and respect."
From here, additional builds will be planned to support legislation that rolls out for 2019. The team is also committed to sharing their results so that what they've created can be implemented by other Epic-based health systems throughout the country.
"One of the big takeaways," notes Michael Temple, RN, Manager of CarePATH Clinical Content at Mercy Health, "is that we have an extensible framework to rapidly place the same tools to providers anywhere in our network for immediate benefit to our patients."
1.  https://www.cdc.gov/drugoverdose/data/statedeaths.html
2. https://www.odh.ohio.gov/-/media/ODH/ASSETS/Files/news/2018/ODH-News-Release—-2017-Ohio-Drug-Overdose-Report.pdf?la=en