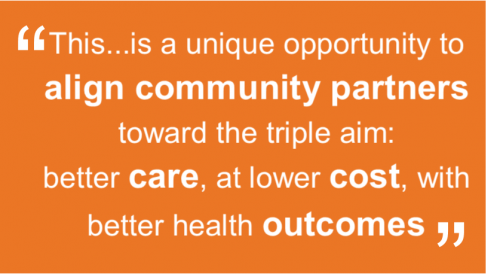 Could stopping at the Kroger pharmacy after a hospital stay improve your odds of recovering at home without having to be readmitted? A partnership between The Health Collaborative, the University of Cincinnati's James L. Winkle College of Pharmacy, Kroger Pharmacy, and several local hospitals is looking into that question.
Patient enrollment has begun in a new study to measure the impact of having pharmacists work with patients to manage their medications after being discharged from the hospital.
"Research has shown that failure to take medications properly is one of the main reasons why patients are readmitted to the hospital within 30 days," said Sheri Vogel, Director of Quality Improvement, Transitions of Care, at The Health Collaborative. "These readmissions lead to more costly care for both patient and provider, and they're largely preventable."
In 2014, The Health Collaborative was awarded a $600,000 grant funded by the National Association of Chain Drug Stores Association (NACDS) Foundation to measure an approach to these preventable readmissions through community-based medication therapy counseling.
Kroger has since trained over 150 of its pharmacists on the program's counseling protocol. Case management staff from participating hospitals have now begun referring patients to the program. The study aims to enroll 1,000 patients from Greater Cincinnati, focusing on those patients with a primary diagnosis of heart attack, heart failure, pneumonia, COPD, or diabetes. Patients that are selected for the study will be contacted to schedule an appointment at their local Kroger pharmacy typically within seven days of returning home from the hospital.
The Health Collaborative will manage the secure electronic transfer of patient information from hospitals to the pharmacies. Additionally, it will create a panel of all patients enrolled in the study and measure their 30-day readmission status.
"This coordinated care approach to medication management is a unique opportunity to align community partners toward the triple aim: better care, at lower cost, with better health outcomes," Vogel said.
The study, expected to span one year, builds upon a University of Cincinnati pilot project that showed that the pharmacist intervention had a significant impact on 30-day hospital readmission rates. Patients who received the medication counseling had a 5.9% 30-day readmission rate compared to a 20% readmission rate for those who did not receive the intervention.
Local hospitals currently enrolling patients to the study include the University of Cincinnati Medical Center, and the following Mercy Health hospitals: Anderson, Clermont, Fairfield and West.
For more information on the study, please contact Lori McAleer at lmcaleer@healthcollab.org or 513-618-3632.