As experts in the field of acute inpatient psychiatric care, the PB2.200 unit at Cincinnati Children's Hospital Medical Center (CCHMC) is one of only a few programs nationwide that specialize in the treatment of our youngest patients (ages 4-9) requiring this level of care.
The leadership of PB2.200 saw an opportunity to radically transform and improve patient care as well as the culture of the unit.
Careful observation resulted in five key takeaways: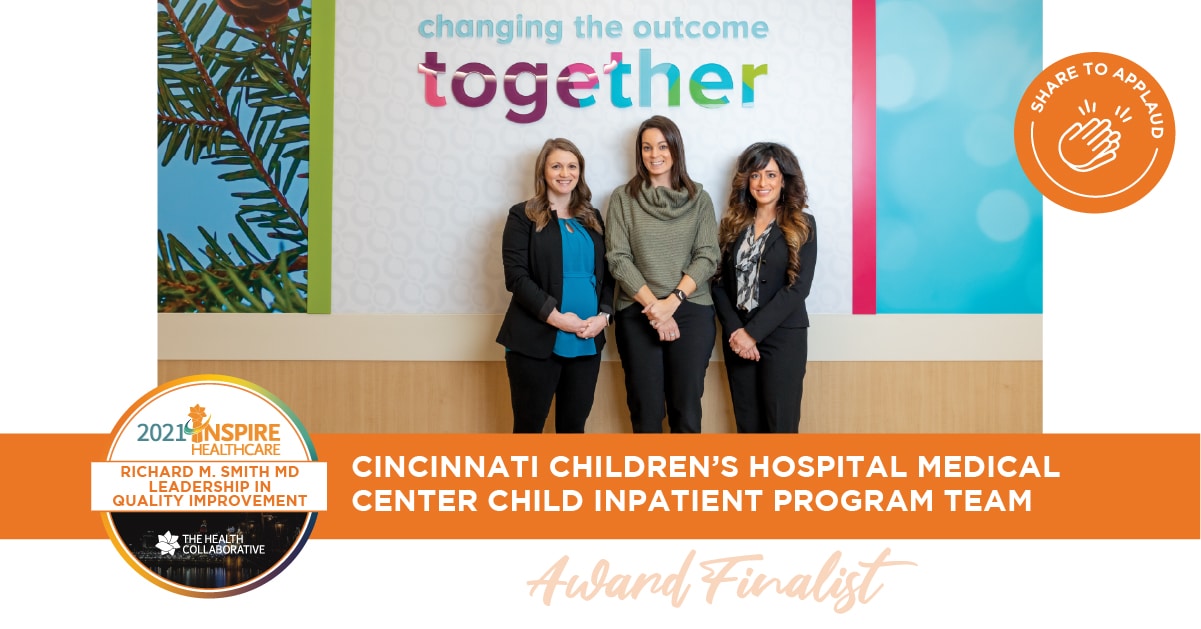 Patients were spending significant downtime in their rooms daily
Increased downtime resulted in increased cycles of patient frustration and aggression
Aggressive patient behaviors resulted in increased time in seclusion or restraint
The cycle of repeated crises further reduced the time patients were engaged in therapeutic care
Families were not able to fully participate in their child's care
To improve unit culture, a vision was established based on the belief that continuously engaging patients in therapeutic programming would create a culture of positive, nurturing interactions between patients and staff.
Milieu-based programming is the cornerstone of treatment on psychiatric inpatient units and centers around safety, structure and group treatment using everyday activities to help patients interact in community settings. As a first step, a team of staff champions created and implemented a developmentally appropriate, structured schedule. Within months, programming more than doubled from fewer than 6 hours per day to over 12 hours per day, a dramatic increase.
Leadership presence increased along with focused, real-time coaching and staff mentoring in order to improve the quality of staff-patient interactions. Within months, positive daily patient interactions increased by over 500%. Once a place of repeated crises, it transformed into a positive environment, rife with interactions, therapeutic activities, and support, allowing patients to be nurtured and thus able to re-engage in care.
The leadership team believed that increased programming and positive patient interactions would result in enhanced engagement with treatment, fewer aggressive episodes, and consequently, fewer restraints and seclusions. This theory proved correct. In an extraordinary about-face, the total amount of time patients spent in restraints and seclusions decreased from over 70 hours per year to less than 1.5 hours per year.
Centering Around the Family
While no amount of programming will ever completely eliminate staff injuries, in December 2020 the team enacted a new system to address them. Centered around a process of peer review combined with increased leadership support, the staff responded with vigor. Feeling more supported, staff engagement scores dramatically improved, and the response to the annual engagement survey exponentially increased from less than 20% to more than 85%, a remarkable turnaround. Perhaps the most significant marker of positive change, the average employee turnover decreased from over 10% in 2019 to less than 1.5% in 2021.
A critical component of acute mental health treatment and post-discharge success centers around family engagement, and alignment with the treatment team. Family Centered Rounds was put into practice, which involves daily contact between the entire treatment team and the patients family. The treatment team provides updates about treatment progress, preparation for discharge, and is available to answer
any questions the family may have. Families report increased satisfaction with their care, feeling engaged and supported by their treatment team, and experiencing fewer barriers to discharge.
As evidence-based programming improved and families engaged in care more often, there were notable improvements in the average length of stay. In 2018 the average stay on PB2.200 was 8.1 days, decreasing to 6.4 days by 2021, representing an additional 270 days of bed availability annually. There was no change in the rate of readmission. Patients are both resolving their crises more quickly and maintaining that improvement after discharge.
It is difficult to adequately describe the degree of innovation created and put into motion by this team, especially since this was the first mental healthcare improvement project that strategically focused on process and culture simultaneously. There is little, if any, inpatient psychiatry literature documenting this degree of improvement in an inpatient milieu setting.
This team transformed the entire care delivery system on one unit. It requiring creativity, communication, discipline, coordination, and most importantly, trust in each other and their team. This project forced everyone involved to look at the current processes and systems in totality. This "Foundations of Care" model has been incorporated into a vision for the entire acute psychiatry inpatient program and will be spread to our other inpatient units over the next 18 months, changing the way we deliver care for all our patients.
The Health Collaborative is proud to honor the Cincinnati Children's Hospital Medical Center Child Inpatient Program Leadership Team, 2021 finalists for the Richard M. Smith MD Leadership in Quality Improvement Award.