(Aurora, Ind.) – A South Dearborn High School Senior is making strides in her education by gabbing every opportunity she can to prepare for her future academic goals and career aspirations of being a Pediatric Neurologist.
Alyssa Baker is one of many dedicated tri-state students that had the opportunity to get practical hands-on experience through The Health Collaborative's Healthcare Workforce Innovation program, TAP Health. However, she was the only student from Indiana to be selected into the TAP MD program, which is geared specifically toward Physician careers.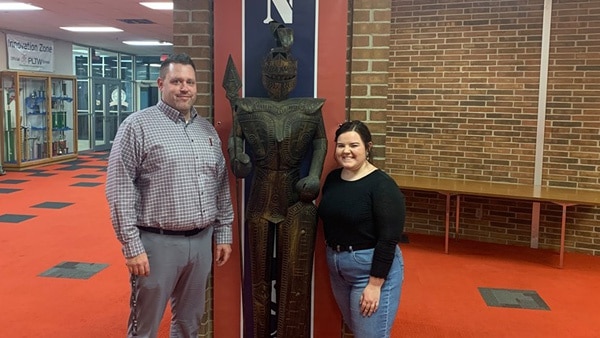 South Dearborn High School Science Teacher and mentor Pete Brown and SDHS Senior Alyssa Baker
This program specifically helps students from Cincinnati, Northern Kentucky & Southeast Indiana "tap" into their potential in medicine and healthcare. Starting in January 2019, Baker was able to attend a different hospital each month to explore the different career paths and engage with physicians in a variety of specialties.
Baker explained how being exposed to the different career paths through this program helped solidify her choice of attending the University of Cincinnati to major in neuroscience. "Just the aspect of being a doctor, going in to help people, and making their lives better, that's why neurology is something that appeals to me. The kids I will work with, I will be able to grow with them and help them throughout their lives."
Being involved in this program opened many doors for this senior. Through TAP MD, Baker is now able to reach out to medical professionals due to the major networking opportunities.
"Last February, we were able to sit in a theater and watch a kidney transplant. Every doctor we talked to; we got their contact information. From just that opportunity, I was able to go back in, in August, to watch Dr. Diwan, who did the kidney transplant, do another surgery and actually stand in the OR."
Baker also had the opportunity to appear on the Healthy By Design podcast hosted by The Health Collaborative's Senior Manager, External Relations & Public Information Officer, Christa Hyson, MPH and Senior Data Analyst, Brian Kegley, RN. Listen to Alyssa's full episode on the podcast here, Alyssa with TAP Health.
Baker says that having a teacher like Mr. Brown has helped her as a student.
"He is such a good teacher. [speaking to Mr. Brown] You have helped inspire me to go into this by how much you care. It is awesome to have the support of my parents and then to be able to come to school and have the same thing here," said Baker.
South Dearborn High School Teacher and mentor to Baker, Pete Brown, explained how important it is as a teacher to inform students of these different types of opportunities. "I didn't do anything, I really didn't. I just presented an opportunity, and she ran with it from there. I think what is important to note is, you never know the opportunity you present to somebody until it's there. For teachers in general, you never know when your moment is going to be there," says Brown.
By the time high school graduation comes around, Baker will graduate with Statewide Transfer General Education Core (STGEC) which ensures 30 hours of general education credits that can be transferred between public colleges and universities.
In her free time, Baker is member of the SDHS Opening Knight Show Choir and Student Body Class President. She also started an anti-bullying initiative at South Dearborn High School to support fellow students struggling with bullies. It is clear that Baker has a bright and promising future ahead of her. Eagle Country wishes her the best of luck in all her future endeavors.