The THC family welcomes Ameenah Hall, the new Manager, Events and Learning Center Programming.
Ameenah has a creative eye and passion for the health industry. She is excited to join the THC family and apply her experience to its events and programming. We took a deeper dive in our Q&A with her to find out what she's all about!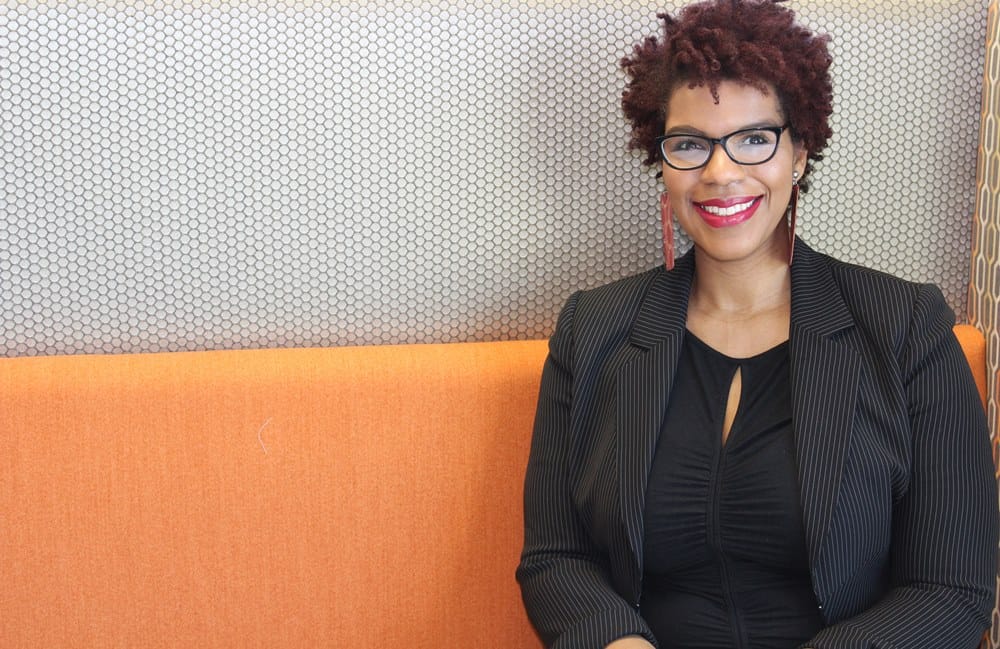 Q. Hi Ameenah, thank you for taking the time to answer a few questions for us. To get us started, what is your role within The Health Collaborative?
A: I am the Events manager for The Health Collaborative. Basically all of our signature events will be produced and led by me. Another focus will be any events that can help increase our membership and help our members network with each other.
Q. What is your background?
A: I went to Miami University where I received a Bachelor of Arts in communications with a public relations concentration. I am a Certified Tourism Ambassador through the city of Cincinnati. I have consulted for other nonprofits as well, such as Speaking of Women's Health Foundation, the YMCA, Cincinnati Human Relations Commission, and Radio One – Women's Empowerment Conference.
Q. What event, that you have planned, has had the biggest impact?
A: I would say that the event that has had the biggest impact would be the Women's Empowerment event with Radio One. This was a city-wide event, and there were approximately 2,000 attendees. I consulted with Radio One Cincinnati to plan one of the city's largest women's health conferences from the ground up. Working with getting Keynote Speakers, such as Ms. Traci Ellis-Ross, speakers for breakout sessions, logistics of the rooms, and more.
"I think what excites me the most [about working in healthcare] is that you're not just selling widgets, you're improving someone's well-being and helping with their health and improving their lifestyle."
Q:  What excites you most about working in the Healthcare industry?
A: I think what excites me the most is that you're not just selling widgets, you're improving someone's well-being and helping with their health and improving their lifestyle. We all need important information about our bodies, you only get one. Life isn't a dress rehearsal, you only get one time to live your life and take care of your body. Being in a field in which you get to help people with their health and increase the longevity of their life is important to me.
Q: If you were given one billion dollars, how would you use it to improve healthcare?
A: We develop habits young, and sometimes I think about children's healthcare and making sure when they are babies they are taught about nutrition, taught about health, going to the doctor, going to the dentist on a regular basis. I would spend a lot to educate the babies from a young age on up, because once you've been taught it, it's your foundation.
A bulk of the money would be used to start programs to increase knowledge for children in schools. So, then they become adults who take care of their bodies, eat healthy, etc. To me this is key for children.
Another portion would go to diseases that we do not have much information on as to why they happen, such as Alzheimer's. This disease is very dear to my heart. I would want to help by funding the development of research on these diseases.
Q. What's your favorite stress-relieving activity outside of the office, and why?
A: I am a music lover; most of the time I come home and turn on Pandora since I'm not a huge TV watcher. So, I love to turn on my favorite station and vibe to that. I am a big tea drinker, so I come home turn on my music and make myself a cup of tea. That's my stress reliever.
Q. Where is your favorite vacation spot?
A: I really like San Diego; the San Diego area is beautiful. I've been there about 5 times. I love this restaurant in La Jolla, it's called George's at the Cove, it has three levels and you can see all the Pacific and it has the perfect atmosphere. I love that place.
Q. What would your perfect meal entail?
A: I love seafood. Anything that has a lot of salmon, shrimp, lobster, and crab. I would love a smorgasbord of all of that. Banana pudding is my favorite too.
Q. If you could, what time would you visit in history?
A: I would love to go back to see the pyramids being built because that fascinates me. I love that time-period because of how they mummify the body, and the whole ritual with death. I just think that is so interesting and what they did to preserve the bodies. I would love to go back and see that, they were obviously so intelligent to be able to come up with everything that they had created.
Q. Where did you grow up and how has it shaped who you have become?
A: I am from Cincinnati, 1st-6th grade in the Bond Hill area, and 7th- 12th in Loveland. Growing up in Loveland, it wasn't as developed. Growing up there I was bored, I know I wanted to be an urban dweller and not a suburbanite. I have lived downtown for almost 10 years. If I could live in Brooklyn, I would love that. I felt I was so disconnected from the city when I was growing up, and so now I live smack-dab in the middle of downtown.
Q. Current projects you're working on?
A: My current project is myself. I need to get back in shape, I used to really be this spin class junkie and I loved it and was addicted to the CycleBar and then I "fell off." So, I am trying to work on that and getting back into shape. I also enjoy walking to work to get my steps in.
Q. What are you most excited about at THC?
A: The ability to connect the community with the resources, thought leaders, and experts in an environment that is engaging, entertaining, and fun to enhance the community's health.
Q. What plans do you have for THC?
A: Being able to continue the Thought Leaders Series, continue to enhance our members' ability to network and engage with thought leaders and experts on a variety of subjects. I will be instrumental on coordinating those.
"I'm most excited about being able to connect the community with the resources, thought leaders, and experts in an environment that is engaging, entertaining, and fun!"
Q. Do you have any idea of event spaces you'd like to use in Cincinnati?
A: Cincinnati has so many different event spaces to host events such as the View, the Summit, the Phoenix, Memorial Hall. I think people forget about them. I have a creative mind and I don't think you always have to go to a convention center or a hotel. There are so many unique spaces that are underutilized, and I am looking forward to seeing some of the new spaces that are popping up – and also using spaces that are more "forgotten."
Q. What do you think are some of the biggest opportunities for The Health Collaborative?
A: I am an outside-of-the-box type of thinker with wanting to really have that "wow factor." Yes, we can do the same old conferences, but I come from that wow factor of "Oh wow, this is really bright and colorful and engaging and fresh and innovative." So then, as an attendee you are more in-tune, engaged and more likely to want to tell someone to come with you and that is how I envision doing events.
Q. What is your favorite quote?
A: I always say, "Do something different." My ice breaker is always "When was the last time you did something for the first time?"
Ready for some "wow factor" in your life? Get in touch with Ameenah at ahall@healthcollab.org!