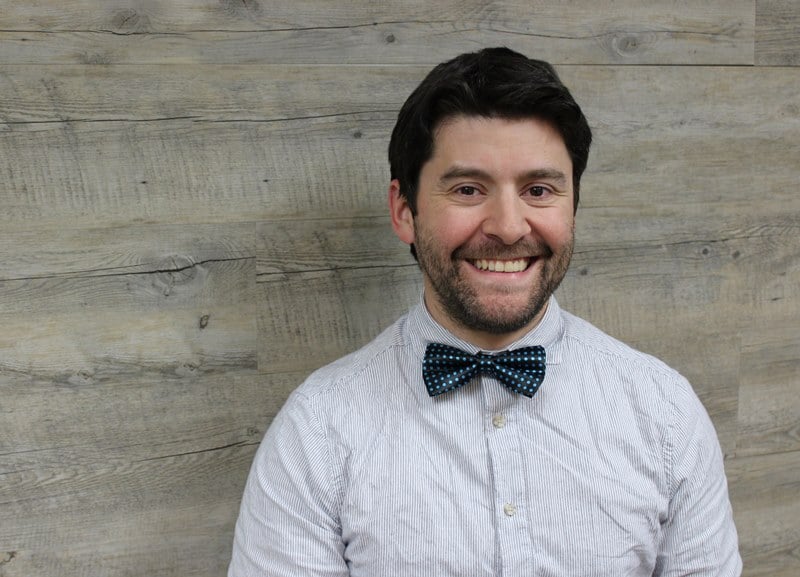 A recent addition to the THC family is Senior Data Analyst Francisco Rademacher, whose unique outlook has proven to be a great addition to the team. His vast bow tie collection – and skills on the office's razor scooters – are only the beginning…
Francisco is responsible for measure validation and in-depth analysis for our publicly reported clinical quality measures, and other measures for data and aggregation projects across the organization. Not only does he have an appreciation for the stories told by the healthcare data we manage, he is able to communicate those stories to our members and partners in a variety of visual and narrative ways. 
Q: Hi, Francisco! Tell us about a current activity or project you're working on, to get us started. 
A: My wife and I are currently building our dream home (a farm). I've been planning and working toward this goal for 22 years.  I am very close to my grandfather, who passed in 1997. He was a prominent farmer in Chile. I remember the smells and sounds of his dairy vividly from when I visited as a child. My wife and I had been looking to move somewhere with more land than our current 2.25 acres, so when 10 acres of flat property came up locally (which never happens), we jumped at the opportunity. Now we can fulfill our dreams of a small zoo and horse farm. This is a way for me to stay connected to my Chilean farming roots, honor my grandfather, and raise my daughters with the understanding of, and respect for, the land that gives us everything we need.
Q: What's your favorite stress-relieving activity outside of the office, and why?
A: My "Zen Moment" when hunting is early in the day, when it's completely dark, to just close my eyes and let nature wake up around me. I am an avid outdoorsman and conservationist, of which deer hunting is a small part. Most of the time it's me just getting out into nature and "finding myself." I can hunt at my current property and intend to hunt on my new farm.
Q: Where is your favorite vacation spot? 
A: I love visiting Mammoth Cave. My whole family loves exploring caves and hiking. You can find something new every visit. We have visited all the caves in and around Mammoth. My favorite exploration had to be as a teenager going spelunking in Mammoth, getting stuck and having my headlamp go out. That was an incredible "experience." I have done minimal seaside caving on the West Coast, but nothing like Mammoth.
Q: What would your perfect meal entail?
My perfect meal is family dinner every night with my family.  It can be Wendy's or pizza, it doesn't matter, but I love to cook. The bigger the meal the better. My favorite time of year is Thanksgiving. My motto is when a recipe calls for any amount of butter, you add 2-sticks worth. And at Thanksgiving dinner, it is perfectly acceptable to have 5lbs of food per person. I love cooking so much that my wife and I are planning a gourmet kitchen for the farmhouse. Sitting at the table by my 2.5yr old and across from my wife and 5.5yr old is the most perfect part of my day.
Q: If you could, what time would you visit in history?
A: I would visit Jefferson Hall (Newport, Ky) on July 17, 2008. This is the day I met my future wife. We met by sheer coincidence on a night out. She was there for a friend's birthday and  I was there hanging out with friends; both of us attending last-minute. We have been together ever since. We had three dates those first 5 days before she went on a pre-planned vacation. The only times we have been apart are the occasional (MAYBE 3) work trips. We dated for roughly 1.5yrs before getting engaged.
Ready to swap spelunking stories with Francisco? Get in touch at frademacher@healthcollab.org.