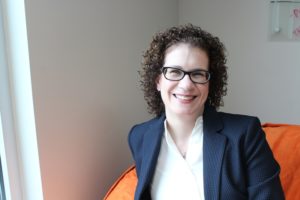 Judy is a Senior Integration Engineer at The Health Collaborative –  which means, for those of us who aren't technologically inclined, that we're going to need an explanation of what that means!
We asked Judy to give us non-techies the lowdown…
Q: Hi, Judy! Can you give us a quick overview of your role at THC?
A: I am a programmer and was hired at HealthBridge over eight years ago to create tools in Lotus Notes [workflow application] as add-ons for Elysium, our former clinical messaging service. Since then, I have broadened my skill set and learned so many new tools and technologies. I write code and stuff – mainly within Microsoft SQL databases – which I use to create tools and products, such as our current encounter notification service known as hb/notify, to improve functionality and efficiency for healthcare providers. [hb/notify delivers real-time notifications to providers when a hospital encounter has occurred for one of their attributed patients. This helps ensure proper care coordination and continuity, reducing hospital readmissions and overall costs.]
Q: What is your favorite part of your job? 
A: It's interesting work and more rewarding than working for a widget maker. A friend once asked how I liked working at a non-profit because he felt they were slow-moving environments. I laughed.
Q: What is your background? 
A: I have a degree in History and sorta fell into programming way back when I couldn't figure out what to do with a History degree other than teach (which would be my worst nightmare).
Q: What's your favorite stress-relieving activity outside of the office, and why? 
A: Spending time relaxing with my cats and listening to their purrs. Getting a hug from my cat, Gizmo. He really loves to give full-on hugs with both arms wrapped around my neck.
Q: OK, we're getting to the important stuff now, but I think I already know how you'll answer… Puppies or kittens?
A: Kittens…because I am a crazy cat lady.
Q: Have your day-to-day duties changed since the switch to Verinovum? If so, how?
A: Yes! I don't have to do Lotus Notes development anymore! Woo-Hoo!!!
Q: What is your favorite project you have worked on, regarding HealthBridge products and services?
A: Our provider-facing notification service, hb/notify (previously known as Encounter Notification Service, ED Alerts, or HB Alerts). I've worked on it since we began the project at HealthBridge under the Beacon grant [a project which ran from 2010-2015, focused on Triple Aim goals of reducing utilization and readmissions, bringing down costs, and improving population health] and it's kinda my baby.
Q: What drew you to the IT industry? If your career wasn't originally IT-oriented, how did you get to where you are now?
A: I was having trouble finding interesting work with my History degree, and my boyfriend at the time suggested I take a class in Oracle development. The rest is history…