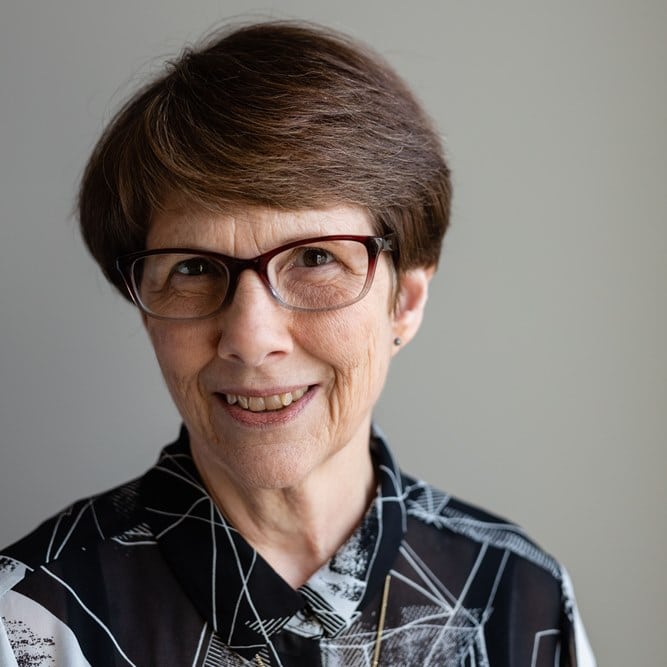 As the first face you might see when you arrive at The Health Collaborative, Front Office Assistant Linda Langlitz has a very important job.
Don't let the calm demeanor fool you: besides helping folks feel welcome and comfortable upon arrival, Linda is responsible for a number of vital functions that keep things running smoothly for leadership, staff, and visitors.
Read on to find out what motivates Linda, her best travel recommendations, and the best advice she's ever received. 
Q: What is your Front Office role all about, and what is your favorite part of your job?
A: Duties include welcoming guests, answering phones, general clerical duties, and meeting support. What I like best about my job is welcoming visitors; when an interview candidate comes in, I try to make him/her feel more relaxed.  I also really have enjoyed learning how to use the digital signage and creating different types of presentations.  I am looking forward to improving my slide creation skills by taking a class in PowerPoint in early December.
Q: What is your background? 
A: I received a BA in Spanish Education and studied my junior year in Madrid, Spain. Since my major was Spanish, I needed a full immersion program and wanted to attend in Spain rather than Mexico, and the one offered in Madrid worked well with the college I was attending in the USA.  I was there for the whole school year.  We had some long school breaks, so I was able to visit France, Switzerland, Germany, Netherlands, and Italy.  During the school year, weekends were often used for trips to various regions/cities in Spain.
Q: What's your favorite stress-relieving activity outside of the office, and why?
A: Shopping, but I don't need to buy anything. I love looking at the beauty of the displays, seeing what the latest fashions are and watching people.
Q: If you could be in a movie of your choice, what would you choose and what character would you play?
A: "Romeo & Juliet" – I would love to play Juliet because I am a romantic and love the whole story, but Juliet's joy in Romeo's company is my favorite aspect.  There is a line that the friar who married them says, "Love moderately – long love does so."  I understand what he likely means, but it doesn't resonate with me. I'm not into moderate love and neither was Juliet!
Q: What would your perfect meal entail?
A: I love fried chicken, baked potatoes, asparagus, & wine, with chocolate chip cookies & coffee for dessert.  I love fried chicken so much that it doesn't matter whether it is homemade or store bought.
Q: What is one thing on your bucket list?
A: I would return to Spain for a vacation.  I would show my husband around Madrid, but also Barcelona (Las Ramblas flower market) – and Valencia (the best Paella – saffron rice seafood dish).  The thing I liked best about Spain was the world famous art museum Museo del Prado. Our own Cincinnati Art Museum reminds me of it in its building's architecture and the way art is displayed.
Q: If you won the lottery, what unnecessary thing would you splurge on?
A: A river cruise on the Danube River – I like the pictures in brochures I have received in the mail.  Needless to say, I'm adventurous!
Q: What's the greatest piece of advice you've received?
A: "This too shall pass."  This was something my dad always used to say.  It puts things in perspective for me.
Looking for some traveling advice for your next trip to Spain? Get in touch with Linda: llanglitz@healthcollab.org