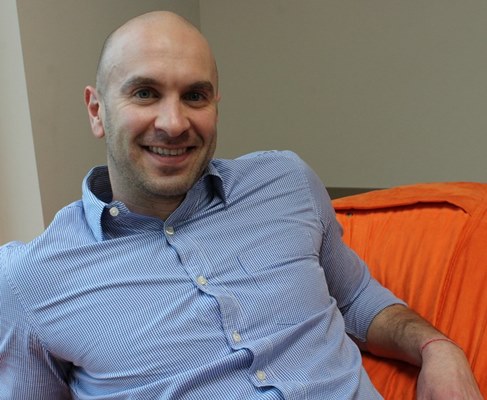 We had a chance to sit down with Matt Wollman, our new Data Optimization Coach working with the CPC+ team, and learn a little bit about what makes him tick.
Matt came to us from Cincinnati Children's Hospital Medical Center, where he was a Data Management Coordinator with the Shared Resources Group of the Cancer and Blood Diseases Institute. 
Q: Hi, Matt! Could you give us an overview of your role at THC?
A: My role has a few different facets, mainly I am a CPC + practice facilitator & data optimization coach. The data optimization role is still new and in development, depending on the future needs of our participating practices and other practice facilitators as we work together to achieve our practices' goals. As a facilitator & coach I act as a resource to guide our practices through their CPC+ requirements, and I am also a liaison to the CPC+ team on the national/federal level.
Q: What is your favorite part of your job so far?
A: So far, it's that every day is different. The lack of monotony is great!
Q: Where did you grow up, and how has it shaped who you have become?
A: I grew up in Cincinnati on the east side of town and am a Turpin HS grad. Moving away for seven years after high school made me feel an even stronger sense of connection to my community, and made me want to work to improve our community and Cincinnati as a whole, particularly in the realm of health and healthcare.
Q: Where did you live when you moved away?
A: I lived in Athens, OH for five years and then in Louisville, KY for two, both for school.
Q: What's your favorite stress-relieving activity outside of the office, and why?
A: I manage my stress through exercise, specifically lifting weights. I find it meditative. I go to the YMCA in OTR which has just been renovated – it's great!
Q: What are you most proud of, personally or professionally?
A: I used to work on a project with ArtWorks called the Hero Design Company, where we made superhero capes for kids at Cincinnati Children's. It was really, really cool. We came up with a co-design process so that each child would have their own logo design that represented something that made that child special. Then we worked with teenagers to design the capes, taught the teens how to sew, and delivered the capes to the kids within a week of their "order." The kids got to test their cape designs and run around like superheroes – it was amazing. I don't know if I'll ever do anything that cool again.
Q: Where is your favorite vacation spot? 
A: Outer Banks, NC: I love the ocean and it's a really mellow vibe there. I also have great memories of being there because it's where we always went for family vacations, so it has that nostalgic factor for me as well.
Q: Yin-yang question: puppies or kittens?
A:  Puppies – but not I'm judging cat people…I just feel like you could put puppies up against almost anything else and 9 times out of 10 you'd have to go with the puppy!
Q: What's the oddest job you ever had (besides this one)?
A: I worked construction for a summer as a teenager – that was a weird glimpse into how things get built. I once got chased off a hospital roofing job once, along with my coworkers, because we were causing dust to fall from the ceiling into the surgical theater during an actual surgery. My foreman also claimed to run from the police on a weekly basis, which didn't make him a very good mentor for me as an 18-year-old…
Q: If you could be in a movie of your choice, what movie would you choose and what character would you play?
A: I would be Iron Man & save the world – I love superhero movies!
Connect with Matt on all things superheroes and more: mwollman@healthcollab.org!