Our new Communications Specialist, Olivia Ritter, is the daughter of our Director of Financial Reporting, Marie Ritter! Olivia just happened to start her job on the Tuesday before Mother's Day (and on her birthday, at that).
Who better to interview Marie for a Staff Spotlight than Olivia?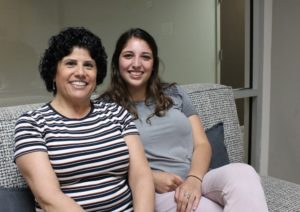 OR: Hi, Mom! Could you give us a quick overview of your role at THC?
MR: I am responsible for providing management and executives with accurate financial information in a timely manner in order for them to make healthy business and operational decisions.
OR: What is your favorite part of your job?
MR: My favorite part of my job is working with such a great group of people and providing them with useful information that helps them with their day to day work.
OR: Where did you grow up, and how has it shaped who you have become?
MR: Although I spent the first 10 years of my life in Latin America and Massachusetts, I primarily grew up in Connecticut. Because of this, I really enjoy traveling and learning about different places both domestic and foreign.
OR:What's your favorite stress-relieving activity outside of the office, and why?
MR: I love to work out by taking step or Zumba classes. I make sure to do this 5 to 6 times a week. I believe that by taking an hour to myself I am a better mom for it.
OR: What are you most proud of, personally or professionally?
MR: Personally, I am most proud of my family. I have a great husband and wonderful kids who are all healthy and doing well in their careers/school. Professionally, I am most proud of the work we do here at THC: for a small department of three people, we get an astonishing amount of work done.
OR:Where is your favorite vacation spot? Or, tell us a bit about your most favorite vacation ever.
MR: My favorite vacation spot is anywhere on a beach, preferably the Atlantic. There is nothing more relaxing than sitting in a chair and reading a book and listening to the waves. My favorite vacation was in 2016 when we went to Playa del Carmen, Mexico.
OR: What book are you currently (or most recently) reading?
MR: I just finished the novel Strangers by Ursula Archer and Arno Strobel. I love to read, I'm always in the middle of a book and mostly I read mysteries of any kind.
OR: Have you ever met a celebrity? If yes, who was it? Were they nice?
MR: Yes, when I was in high school I met Michael Bolton and was bold enough to give him a kiss. When Jeff and I got engaged it was at a Def Leppard concert and we were invited backstage to celebrate with the band. We were invited backstage again a few years later when they came back into town.
OR: What would your perfect meal entail?
MR: My favorite meal is the one my mom cooks every Thanksgiving: turkey, mashed potatoes, vegetables, and apple pie for dessert. It would be even more perfect if it had no fat, carbs, or calories!
OR: If you could, what time period would you visit in history?
MR: I don't want to go back in history, I would like to jump ahead in time and see how things are going to be in the future. I keep waiting for flying cars that fold up into a briefcase like on The Jetsons.
OR: What is your favorite part about working with your daughter?
MR: My favorite part is the time we get to spend alone in the car on the way to and from work. That's when the best conversations happen.
Get in touch!
Olivia: oritter@healthcollab.org 
Marie: mritter@healthcollab.org
Happy Mother's Day to all MOMS – and happy birthday, Olivia!