By Emily Yu, Mason High School Junior
TAP MD Class of 2019
TAP MD recently went to the Mercy Health Hospital in Anderson for one of its monthly on-site experiences in healthcare. For the first time, we were able to wear our own lab coats like doctors. Just wearing our lab coats felt like we were one step closer to being a doctor, which being participants in TAP MD helps us do!
We were first introduced to people who work in sports medicine, some of whom work with high school athletes. We were also introduced to Dr. Steve Feagins who has done sports medicine with college and professional teams.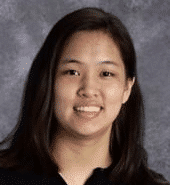 The TAP MD split into two groups: one group went with Dr. Feagins to the Emergency Room and the other stayed and learned about suturing. I stayed with the latter. Since we can't operate on animal tissue, we sutured bananas. The sports medical professionals walked us through what suturing is and how to suture. At first, I thought this would be quite easy since it looks like sewing, which I can do.
Unfortunately, I would say it took me a little longer than everyone else to understand. We first made a wound on a banana with a forceps. Forceps are instruments that look like a pair of scissors used for grasping and holding objects. Then using the forceps we curved a suture needle so that it poked up on the other side of the wound. The needle was small and hooked and had a string attached to the end. Then using tweezers and forceps, I had to tie two knots in opposite directions. It took me a lot of time even with their help to tie my first knot. It felt like a huge accomplishment for me even though I learned that it takes physicians only seconds to do on squirming patients.
We then rotated with the other group to go to the emergency department with Dr. Feagins. We went to the helipad where he explained the cases in which the hospital uses a helicopter or when patients from other hospitals fly in. It was very informative to hear since I've never really heard someone talk about how hospitals use helicopters.
We then visited a trauma room. He explained the functions of certain parts of the room. Something you might not think about,  air flow, is very important. Air gets ventilated out in case there are airborne diseases, which you would not want circulating to other parts of the hospital. Dr. Feagins was very informative and answered questions about aspects of his job, and offered advice for us if we decided to pursue medicine.
Although it was shorter, I really enjoyed being able to learn hands-on how to suture. I also enjoyed being at our first experience inside a hospital. This experience definitely got me to look into sports medicine as a possible avenue and gave us a look into a possible career.