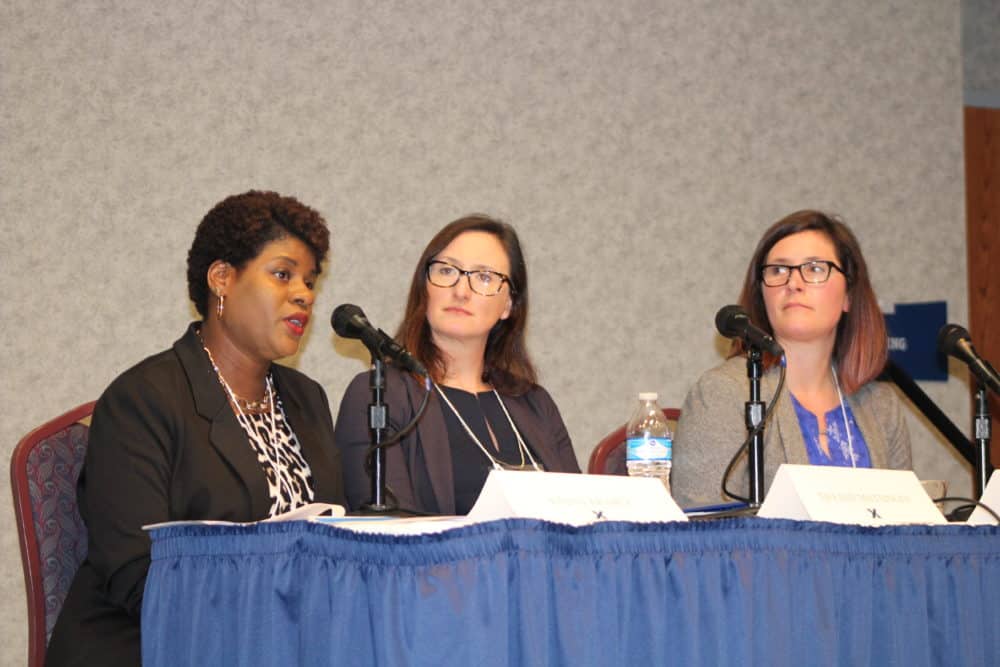 Xavier University recently convened "Tomorrow's Coordinated Health Care System – Today," with over 200 attendees in nursing, social work, counseling, psychology, and similar fields exploring solutions to improve health and equity in our community.
The Health Collaborative (THC) sent leadership from its population health and clinical quality improvement projects to join the dialogue and share what's been working in some of our leading health improvement initiatives.
THC's Kiana Trabue, MPH, Executive Director Gen-H, delivered the lunchtime keynote address and was joined by Kate Haralson, MPH, CPM, CCRP, Senior Manager Clinical Quality Improvement; and Tiffany Mattingly, MSN, RN, Director, Clinical Quality Improvement for panel discussions during breakout sessions.
The conference theme, "Envisioning Population Health: Working Together to Achieve Health Equity" examined the key drivers of social determinants of health as well as current approaches to population health management and education. The evolving role of healthcare providers in addressing health equity and health-related social needs (HRSN) was top-of-mind, with several breakout sessions and keynote discussions on the agenda throughout the day-long conference allowing participants to ask questions and share their ideas & best practices.
Trabue's keynote address, titled "The Missing Link: Addressing Health Related Social Needs," explored the role of HRSN in an individual's overall health status and in community health improvement planning. She described the ways her team is working to leverage technology for successful communication between clinical and social service providers, and shared best practices for implementing HRSN screenings in the clinical setting.
"Through screening, referral, navigation, and alignment, we are beginning to understand the health-related social needs of our most vulnerable neighbors," said Trabue. "This information is critical in helping improve health outcomes in the region. As one of only 31 regions across the country doing this important work we have a tremendous opportunity to model changes in the way the US healthcare system delivers care now and for generations to come."
The breakout sessions allowed time for presentation and dialogue around THC's Comprehensive Primary Care Plus (CPC+), Ohio CPC, and Gen-H Connect work, with Trabue, Mattingly, and Haralson taking turns walking participants through each project. Titled "An Overview of Regional CMS/CMMI Regional Demonstration Projects," the focus of their two breakout panels was on comprehensive primary care improvements and integrating population health/social determinants at the point of clinical care.
The primary care improvement projects known as CPC+ and Ohio CPC have many parallels, but the former is a CMS-funded program staffed by THC and the latter is funded by CMMI and run by the Ohio Department of Medicaid. While there is a great deal of overlap and similarity between the two in terms of participating practices and transformation strategies, the two programs are distinct in their measure specifications and reporting requirements.
Gen-H Connect is the Cincinnati-area "brand name" of the Accountable Health Communities (AHC) model, with 15 clinical delivery partners including health systems, Federally Qualified Health Centers, primary care, and behavioral health partners working together to address HRSN and provide a closed-loop referral system to ensure social service needs are met. Along with CPC+, it provides the foundation for THC's collective impact population health initiative known as Gen-H (Generation Health).
As Haralson simply explained, "The spirit of AHC is to make sure that our neighbors in the community are having their needs addressed." Funding is being shared across the various partner organizations and utilized to implement technology as well as hire & train health workers called navigators to help screen Medicare beneficiaries for HRSN and connect them with relevant resources.
"Regional demonstration projects such as CPC+ and Gen-H Connect position our healthcare delivery sites on the leading edge of improving health quality, equity, and outcomes for our community," said Mattingly. "Patient-centric care is at the core of these models, surrounding patients and caregivers with a comprehensive primary care experience."
For more information about the conference agenda and presentations, please visit https://www.xavier.edu/health-conference/index.
 To learn more about the population health and primary care innovations staffed by The Health Collaborative, contact Christa Hyson, Senior Manager External Affairs, at chyson@healthcollab.org