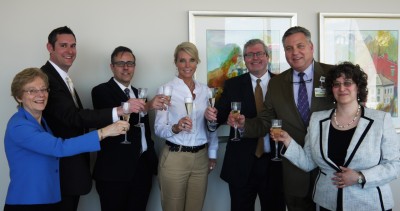 It's official.  The Greater Cincinnati Health Council, HealthBridge and the Health Collaborative have merged under the name The Health Collaborative.  The document signing occurred Monday, March 30th, 2015.
On March 26, 2015, we celebrated in style with members, supporters and friends at historic Memorial Hall. Many thanks to our featured speakers:
Lee Ann Liska, President and CEO – University of Cincinnati Medical Center
Judith Warren, Chief Executive Officer – Health Care Access Now
Anne Weiss, Team Director & Senior Program Officer – The Robert Wood Johnson Foundation
Amy Mechley, MD, Medical Director, The Wellness Division – The Christ Hospital Health Network
Geneva Miller- Consumer Council
John Ward, CIO & Director of Ambulatory Systems – TriHealth, Inc.
And lastly, more good news: Check out our merge story picked up by Cincinnati.com, the Enquirer, and the Business Courier.