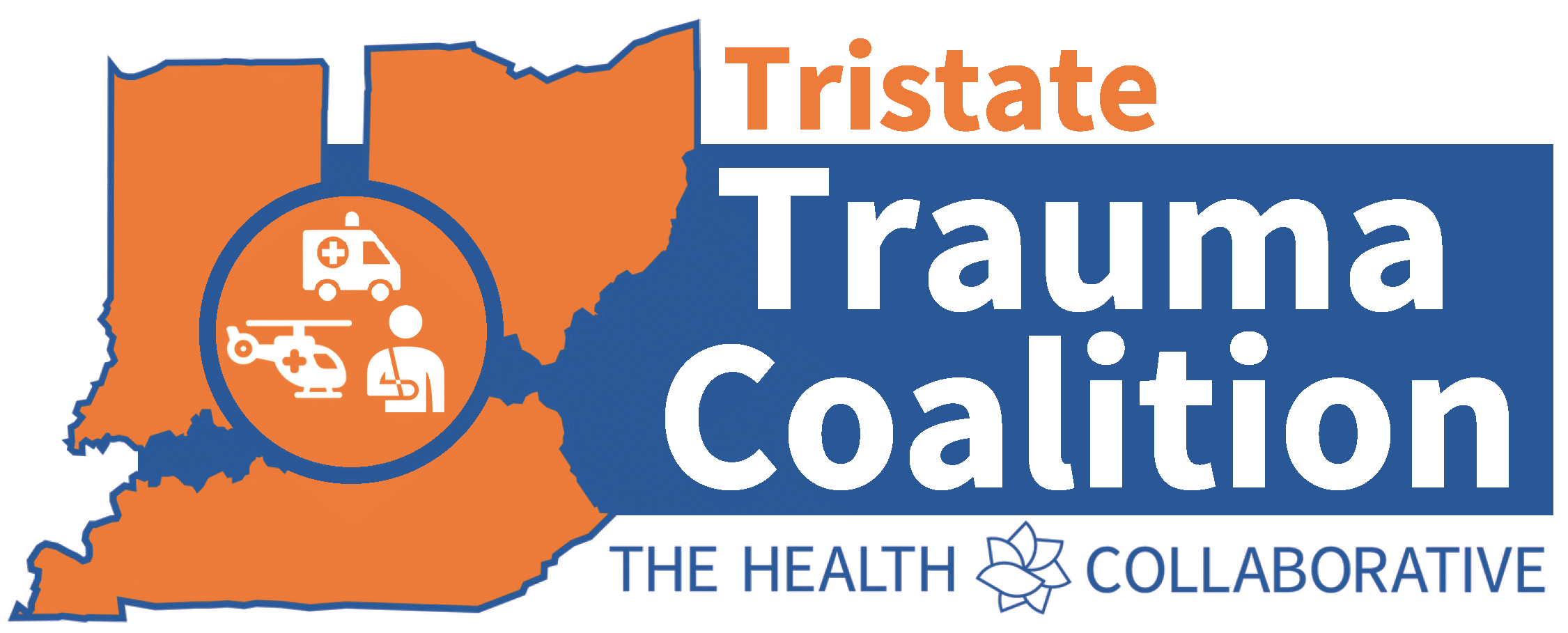 MEDIA CONTACT:
Christa Hyson, MPH
Senior Manager, External Relations
(513) 247-5254                                                                                            
FOR IMMEDIATE RELEASE
TSTC Empowers Public to Save Lives with "Stop the Bleed" Campaign
May is Stop the Bleed Month and National Trauma Awareness Month
CINCINNATI – Uncontrolled bleeding is a threat that can end lives quickly, sometimes in ten minutes or less. In the event of an emergency such as an active shooter, vehicle crash, animal attack, or explosion, a quick response by trained members of the public can mean the difference between life and death.
The Tristate Trauma Coalition (TSTC) is composed of leadership from each of the five area trauma centers: Atrium Medical Center, Cincinnati Children's Hospital Medical Center (CCHMC), TriHealth Bethesda North Hospital, and UC Health's University of Cincinnati Medical Center and West Chester Hospital. The TSTC maintains demographic, clinical, and outcome data that can be used to improve trauma care in the region, and has convened a regional workgroup designed to provide awareness of bleeding control and promote public trainings during Stop the Bleed Month in May.
BleedingControl.org and Stop the Bleed (STB) training were created in 2015 in response to President Barack Obama's policy directive for national preparedness (Presidential Policy Directive 8), recognizing that everyday citizens can learn proper bleeding control techniques and save lives. Trainings in the proper ways to use hands, dressings, tourniquets, and gauze in an emergent event are now available to the public through this initiative of the American College of Surgeons and the Hartford Consensus.
Margot Daugherty, MSN, MEd, RN, Education Specialist Trauma Services at CCHMC and TSTC member, described the coalition's shared sense of urgency for public trainings around bleeding control:
"As CPR was integrated into the community to help save lives of the heart attack victim the time is now to address bleeding control in the same fashion. With hemorrhage as the leading cause of death in trauma, the majority of witnessed injuries will be at home or in the workplace. Providing the basic concepts of bleeding control enables members of our community to respond to the situation and help save a life."
The TSTC, convened and staffed by The Health Collaborative's Kelly Harrison, CSTR, CAISS, Manager, Regional Trauma Services, is working together to continue to spread the importance of STB throughout the tristate area and provide education to all who are interested.
"Each individual facility manages its own education, etc.," Harrison explained, "but working together on the regional level will give the Coalition a platform to reach the public on a much larger scale."
"Our region is in a unique position to work together via the TSTC to ensure that anyone can have access to these tools and techniques," stated Richard A. Falcone Jr. MD, MPH, Associate Chief of Staff, Surgical Services; Director, Trauma Services; and Professor of Surgery at CCHMC. "Uncontrolled bleeding is the leading cause of preventable death from injury, and no one should die from a preventable cause that any trained individual could stop." Falcone is an active member of the TSTC.
The month of May has been declared the first ever Stop the Bleed Month in the US, with the second annual STB Day set for May 23. Hundreds of STB courses will be led across the country and a national directory of courses has been set up by BleedingControl.org to help participants find the closest training (click here to find a course near you). "There are certain professions who can become instructors after taking the class," explained Ann M. Brock, BSN, RN, CEN, EMT-P; Trauma Outreach Coordinator/WCSCC Coordinator for Atrium Medical Center's Level III Trauma Program. "Nurses, first responders, athletic trainers, veterinarians, and physical therapists – just to name a few – are perfect for the role."
This national campaign complements the American Trauma Society's National Trauma Awareness Month, with Trauma Survivors Day being observed on May 15.
Michael C. Petro MD, FACS, trauma medical co-director for Bethesda North, stressed the importance of STB awareness and the availability of bleeding control kits in our community:
"While violent acts get tremendous publicity we also continue to see all too frequent accidental injuries (such as auto, farm, industrial, recreational events) that result in massive bleeding… STB teaches steps that can save a life in each of these circumstances. Emergency Responders work diligently to be there when we need them, but they can rarely be on the scene as rapidly as bystanders can respond. Moments matter when a friend, co-worker, neighbor, or family member is dying from a bleeding injury. Anywhere there is an AED there should be some level of bleeding control kit alongside it."
Bleeding control kits are specially-equipped first-aid kits that contain dressings, tourniquets, supplies, and simple instructions on how to apply them. They can be posted in public areas and stored in public transportation alongside existing life-saving equipment.
"The world is an unpredictable place and because of that, everyone, everywhere should have a bleeding control kit accessible to the public," emphasized Regina Menninger, BSN, RN, Trauma Prevention and Outreach Coordinator at the University of Cincinnati Medical Center's Trauma Center:
"Churches, schools, businesses, community centers, parks, and athletic fields are a few examples, as well as groups such as Boy and Girl Scouts, shooting ranges, and running/walking clubs, just to name a few. No one ever expects or predicts that there will be a life-threatening event, but everyone should be prepared – both with education and equipment."
Dr. Petro concluded, "STB is easy to learn, and as a community we should strongly encourage training for teachers and staff in schools, as well as workers in office, recreation, or industrial settings. Anyone who would consider taking a CPR class can learn STB."
Get in touch with the Tristate Trauma Coalition: Kelly Harrison, Manager, Regional Trauma Services, kharrison@healthcollab.org. Click here to view and download the Tristate Trauma Coalition's latest Annual Report.
Contacts:
Christa Hyson MPH
Senior Manager, External Relations
The Health Collaborative
chyson@healthcollab.org; (513) 247-5254
 
Kelly Harrison CSTR, CAISS
Manager, Regional Trauma Services
The Health Collaborative
kharrison@healthcollab.org 
###
About The Health Collaborative:
The Health Collaborative is a non-profit organization that leads data-driven improvements that result in healthier people, better care and lower costs. For more information about The Health Collaborative, visit healthcollab.org.
About the Tristate Trauma Coalition:
The Tristate Trauma Coalition (TSTC) works with all regional trauma centers and local community groups to educate the public on many ways to prevent traumatic injuries. Staffed by The Health Collaborative, the TSTC collects, validates, and analyzes trauma and injury data from participating hospitals in the region and uses the information to make recommendations that help improve overall trauma care.