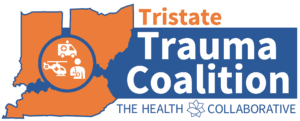 The Tristate Trauma Coalition (TSTC) recently released a report on the most recent validation project it participated in along with all Ohio trauma regions. In Ohio there are six regional trauma systems that include the Central Ohio Trauma System (COTS), Northeastern Ohio Regional Trauma Network (NORTN), Northern Ohio Trauma System (NOTS), Northwest Ohio Regional Trauma Registry (NORTR), Southwest Ohio Regional Trauma System (SORTS), and the TSTC.
Staffed by The Health Collaborative's Kelly Harrison, Manager, Regional Trauma Services, the TSTC works with all regional trauma centers and local community groups to educate the public on many ways to prevent traumatic injuries.
The six regional systems collaborated in late 2018 to improve data submitted to the Ohio Trauma Registry (OTR) with quarterly validation and comparisons. The regional trauma systems strived for a 90% accuracy rate.
Questions? Suggestions?
Contact Kelly Harrison, Manager, Regional Trauma Services, at kharrison@healthcollab.org.