VIVEK ALAMURI, A SENIOR AT INDIAN HILL HIGH SCHOOL, IS OUR STUDENT REPORTER IN THE TAP MD PROGRAM
TAP MD and TAP HC are programs designed to help high school students "tap" into their potential to fulfill a career as a physician or in the healthcare field. Students will experience events that provide information on types of medical specialties, how to apply for medical school and what different healthcare paths are available – from IT to home health – to physical therapy. Click here to learn more about our TAP HEALTH initiative. 
"Today, we visited UC Health to learn about Emergency Medicine and Trauma. This one was honestly way more overwhelming and exciting than I anticipated (like it should be since it's Emergency Medicine). I couldn't believe what a day it turned out to be!
            The event started out with us going up to the 10th floor to see the helipad. In about fifteen minutes, we were greeted by a UC Health helicopter! I did not expect this whatsoever and was speechless to see it land right in front of my eyes! I have no words to describe what a thrill it was for me. We even got to sit in it and take pictures, a rare opportunity for a high-school student! The pilot talked to us about his experience flying of different sorts – commercial and private – and now as part of UC Health. The resident also talked about how she became interested in this and the stages of ER residency. By the fourth year, you're on the chopper alone and are expected to take charge and have a first-year resident around to teach!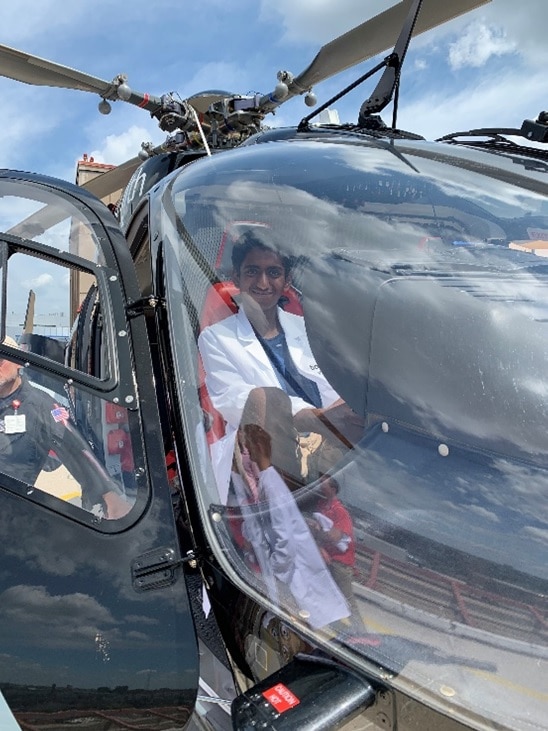 After that thrilling session, we went down to the third floor for an interactive presentation by the U.S. Air Force and about being a doctor for the military. We got to experience a high-fidelity simulation of what it'd be like if we had a patient in the helicopter – and let me tell you, it is unbelievably incredible as to how air force doctors perform these miracles! The doctors have to be on their knees for extended periods of time (even tougher for the taller folks) while operating with "improvised" tools since they're not in an actual Operating Room all while wearing heavy suits from head to toe. They come out drenched with sweat after a practice session! These simulators could be programmed to have seizures, pulses, heartbeats and even spill blood everywhere to make it realistic for the trainees. 
            Finally, we listened to a presentation from a doctor that works in trauma and the various types of cases she sees. More interestingly however, I thought that her involvement with Médicins Sans Frontièrs (Doctors Without Borders) was fascinating. She was the only doctor so far that emphasized service to such a high level. She goes to other countries and treat patients there, with various legal to technological restrictions that made it feel like a herculean task, but  she took on with excitement. This definitely touched me, and I can say it'll stick for a long time."
~Vivek Alamuri, IHHS