The Health Collaborative (THC) is excited to announce that effective January 24 Deirdre Murphy Beluan joins the organization's leadership team as Chief Strategy Officer. Experienced in the operation of large healthcare organizations, Deirdre is known for her expertise in knitting together the various sides of a multi-faceted company to ensure collaboration and drive everyone together towards a common goal.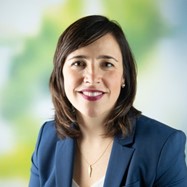 Deirdre brings years of experience in population health and healthcare improvement that offers a valuable perspective to the ways that THC serves our community and its needs.
As Chief Strategy Officer, Deirdre will provide executive leadership for regional initiatives that aim to improve health and healthcare in Greater Cincinnati. She will serve as a key advisor to the CEO, leading efforts to define and execute priority strategic initiatives, and will be responsible for demonstrating membership value and representing the organization to local, state, and national organizations, policymakers, and associations.
Prior to joining the team, Deirdre has held several high-level positions within healthcare organizations, including Lumeris, United Way of Greater Cincinnati, and Bon Secours Mercy Health. Deirdre's extensive background in healthcare and human resources gives her a unique ability to focus on common goals of top healthcare organizations in the Greater Cincinnati area, effectively communicating key priorities shared between organizations.
Deirdre's passion for population health is a particular asset to THC and its members. Her wealth of expertise includes policy, programming, and systemic initiatives to address social determinants of health from all angles. For example, while in a previous role as Director of Hamilton County Care Coordination at United Way, Deirdre launched a network of community providers to deliver food kits, health kits, mental health services, re-employment services and rent/mortgage/utility relief to over 4,000 residents impacted by COVID in just 10 weeks.
Deirdre earned a Bachelor's degree in Political Science from Indiana University, and a Master of Business Administration and Master of Health Services Administration from Xavier University.
"Deirdre is a welcome addition to our team," shared THC CEO Craig Brammer. "Deirdre's expertise in population health, large-scale improvement initiatives, and relationship management will propel the key drivers of our mission and vision forward and allow us to find even better ways to deliver on cost, quality, and healthcare improvement for our members and stakeholders."