Our team is dedicated to developing innovative ideas into initiatives that solve some of healthcare's toughest challenges.
We strive to hire diverse talent and leadership to ensure equity and inclusion are at the center of our daily work. At The Health Collaborative, you'll work collaboratively and across functions with the highest-caliber talent, applying cutting-edge technology and processes to address real-world issues in health and healthcare.
Our work with major area hospital systems, regional employers, social service organizations, foundations, and many more will position you – along with leaders throughout Greater Cincinnati and Northern Kentucky – on the cutting edge of healthcare innovation.
If you're looking for a dynamic career rich with growth opportunities, then join us in reimagining the healthcare system by designing patient-forward innovations that will impact the industry for generations to come.
Click on an opportunity below to learn more and fill out the form to submit your resume. For information and definitions regarding any of the Equal Employment Opportunity fields in this form, please click here.
Don't meet every single requirement? Studies have shown that women and people of color are less likely to apply to jobs unless they meet every single qualification. At The Health Collaborative we are dedicated to building a diverse, inclusive and authentic workplace, so if you're excited about this role but your past experience doesn't align perfectly with every qualification in the job description, we encourage you to apply anyway. You may be just the right candidate for this or other roles.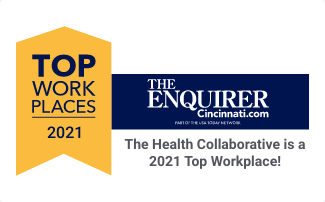 Please note: All employees of The Health Collaborative are required to be vaccinated against COVID-19.
Please fill out the form and submit your resume or inquire about other potential Health Collaborative career opportunities.
The Health Collaborative is an Equal Employment Opportunity (EEO) Employer.
Qualified applicants are considered for all positions without regard to race, color, religion, sex, sexual orientation, gender identity, national origin, age, marital or veteran status, disability or handicap, or any other legally protected status. All qualified applicants will be given equal opportunity and selection decisions are based solely on job-related factors.
For more information and definitions regarding the above EEO statement, please click here.