catalyzing sustainable health improvement
community health needs assessment
This year, more than 10,000 residents took part through community surveys, focus groups, and interviews, sharing feedback on topics such as behavioral and medical health, education, social determinants of health, and much more.  This feedback gives us a deeper understanding of local conditions – community needs and assets – which spurs more targeted, effective community-change work.
identify health needs

engage community partners

formulate strategies

mobilize for action

monitor progress
 COMPLETE

2021 CHNA top health needs identified:

access to care (behavioral health, heart disease, dental, vision)
access to resources for food and housing
workforce pipeline and diversity

Link text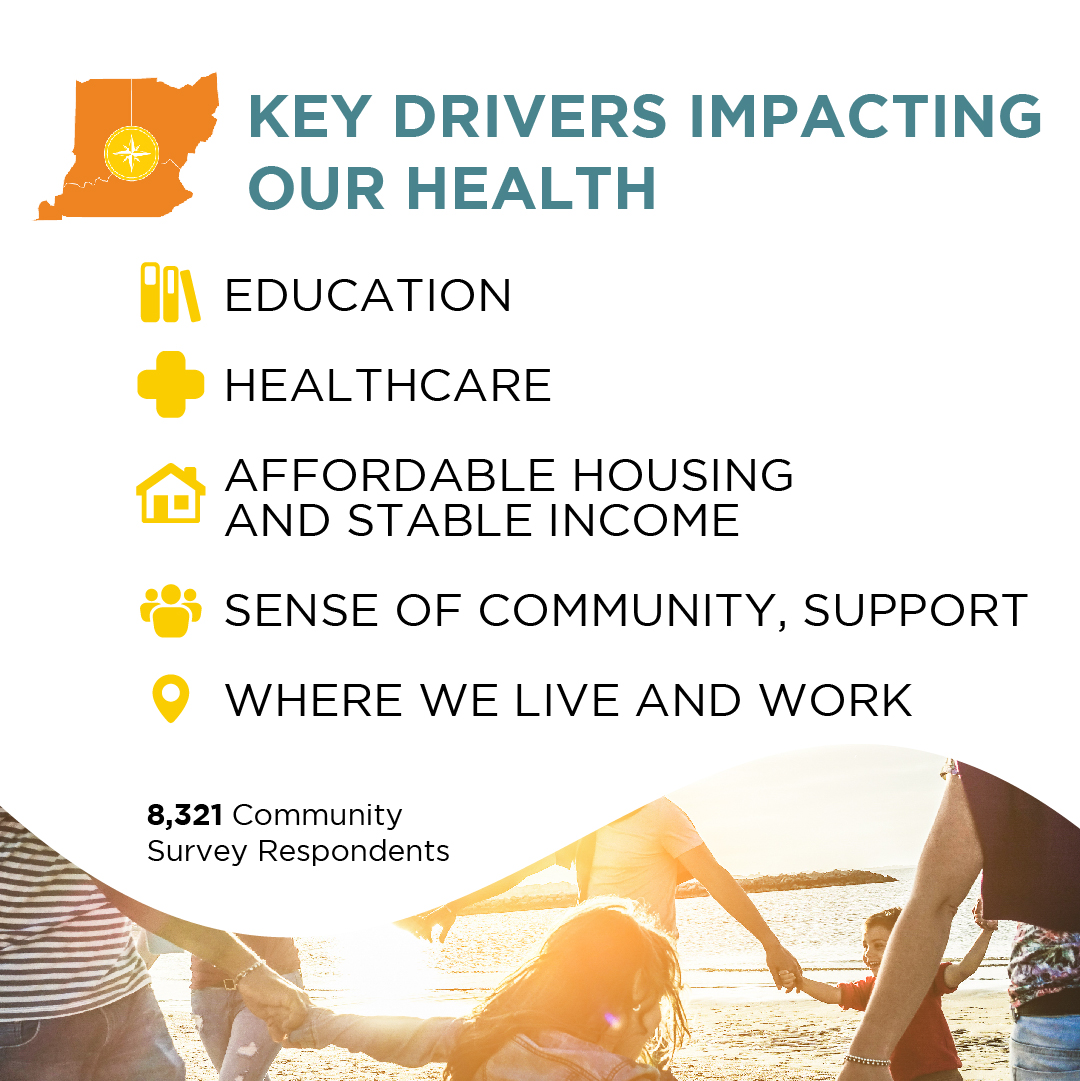 Next Steps: Community Health Improvement Plan (CHIP)
The CHIP provides an actionable roadmap of evidence-based strategies to address the top health needs and priorities as identified in the CHNA, and can be implemented by hospitals, local health departments, community health centers, community based organizations, and additional sectors in our community.
The 2022-2024 CHIP will align with state and national priorities to achieve a shared vision of improved health for the region. Led by Cohear, and using the Targeted Universalism Framework, targeted strategies will be developed by a group of collaborative stakeholders to achieve universal regional health goals. 
For questions or more information, please contact Dr. Lauren Bartoszek at lbartoszek@healthcollab.org.
About CHNA
Every three years, the Community Health Needs Assessment (CHNA) is conducted to better understand the specific health needs of the communities we serve, and then develop meaningful, measurable responses. The CHNA identifies:
top health conditions in our community
the root causes of unmet community health needs
barriers to healthcare services
acknowledgments
This collaboration was facilitated by The Health Collaborative (THC), in partnership with the Greater Dayton Area Hospital Association (GDAHA) and consultant Measurement Resources Company,  and includes participation from 36 hospitals and 22 health departments across Greater Cincinnati, Greater Dayton Area, southeast Indiana, and northern Kentucky. The success of this CHNA is a result of  of a shared commitment to better health outcomes, and a strategic alliance of partners that includes THC, GDAHA, CHNA Advisory Committee, community champions and partners.
Data collected from this assessment is used to support and/or expand existing health initiatives.  And by engaging the community in the process, there is a greater chance that the CHNA will achieve its desired goal of building a healthier community.