The Health Collaborative's Tristate Trauma Coalition (TSTC) works with local trauma centers, emergency rooms, and EMS agencies to ensure patients are receiving the most adequate care. Multiple components come together in treating and educating the community and hospitals: trauma registry, performance improvement, injury prevention, and provider education.
TRAUMA EDUCATION
Trauma education and continuing education courses are open to our members and non-members throughout the healthcare provider community in Greater Cincinnati, Northern Kentucky, and Southeast Indiana.
Trauma-related courses include:
Advanced Trauma Life Support (ATLS)
Emergency Nursing Pediatric Course (ENPC)
Trauma Care After Resuscitation (TCAR)
Trauma Nursing Core Course (TNCC)
For information and to register for any of these or other courses offered by The Health Collaborative, please visit our Training and Events page.
REGIONAL INJURY PREVENTION
The Tristate Trauma Coalition works with all regional trauma centers and local community groups to educate the public on many ways to prevent traumatic injuries.
Stop the Bleed

BleedingControl.org and Stop the Bleed (STB) training was created in 2015 in response to President Barack Obama's policy directive for national preparedness (Presidential Policy Directive 8), recognizing that everyday citizens can learn proper bleeding control techniques and save lives. Trainings in the proper ways to use hands, dressings, tourniquets, and gauze in an emergent event are now available to the public through this initiative of the American College of Surgeons and the Hartford Consensus.
The TSTC has created a Stop the Bleed regional workgroup composed of members from the five area trauma centers: Atrium Medical Center, Cincinnati Children's Hospital Medical Center (CCHMC), TriHealth Bethesda North Hospital, and UC Health's University of Cincinnati Medical Center and West Chester Hospital.
Local Contact Name: Gina Menninger
Email: StoptheBleed@ucmail.uc.edu
Phone: 513-558- STB0 (7820)
FALL-RELATED INJURIES
Falls by older adults out in the community and in their homes is part of an alarming trend in the Tristate region. Newly released data from the Tristate Trauma Registry show that nearly half of all trauma-related injuries were caused by a fall. Among all fall-related injuries, 52 percent of falls were experienced by persons age 65 and older. Even more alarming, 67 percent of all falls occur within the home. Fall-related injuries can occur to people of any age, but for older adults decreased physical motor skills and simple environmental hazards in homes can contribute to the risk of experiencing a fall.
RESOURCES FOR OLDER ADULTS IN THE TRISTATE REGION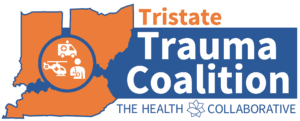 TRAUMA REGISTRY
The Tristate Trauma Registry maintains demographic, clinical, and outcome data that can be used to improve trauma care in the region. The Health Collaborative collects, validates and analyzes this trauma and injury data from participating hospitals in the region. The information is used to make recommendations that help improve the overall trauma care throughout the region. Hospitals in the Tristate that are Verified Trauma Centers by the American College of Surgeons (ACS) include:
UC Health – University of Cincinnati Medical Center – Level 1 Adult Trauma Center
Cincinnati Children's Hospital Medical Center – Level 1 Pediatric Trauma Center
Premier Health– Atrium Medical Center – Level 3 Adult Trauma Center
TriHealth– Bethesda North Hospital – Level 3 Adult Trauma Center
UC Health – West Chester Hospital – Level 3 Adult Trauma Center
A regional registry provides several benefits to participating hospitals and the public. When a trauma registry exists at a regional level:
Hospitals can receive their own data for trending purposes.
Hospitals can use the regional data to benchmark their effectiveness against other hospitals in the region.
Participation allows for quality improvement and quality assurance to improve care delivered to trauma victims in the Tristate
The Tristate Trauma Registry also serves as a repository to State Trauma Registries to facilitate the transfer of trauma data as mandated by law. Confidentiality of patients and hospitals is maintained within the Regional Registry and when exporting required data to the State Registry.
DOWNLOAD TRISTATE TRAUMA REGISTRY ANNUAL REPORT